Would more prize money make athletes run faster?
Would you be more likely to set a personal best in your next race if someone offered you £100? How about £1,000? Or even £5,000? The people behind the Ultra Gobi, a 400km single-stage desert race in China, are hoping to find out whether money can make a difference by announcing a $10,000 prize for anyone who breaks the 71-hour course record.
"In 2017, Dan Lawson laid down an incredible gauntlet in the Gobi" says Pavel Toropov, the race director. "This unparalleled prize is a tribute to that performance and an incentive for the best endurance athletes in the world to challenge it."
Prize money in distance running is nothing new. Elite marathon runners receive significant appearance fees just to turn up and get six-figure sums for winning big races and setting records. Last year, Eliud Kipchoge was reportedly paid $1m to take part in Nike's Breaking2 project and would have received a bonus had he broken two hours.
But barring a few isolated examples, ultramarathons have traditionally been lacking in major financial rewards. A trophy, a T-shirt and maybe some free trainers is considered a good haul. I once won some money for finishing on the podium in a trail run in Hong Kong – it worked out as just under £3 for each hour raced. But, given the rising global popularity of the sport, this is may change, with other races and sponsors choosing to follow Ultra Gobi's example.
There are two clear ways in which increased prize money is likely to improve results: the depth of the field and the intensity of preparation.
Undoubtedly, prize money draws more competitors. Although ultra-running has become more popular, only a tiny proportion of the population ever test themselves over such long distances. If a greater pool of talented athletes were running ultramarathons then winning times should be faster.
The East African Rift valley, home to many of the world's greatest distance runners, offers a powerful illustration. Winning marathons has become the best route out of rural poverty. Competitive running is a central part of life in many communities, with almost every ambitious youngster trying their hand. But the absence of prize money has been cited a reason for the lack of Kenyan athletes in ultra-running. Were this to change, it's easy to see how standards could be raised.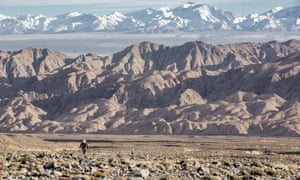 Super-ultra-distance races such as the Ultra Gobi suffer from specific challenges in attracting the best athletes. I can personally attest to the fact that running across the desert for three or four days with little or no sleep takes an enormous toll on runners' bodies and can require significant recovery time. The money is thus a way to compensate athletes who might otherwise have chosen to compete in several shorter races.
The second area in which prize money can be transformative is training. Sponsorship opportunities, primarily from shoe companies such as Altra, Hoka and Salamon have enabled a few elite ultra-runners to turn professional. However, many of the best endurance runners still combine training and racing with part-time jobs. Dan Lawson juggles running for Great Britain's 24-hour team with cycle deliveries and running a service for recycling running kit.
Prize money in ultra-running would enable more full-time professionals. Their preparation would also be enhanced by better access to facilities, be that high-altitude training, teams of support professional or simply more comfortable prerace transport and accommodation. (I have known some of the best runners sleep in airport lounges before competing in high profile events.)
There is of course the risk that the incentive of prize money leads to less welcome training innovations. Ultra-running is in many ways ideally suited to illegal doping. Although there have been a few isolated cases, it is generally considered to be a clean sport, unlike marathon running or cycling. Big money could provide the motivation and the means for this to change.
But what about the impact of money on a runner during a race? All endurance sports involve a tussle between mind and body. In his excellent new book, Endure, Alex Hutchinson carefully analyses the physical limits and, more importantly, the mental limits our brains impose to keep us safe. Hence the burst of energy upon seeing the finish line that, a few minutes previously, would have seemed impossible.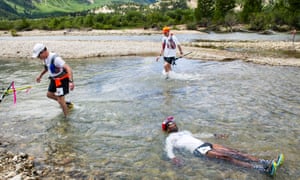 The late stages of an ultramarathon are often as much about determination and desire as anything else. In a life-or-death situation most of us could push a little harder. And money can be a good motivator. A 1986 study found that people could sustain a wall-sit for longer if they were paid. As Hutchinson says: "It's sort of like being chased by a lion without the danger of getting eaten."
Endurance athletes may just be different. Underfed students with no other reason may sustain meaningless pain for a few minutes longer in return for some cash. Competitive ultramarathon runners have already chosen an extremely painful hobby and are likely to be driven by intrinsic motivation. In Hutchinson's words, for "well-trained athletes, motivation may well be pretty close to maximal already". Based on my own experience at the end of the Ultra Gobi, nothing short of an actual lion could have made me go any faster.
There are some who are resistant to the introduction of big money into ultramarathon running. Fears around camaraderie, honesty and sportsmanship are valid, but I believe it can be transformative for the sport. Those nostalgic for the days of amateur athletics often overlook the fact that it was largely the preserve of the wealthy. Only people with private means can afford to dedicate themselves fully to an unpaid hobby. Consequently, many talented athletes lost the opportunity to realise their potential, and fans were prevented from seeing the best performances, as the sad case of John Tarrant (AKA the Ghost Runner) so starkly shows.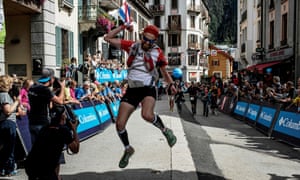 Bigger prize money in ultramarathons can enable a wider pool of athletes to dedicate more time and be better prepared. This will improve competition and standards. As a follower of the sport, the prospect of watching incredible runners break records and push boundaries is exciting, providing it is accompanied by appropriate safeguards to keep the sport clean and fair.
Whether or not this money will drive individual runners to dig deeper is a more debatable point. Having seen the grit and determination shown by elite ultra-runners I am sceptical. Even the facial expressions of a runner such as Zach Miller show that he is operating close to his mental limits. It will take a very well-funded randomised control trial to find out for sure. I also suspect that some records, like Yiannis Kouris's 303.5km 24-hour run, could withstand almost any amount of funding.
As for the Ultra Gobi, the $10,000 purse will add to what promises to be a thrilling 2018 race. With Lawson returning to the desert to defend his title and several other big names on show the competition will be fierce. Toropov is tipping a female outright winner: "Nikki [Kimball] is one of the few athletes at home with these kinds of distances. If she can recover from surgery she will have a good chance." One thing is for certain, whether motivated by pride or profit, it will take a phenomenal performance to better Lawson's record.
Source: Read Full Article