'Toddler twins, a demanding job… why not take on an Ironman?'
People talk about hitting the wall: the point where you exercise so hard, your body can do no more. I really wanted to hit the wall – in fact, I wanted to knock it down with a sledgehammer. Because I had been staring at this particular wall, in my kitchen, for two hours through a stream of my own eye-stinging sweat.
It was 7am and I was sitting on a race bike attached to a device called a turbo trainer that turns a normal bike into a static exercise machine. I had been sitting there, pedalling and looking at the wall, since 5am. My two daughters wandered in, unfazed by the sweaty, crazed-looking woman in the middle of the kitchen. "Morning, Mummy. Can we have letters for breakfast?"
My vest and bike shorts were sodden with sweat, the windows and back door were steamed up from the heat I had generated. I served the letter-shaped cereal, poured on the milk, kissed my children, fed the dog and popped the kettle on before walking off for a shower, grunting "Good morning" at my husband as we passed in the hall.
That is the reality of Ironman training with toddler twins, a house to run, a demanding job and a husband with an equally demanding job. And that was just the beginning of my training. It got so much tougher than that.
There was the 18-mile training run on a hot August day on the back of a 10-hour day at work, and the day after a 105-mile bike ride and 30-minute run. And let's not forget the 620 miles of biking, 115 miles of running and 12 hours of swimming in the four weeks before that.
Ironman is one of the most demanding and gruelling events in the endurance catalogue. A long-distance triathlon, it involves swimming 3.8km, biking 180km and running a marathon, back to back, often in very challenging conditions. Every year, a world championship is held in Hawaii and qualifying races take place around the world, though most competitors are aiming just to complete the challenge. The average time it takes is 12½ hours.
But taking on Ironman isn't really about the race to the finish, it's about the race to the startline. It's about the six months of training that will test your limits mentally and physically. About making it through 4.45am starts when you have to drag yourself out of bed in the freezing cold, get on your bike and pedal 16 miles to work. About your alarm going off at 6am on a Saturday morning and your husband kicking you out of the bed, yelling, "If you don't go and swim, you will be unbearable all day. That's all of the day. All of it. Get out." (He's a very good cyclist and runner himself, so he gets it.) And the ensuing 4km swim followed by a two-hour run. Before breakfast.
It's about doing a half-Ironman "warm-up" event a week after covering the EU referendum result (I am a political journalist – we were supposed to vote remain and it was supposed to be an easy week in the office), and the week before holding a birthday party for twin girls. It's about pouring 19 hours of exercise into a week that is already filled with children, work and running a household, without torpedoing family life.
That is what it takes to transform yourself from a ramshackle mother of twins, hulled out by the early years, into an Ironman athlete. And the woman who transformed me is triathlon coach, former European and world champion triathlete, and nine-time Ironman finisher Fiona Ford.
We first met to discuss my chances of taking on the big one when my daughters, Grace and Amelia, were only 18 months old. I barely looked likely to make the run for a bus. I had carried twins, delivered one daughter naturally and the other by an emergency C-section that pretty much brought Kingston hospital's maternity ward to a standstill, and was suffering from my 27th cold of the season.
I told Ford I was constantly ill, and had a full-time job, but I did swim a lot, biked to work sometimes, had run in the past and done a handful of Olympic-distance triathlons before the children. But I wanted to do something big before I was 40 – what were my chances? Unexpectedly, she told me I was in the perfect demographic.
Her first move was to get me to wear a large slab of technology on my wrist to monitor my progress by measuring heart rate, distance, time and pace during exercise. The second was to put together a training plan. Apart from my one rest day, there was never less than two hours of training.
The hardest sessions were "long ride day" (a bike ride of up to 120 miles at the highest levels of training, followed by a 30-minute run) and "long run day" (up to three hours, after a 90-minute swim). The days had to be back to back to simulate the levels of fatigue of an Ironman race.
The training itself wasn't a problem; the challenge was fitting it in. I have only two rules: never miss a training session or a bedtime story. Train commutes were replaced with biking or running, and swim and strength sessions were done mainly after the children were in bed. The long rides and runs were done early, so I was around to do the children's parties and activities that make up the weekend.
There were difficult moments when I simply had to lose something. On one particularly tight day, I had a five-hour bike ride, a haircut and colour booked in, and needed to be ready to pick up the children by 4pm. In the end, I had my haircut, asked the stylist to put on the colour, shoved the foils in a beanie and rocked up to the playground looking ridiculous. One pick-up and a children's swimming lesson later, I finally washed out the dye.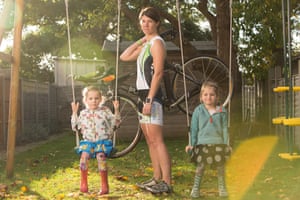 Ford says my case is not unusual. She has noticed an increase in the number of women in their late 30s and 40s signing up with her coaching company, Triathlon Europe. "The Mamil [middle-aged man in Lycra] has been the main demographic in the last seven to 10 years," she says. "But in the last three to five, it has been FMIK [fit mums in kit] that have been on the increase. It's usually about wanting a challenge that non-sporty people will massively respect, and Ironman is regarded as an extreme sport. It's a way for many to feel good about themselves and raise self-esteem."
Ford also believes it's linked to the desire to compete on a level playing field with men "in a world that increasingly hasn't moved on to acknowledge or recognise female achievements in the ways that men take for granted".
The Ironwoman is on the rise. And we have come a long way since 1979, when Lyn Lemaire became the first woman to line up alongside men – she came fifth at the second Ironman in Hawaii. In the past 10 years, there has been a five-fold increase in the number of women taking part in the sport and 48,718 women worldwide did an Ironman last year. The number who took part in the Ironman World Championship last October was the highest ever: 30% of the field.
At the 2016 annual Ironman UK in Bolton, 14% of the competitors were women (in 2005, it was 9%). When I lined up at Ironman Vichy last year, there were 45 women racing in my age group (40-44, the most popular group for women in Ironman competitions); in 2011, there were five.
Ford says women are at their endurance peak in their 40s, but they can also be at their busiest – as I was – so why take on the challenge?
Fellow Ironman finisher Sophie Timms, 42, also started training when her daughter was two. As head of public affairs and corporate responsibility at Zurich Insurance, she admits it was an "odd decision, because at the time I was incredibly busy". But she acknowledges there is something of "I've still got it" about taking on a challenge like Ironman: "I may be 42, but I am happy my body still behaves like it's in its late 20s or early 30s. And there is an element of feeling quite proud of yourself when people say, 'How do you do it?'"
Timms' story is similar to my own. She ran cross-country at school and was the county under-11 champion. I ran for my school, and then nothing. Then, in our late 20s, we both picked up running again. She ran the London Marathon in 2005; I ran it a couple of years later. We each did a few triathlons, then children happened – and after them, the urge to step up the training. "Everyone is doing it now," Timms says. "All of the mums at the school gate are doing some kind of Ironman or extreme boxercise or something."
Our generation grew up thinking women could achieve anything they wanted. During our school years, Margaret Thatcher was running the country. We ladetted our way through university, out-drinking and out-partying the boys, then we voted for Tony Blair's meritocracy and his "Blair Babes". We were going places and had high expectations for our careers.
But then we found there were still glass ceilings, pay inequality and maternity damage. For some, although by no means all, having children means a nose-dive in career prospects. I suffered a sharp readjustment post-birth, and although I did return to another demanding job, the experience was certainly the "prove yourself" trigger for my Ironman entry.
Psychologist Dr Marcia Reynolds, who wrote about the female midlife crisis in her book Wander Woman, describes how, "As [women] cope with the ongoing inequality in the workplace, their disappointments of dreams unmet and continually feeling misunderstood and mismanaged, they begin to drop off the corporate ladder." It is then that women look for other goals to fill the void of corporate advancement. "For smart, goal-driven women, a midlife crisis isn't about recovering lost youth," she writes. "It's about discovering the application of their greatness. The problem is that no one has defined what greatness looks like, so the quest has no specific destination." She calls this phenomenon "the burden of greatness" and says it could explain the increasing numbers of women choosing to take part in extreme sports.
There's not much that says greatness quite like a big shiny Ironman medal on the bathroom wall. And race day is like nothing else: from vulnerable to invincible, impossible to possible, all in the space of 12 hours. You hit the water before most people have had breakfast, are biking through lunchtime, and finish your marathon at about teatime.
I lined up at the start of Ironman Copenhagen for my first race in 2014, with my daughters' names scrawled on my forearms in permanent marker for inspiration. As I walked down to the beach I was shaking and longing to go home, but I was the fastest swimmer in my age group and headed out on to the bike feeling great. And then the high winds picked up and I struggled to hold my bike to the road. As I came into transition to the run, by now in seventh place, the thunderstorm started. The rain was torrential, the commentator helpfully telling the crowds, "We've never had weather like this."
The run was a world of pain. I wanted to stop during the first kilometre, but by the fourth had accepted this was how it was going to be. I held on to my seventh place in the group, and was 70th out of the 412 women taking part. I completed the course in 11 hours nine minutes, far faster than I imagined I could go.
I had done it. I achieved something great. But the problem with a little bit of greatness is that it wears off, and it's not long before you need another fix. And so I did another Ironman last year at Vichy. The race was much tougher. It was 32C and I was nearly knocked off my bike first by a crazy male competitor and then by a flying water bottle. I was battered in the swim, and had serious stomach pains during the run. I had never wanted to quit anything more than that run. Ever.
But I was stopped by a high-five from one of my twins out on the run course. It was enough to keep me going. I was seventh (again) in my age group, but I was, crucially, 20 minutes faster. The field was strong. In all, I was the 30th woman out of 232, including the professionals. It was enough to earn me bronze All World Athlete status, which means I am in the top 10% of Ironman athletes in the world for my age group.
It's success of sorts. I'm a hero behind my own front door. I love it when I hear my children role-playing mums and dads, and the mum says, "I'm just off to do an Ironman." Nothing makes me smile more broadly than when parents at the children's parties return from the downstairs loo to ask when my husband did the Ironman. Or when I am holding a child in each arm with a medal around my neck while my husband rolls his eyes. Because he, above anyone else, knows there will be another Ironman just round the corner.
As a good friend of mine put it, Ironman is like having children. You know when you're done. I'm not done yet.
How to do an Ironman
Get a coach You cannot wing an Ironman – you need someone who knows what they're doing to get you to the startline in one piece. Look for British Triathlon Federation qualifications and testimonials. Better still, speak to the last two athletes they trained for Ironman.
Use time wisely If you have children, get used to training late when the children are asleep or if you work long hours. Train during your commute: in my case, biking 16 miles to work was quicker than taking the train, and running halfway home added only 10 minutes to the journey.
Get down with the tech Get yourself a decent training watch and some software; I used TrainingPeaks. My coach input my training plans and I would upload my exercise data from my watch when the sessions were completed so she could monitor my progression. I use a Garmin Forerunner 920XT, which has settings for swim, bike and run.
Sleep when you can Exercising late and getting up early for work means you won't get much sleep, but rest is as important as training, so learn to snatch sleep when you can. If you have 30 minutes, set an alarm, lie down and kip. Don't worry – it won't be a struggle to drop off.
… and if you just want to get started
Walk everywhere Walking is a brilliant way back into fitness. Try getting out for 30-60 minutes three times a week. Do a longer walk at the weekend.
Try a parkrun This is a fantastic community running event, and it's free. It's a 5km run, and you can walk for a bit if you get tired. There will be some very good club runners there, but in the main it's a family event filled with people just giving it a go. And it's early Saturday morning, so doesn't take up much of the weekend. Go to the Parkrun website to find an event near you.
It's all about the core Get to a yoga or pilates class. Core stability and flexibility are key to preventing injury and protecting your back, especially as you get older. Find a class that runs early in the morning or in the evening, and go once or twice every week.
• Commenting on this piece? If you would like your comment to be considered for inclusion on Weekend magazine's letters page in print, please email [email protected], including your name and address (not for publication).
Source: Read Full Article