Mr Motivator, the Green Goddess and Mad Lizzie: where are they now?
Tomorrow morning at about 10am, Ruth Devlin will take her treasured video tape, the Cosmopolitan step aerobic workout, out of its case, slide it into the player and press play. On a freestanding aerobic step in the middle of her living room in Stockport, she will march, lunge and squat her way through the hour, mirroring every move of the woman on the screen, exactly as she has done almost every Sunday morning for the past 23 years.
When she started, this was the one pocket of me-time in the busy life of a working mum with two children under six. She decided to do it weekly, and has never stopped. The regime has seen her through the birth of her third child, divorce, an emptying nest, and becoming a grandma. Over the decades, she has bought a second copy of the video and also had it converted to DVD, just in case.
Now 57, she looks more like she's in her early 40s, her cropped blond hair framing a slim, genial, lively face. "I'm a stone over my fighting weight, but I pride myself on being fairly fit – I can still go for a walk up a hill without passing out with breathlessness," she says.
The woman in the video is the dark-haired, long-legged Gloria Thomas: Cosmo girl, Pirelli calendar girl, and Bond girl (sort of – she appeared in the opening credits of A View To A Kill). At least, that's who she was a quarter of a century ago. Devlin found herself wondering what had become of the glamorous instructor whose every step she had loyally mimicked for so many years, and she wrote to the Guardian, describing her routine. Whatever happened to her guru?
Thomas has since moved to Australia and changed her name to Glori Gylsson. When the two grandmothers finally meet for the first time over Skype, there is so much giggling and warmth that it feels more like a reunion than an introduction. Devlin says: "You do feel familiar in a funny kind of way, it's very odd. I don't feel like I'm meeting someone brand new." She tells Gylsson she looks exactly the same as in the video – and holds up the box to prove it. Gylsson laughs: "Everything else has gone south, but my legs are still the same!"
It was her training as a fitness instructor combined with her experience as a model and TV presenter that meant Gylsson was selected out of the 300 women who auditioned to present the Cosmopolitan workout videos. She is now 55 and an author, living with her third husband and running a health website.
She asks Devlin why she has kept going with the same video. "It gives me the kind of workout which gets the endorphins going, which is what I need because I've got quite a stressful job in PR," she says. "It's intensive – I'm usually shouting at you – but I don't feel like I'm going to die and never do it again."
In our age of #fitspiration, yoga poses on surfboards, Fitbits, absurdly expensive gyms and athleisure wear, it can feel like our priority is not so much that exercise is done, but that it is seen to be done. But it was not so long ago that members of the British public would wake up to see fitness stars exercising on their TV screens every morning, following along in the privacy of their front rooms. TV exercise has disappeared (to YouTube and Instagram) and morning TV is now dominated by chefs such as James Martin and Gino D'Acampo.
Fitness today is a tale of two extremes. At one end, the UK exercise industry is worth £4.4bn, with one in every seven people holding a gym membership. At the other end, research shows that 58% of women and 65% of men are overweight or obese. In 2014/15, more than one in three children in Year 6 were overweight or obese.
***
Getting fit felt very different in 1983, when the elegant, leggy, leotard-clad Green Goddess on the BBC became a more accessible, British version of American home fitness superstar Jane Fonda. Her popularity led the rival TV-am (which broadcast ITV breakfast television from 1983 to 1992, before GMTV) to bring in Mad Lizzie, with her curly blond hair, bright jumpers and very 80s dance routines. Then, in 1993, Mr Motivator arrived, the man in Lycra who made everyone say "Yeah!"
Sixteen years after he left our screens, Mr Motivator (real name Derrick Evans) continues to have a hold on millennials. He was on TV so regularly, he feels familiar, just like Gylsson is to Devlin. His infectious enthusiasm, his easy-to-follow but unchoreographed workouts, and the trademark multicoloured outfits turned him into a cult figure. His name takes us back to a simpler time. He is our Proust's madeleine, in Lycra.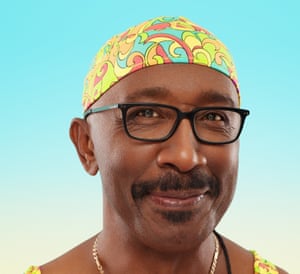 We meet in Harrow leisure centre, where Evans' career in fitness began. He is immediately recognisable in bright blue, patterned, pyjama-style silk trousers and a matching blue kufi-style hat. His white vest shows off his broad, muscular shoulders – he has an incredible physique for a man in his 40s, but he is 63.
We go for a workout in the gym. He turns on the music and starts shouting in my face, "Who do you think I am? Your daddy?" It is surreal. He has me strutting, marching, jumping, squatting, thrusting and moving my behind in a circular motion. "Don't give up on me, Moya," he shouts. And I don't.
It was here in 1983 that he was playing badminton with a friend when he heard a noise coming from a sports hall. "I wandered over and there were 200 women all moving to music, copying an instructor, and I stood there transfixed – it was like, 'bing!', a lightbulb moment." That sparked a passion for exercising to music. Then one day he found himself on a plane with the presenter Eamonn Holmes and talked himself into becoming his personal trainer – which later led him to the man who would give him his first break.
"I was waiting outside the GMTV studios when I saw a gentleman walking to the door with this big fat belly. I walked over and prodded him right there in his middle. To this day I don't know what drew me to do it, but I did. He stormed off – it was only afterwards I found out he was Peter McHugh, the programme controller at GMTV." The next day, Evans delivered an exercise bike to McHugh's office, and convinced him to train with him. After about four weeks, McHugh's fitness had improved so much he was able to continue a conversation while working out, and he told Evans, "Any person who could convince me to start exercising could get the public to do the same. I am going to give you a chance to be on screen." There were still the advertisers to convince: they said that a black man doing exercise on television would not work.
So he waited, and when he finally got a chance to go on air, he was an instant hit. The phone lines were jammed with people calling in to sing his praises. Before long Mr Motivator was so popular with viewers that he was appearing every half hour, not only doing exercise but other things such as reading out birthday messages. A survey at the height of his fame showed that 95% of people in the UK knew who Mr Motivator was and saw him as trustworthy.
Derrick Evans' self-published autobiography, The Warm Up: The Story Behind The Lycra, tells the story of his life pre-Mr Motivator. Born in Jamaica, he was given away by his mother at three months old to a couple whom he came to see as his true parents. His childhood has moments of joy and of trauma: he walks to school barefoot and content, looks fine in his "Sunday best". He relates being sexually abused by a family friend, and whipped by his adoptive father, whom he later joins for a new life in Leicester, England, leaving his loving adopted mother behind (she didn't want to move from Jamaica).
Evans left GMTV in 2003 because he wanted to move back to Jamaica with his family, but he still performs as Mr Motivator at festivals, as well as running an adventure tourism business in Jamaica, H'Evans Scent, and fronting campaigns such as the public health campaign Change4life. He hasn't lost his appeal: "All the decision-makers out there now are the people who grew up with me," he says. He shows me a video of 30,000 festival-goers cheering his name, one holds a sign that says, "I'm only here for Mr Motivator". In his memoir, he writes, "There is a power when you stand in front of an audience and you realise that they will move however you want them to." He is not ready to give that up, and he believes he still has a crucial role to play in our lives – now more than ever.
He argues that while clean-eating, extreme gymming and social-media-friendly fitness fads are popular with a certain sector of society, we've lost the idea that exercise can and should be a part of everyone's day. As Evans puts it, "There's a place for the Instagram stars, but what about the 95%? The 95% don't do it. I want to be the one to create that environment to help them because unless we do, our NHS will not be able to cope." A recent survey found that millennials make up 48% of all adult regular exercisers, while baby boomers make up 20%.
There would have been no Mr Motivator without the Green Goddess, aka Diana Moran. We meet in a cafe in Ashford, Surrey, not far from where she lives. She exudes old-school glamour and speaks softly, so I have to lean in and concentrate on what she's saying.
She was a presenter for a regional television station and teaching keep-fit classes in Butlin's on her days off when she was approached by the BBC with a radical idea. It wanted her to present a seven-minute segment, five times a week, to bring exercise into breakfast television. The concept took off almost immediately: "It just took the public's fancy," she says. "The navy wanted me to come and train 'our boys', the nurses wanted me to come and train 'our girls', it was extraordinary."
Why does she think she was so successful? "I got Joe Bloggs, children and old people moving. Children were amused by me, and granny and grandad – the grandads in particular – were quite happy to sit and watch," she says, with a conspiratorial smile. She had a particular connection with the mothers who watched her: "They soon realised I wasn't a dancer of 22, but a 43-year-old mum with two sons in their 20s, so there was a bit of respect there. I was the start of an awareness of the value of keeping fit, which was really new and exciting – particularly showing women that they could do it as well as the blokes going to the gym. We really were getting Britain fit."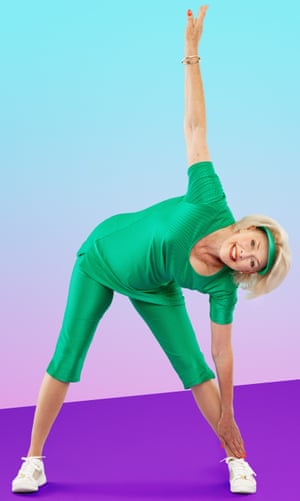 Everything was filmed live, so it didn't always go smoothly. "On one occasion, we were filming at an upmarket London tennis club, and I was taking a group of men through a routine on the tennis court. I was performing to camera at the front, with men either side of the net behind me – I couldn't see them. They were doing very deep knee bends. I looked up to camera and I said, innocently, 'As you can all see we're having great fun here. It's not only balls that are bouncing on the court this morning, it's the members, too.' Everyone was struggling not to laugh, and I had no idea."
While the Green Goddess was pulling in serious viewing figures, Lizzie Webb was teaching her own style of funky dance at Covent Garden dance centre. She tells me, "After one class this girl came up to me and said, 'You don't know who I am, but I'm PA to Greg Dyke, and he's just taken over at TV-am. The Green Goddess is on the BBC, and he wants somebody totally different. I told him you make exercise and dance fun, and you're mad.'" And that's how she became Mad Lizzie.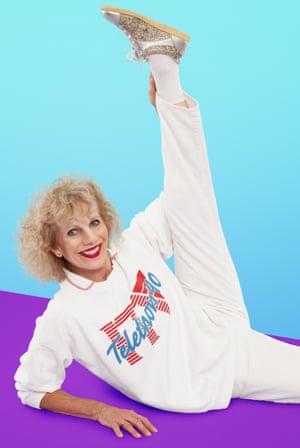 She had the job on TV-am for nearly 10 years (longer than Moran and Evans) and she mixed with famous faces from John Travolta (who did not join in her routine) to prime minister Ted Heath (who sat at the piano and did some hand exercises). She became an influential figure, particularly when it came to musical acts. "Simon Cowell would send me music by his artists, like Sinitta, and if I choreographed the routine right, I could get that music into the charts. Which is what I did with Take That. Not that they admit it."
She choreographed and recorded a dance routine with them to their single It Only Takes A Minute, and it was broadcast six times in one week. It became their first hit, reaching number seven in the charts. "I have a fax from their record plugger, Nicki Chapman, saying, 'Thank you Lizzie, I know for a fact they have moved up through the charts through being on your show.' That's how powerful it was. It's not actually acknowledged by the band, though." She's seen the footage used in various shows as a cheesy, embarrassing moment from the band's past. "You can be in fashion and out of fashion."
A successful career in TV was not the path Webb ever expected she would take. Her ambition was to teach disadvantaged children. "When I left college I asked the Inner London Education Authority to give me the worst school they could find." She was sent to a boys' comprehensive in Clapham Common, where she started a drama and dance club in the lunch hours and evenings. From that school, she says, blushing with pride, one boy went on to become a member of Hot Gossip with Arlene Phillips, another became the first black dancer in the English National Ballet, a third is working on one of the biggest programmes in the US, So You Think You Can Dance, and a fourth became a theatre director in the West End of London.
She has dedicated her career to fitness. Now 68, she runs an organisation called Creativity In Sport, with Debbie Flood, the Olympic rowing silver medallist. They work with disadvantaged young adults who have no academic qualifications, training them to become the teachers of disadvantaged children, using exercise, sport and dance. They also go into schools, using the character Webb created, Joggy Bear, to teach maths and English using exercise.
Moran, now 77, is also using exercise to help those less fortunate. After four and a half years as the Green Goddess, there was a change of editors, and Moran lost her regular slot. Soon after that she was diagnosed with breast cancer, at 48. "It changes your whole life. You throw out the trivia, and you concentrate on what you think is important. For me it was family, and looking after one's health. You realise you've got limitations, and it makes you empathetic to those whose movements aren't as they would like them to be."
That led her to make exercise videos aimed at people in their 50s, 60s, 70s and 80s, and she is working on a book with the doctor Sir Muir Gray, called Sod Sitting, Get Moving to be published in the new year. She also presents a weekly radio programme on The Wireless, a digital radio station run by Age UK.
Evans, too, is a long way from retirement. He feels this is just the beginning – hence the title of his memoir, The Warm Up. He is waiting for the opportunity to come back on our screens, and wants to lead a more serious fitness and health talkshow. Why hasn't he? "There is a stereotypical way people in the industry have placed me: Motivator is the entertainer, he gets people laughing, makes them feel good. They don't realise that there's a deeper side to me."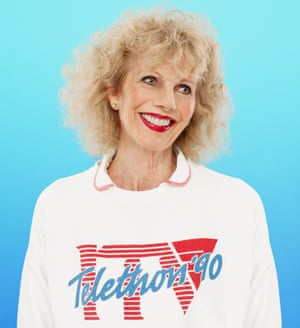 In Jamaica, Evans runs a free exercise class four times a week for local people. He provides sports bras and trainers for those who need them and, just like his GMTV days, every routine is spontaneously improvised. They work out in a room with a roof but no walls: "We start as the sun comes up, surrounded by a vista of rolling hills and green valleys, the sea in the distance."
Life seems good for Evans, but before I leave, he reveals the one drawback to being Mr Motivator. He tells me he can't shower in the gym, because everybody tries to look – he gestures to his crotch. "People always stare and say, hmm, so that's what Motivator looks like…"
Mr Motivator, the Green Goddess and Mad Lizzie are in amazing shape for their age – they can do moves with more grace and flexibility than most pensioners. And people still love working out in front of an instructor on screen – look at the popularity of YouTube workouts. Fans, like Ruth Devlin, know that their methods work. "I am living proof that regular exercise does tone your muscles," she says. "You just have to do it for 23 years."
Source: Read Full Article