How was your weekend running?
The best place to spend a scorching hot weekend is surely by water – nothing beats jumping into a cold, clear pool, lake or sea after a boiling run. And when that run is around the shores of Lake Geneva, and the water is cool, clear and inviting – well, who could resist? I spent the weekend running, walking, and eating (not necessarily in that order of quantity) in the beautiful Swiss city.
On Saturday, we went for a run with former UTMB winner Dawa Sherpa, who lives in Geneva – when he's not paying for and building social housing for people who desperately need it back in Nepal. Within minutes of leaving the city centre, we were on shady trails – Dawa is definitely a man who won't set foot on tarmac if there's so much as 10m of trail you could run instead. We ran to the Jonction, where the Rhône and the Arve meet in a magical mingling of colours. Then along the Arve all the way to Mont Salève. At which point I took the cable car up, while my distinctly more hardcore travelling companion Susie Chan went up on foot with Dawa. Really need to get myself some friends who regard 5k as a sensible distance and don't run 100 miles through Florida for fun …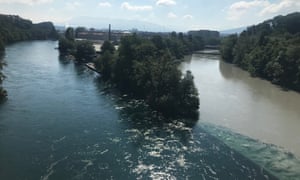 The next morning saw a gentle trot around the lake – nice and flat! – followed by that dip in the water. I'm certainly not a fast swimmer but I had to laugh when at one point I realised that despite swimming with reasonable effort for a minute or two, I literally hadn't moved an inch. "Ah well, there's some strong currents here" I told myself. At which exact point, a duck with her two babies did the duck/swim equivalent of saunter past my bobbing head. Fairly sure the mother duck turned to her babies and made a disparaging remark about terrible swimmers, too …
So it was a wonderful weekend – the perfect place for running (I even found not one but two running tracks – you can take this girl to the mountains but she'll always look for a 400m circle to run around… ) and of course refuel on Swiss chocolate and plenty of cheese.
But how did you all cope with the heat in the UK? Retreat to the shady woods and parks? Of course, other runners from less temperature climates are more than used to the temperatures we are having at the moment, but it's certainly a tricky time to put any effort into your running. As always, share your top tips and weekend exploits below the line …
Source: Read Full Article