Jennifer Lopez Actually Squeezed In A Pre-Golden Globes Workout To Calm Her Nerves
Jennifer Lopez was nominated for a Golden Globe for her role in Hustlers.
The actress and singer hit the gym to help shake her pre-award show jitters.
Her fiancé, Alex Rodriguez, shared her pre-show workout on Instagram, calling it J.Lo's "beast mode."
It's no surprise that Jennifer Lopez and Alex Rodriguez love to hit the gym together. But according to A.Rod, his fiancée takes no days off—not even for the Golden Globes.
The morning of the 2020 award show, Alex captured J.Lo on Instagram using the cable machine to tone her upper body, back, and arms."Jen is a little nervous today. She got me up at 8 am and said, 'let's f*cking train. I said, 'it's Sunday babe, we have football.' She said, 'let's go'. So I went ❤️." (Um, if that isn't true love, I don't know what is.)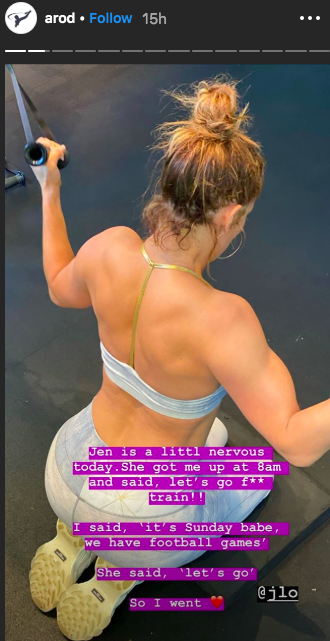 Instagram
That cable workout definitely paid off. ICYMI, A-Rod shared a back shot of J.Lo last night on Instagram along with an endearing caption after she didn't win a Golden Globe.
Alex wrote, "Jen, it doesn't take a trophy, medal, or plaque to identify a true champion. To millions of young women who have watched you and have been inspired and empowered to do amazing things in their lives, you are a champion. For countless musicians, dancers, actresses, and performers who have seen and emulate your passion, drive and work ethic to find their own success, you are a champion. To your children, your family, your coaches, your staff, and your extended family, you are a champion. To everyone whose lives you enrich daily, you are a champion. And don't you ever forget it. ❤️❤️❤️"
https://www.instagram.com/p/B69s8_XgP-D/
Jennifer responded with a simple, "You are my everything."
While she might have lost the award for Best Actress in a Supporting Role, she definitely won Best Fiancé Ever.
Source: Read Full Article