This Med Ball Toss Is the Toughest Way to Tag Team a Workout
Why take on a workout alone when you could team up and share the load with your workout partner?
Don Saladino, coach to Ryan Reynolds, Sebastian Stan, and creator of the MH Superhero Shred program and Men's Health fitness director Ebenezer Samuel, C.S.C.S. have teamed up to share some ultra-effective partner workouts that will make your training time much more collaborative. The two strength and conditioning experts approach the gym with their own perspectives—but when they come together, they create routines that you and a friend can recreate for your own super gains.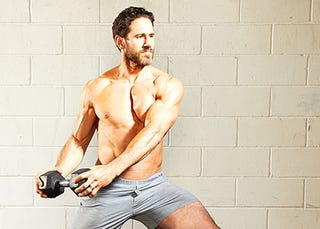 Hearst Product Studio
BUY IT HERE
This hollow hold medicine ball pass is not for the faint of heart. The ab-focused exercise will hone your balance, core strength, and coordination—but you won't be able to pull it off without both partners giving their all for the whole period.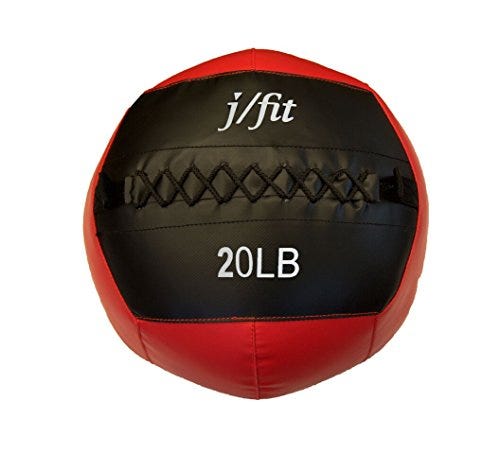 You'll need plenty of space to pull this off, so make sure you have an open area to work in if you're in the gym. Nothing kills a workout like getting pegged by a flying medicine ball, so make sure that everyone around you knows what you and your partner are about to do.
If you're doing both types of throws as effectively as possible, it helps to have two types of medicine balls. For the first variation, work with standard balls. For the second, grab a larger, soft-shelled slam ball, if there's one available. Check out this option from j/fit if you need one for your home gym.
The key to the hollow hold medicine ball pass is in the name. You'll need to really own the hollow hold position to be able to handle the passes back and forth. Brush up on your form before you start, and make sure both partners can hold together before you introduce the ball into the equation.
View this post on Instagram
ADVANCED AB EXERCISE ⠀ This hollow hold pass is very unconventional and very difficult. The main takeaway here is to make sure your ribs are down and your low back is pinned to the ground. If the one arm catching variation is too advanced, please swipe right to our two hand pass. Eb and I recommend 3×10 on each side at the end of your workout. Tag a partner to pass with. ⠀ @menshealthmag @on_running @ebenezersamuel23 #suitupwithdon #abexercises #partnerexercise #superherotraining #fridaymotivation
A post shared by Don Saladino (@donsaladino) on
Both partners should get into hollow hold position directly across from each other. For the first variation of the throw, use the smaller med ball and toss and catch with only one hand. For the second, use the larger ball, and both hands to throw and catch.
"Make your partner work on both throw variations," advises Samuel. "During the single-arm cross-body hollow body throws, you get to introduce unique anti-rotation as you catch a ball with one arm while maintaining the hollow hold, then throw it across your body. It's your partner's job to make you become Odell Beckham, Jr., really forcing you to extend in that hollow body to make the catch. That extension and the subsequent throw produce unique core, oblique, and serratus action."
The second toss should be more straight-on, but that doesn't make it any easier. "On the double-arm throw, you want to catch and extend far back, once again forcing your core to work in anti-extension fashion in the hollow body," says Samuel. "Then throw the ball from that overhead position; don't let this become a chest pass, because then you're not going to use your abs as much."
Take on the hollow hold medicine ball pass series for 3 sets of 10 reps of each side and style to challenge your abs. Want more from Saladino and Samuel? Check out both of their Men's Health workout programs on the new All Out Studio streaming fitness service.
Source: Read Full Article