Chinese burn: how the People's Republic has become an endurance-running superpower
With chiselled features, sinewy physiques and oversized water bottles, my fellow runners are easily identifiable on the flight to Tengchong. We might have no common language, but we exchange perfunctory nods of mutual recognition as we descend en masse on the Gaolingong mountains. The rising popularity of ultra-running is a global phenomenon, but nowhere is it more pronounced than in China.
"Each time I visit China to run I see massive increase in both participation and performance; the growth is amazing," observes Michael Wardian, former 100km World Silver Medallist, World Marathon Challenge record holder and a competitor at the recent Mt Gaoligong by UTMB.
The explosion in road running in China has been well documented. According to China Daily, nearly one million people run in Beijing's Olympic Forest Park each day. From just a handful of marathons a few years ago, the country hosted more than 500 last year. In 2015, Japan and the US recorded the highest number of marathon finishers at just over half a million each. If China hasn't already overtaken this number, then it seems certain to do so soon. Such is the level of demand that counterfeit race numbers are a real problem for many Chinese marathons.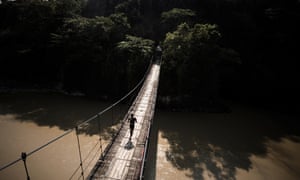 As elsewhere in the world, the normalising of 26.2 miles seems to have driven a desire for some runners to push their limits further. Concrete data is hard to come by, but the races, the distances and the enthusiasm certainly continue to multiply. At the Ultra Gobi, volunteers conclude the race by taking part in a 50km fun run. In January, nearly 2,000 runners took part in an ice marathon in Northern China at -15C. And with three races – 160km, 125km and 55km – Mt Gaoligong itself was nothing short of a four-day trail-running festival, attracting big sponsors, lots of media and several thousand participants.
It wasn't long ago that Chinese races were chaotic affairs. A race organiser from Hong Kong, which has a much longer tradition of trail running, tells me: "A few years ago cheating was rife; I remember seeing runners on the backs of motorbikes." Now it is the mainland Chinese races and runners that are dominating.
In a pattern that echoes other consumer trends, Chinese ultrarunning has been heavily influenced by, and is eager to learn from, more established races in Europe and the US. Xingzhi Exploring Group, the organisers of the Mt Gaoligong races, have recently partnered with UTMB International. The Ultra Trail of Mont Blanc (UTMB), a Chamonix-based race that has grown from nine friends to nearly 10,000 participants annually over the past 16 years, is arguably the spiritual home of the sport in Europe. Now, in a joint venture with OC Sport, they plan to expand into a global series of mountain races. China was the obvious place to start.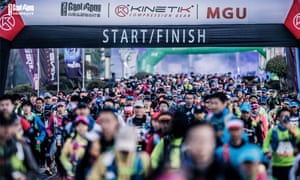 The growth in ultra-running in China can in part be attributed to simple economics. "Once people have taken care of their needs, they look for ways to escape and long-distance running offers that," explains Jin Rao, the CEO of Ultra Tour of Mt Siguniang – a 100km high-altitude race (average 4,200m) that now attracts more than 1,500 applicants each year. Jin has an interesting perspective on China's changing tastes, having grown up as a "village boy" in Sichuan province where running up mountains was a necessity of daily life. His races now attract a primarily urban and wealthy demographic. "I'm just happy that more people want to visit my mountains," he tells me through a translator.
Businesses have been quick to recognise the opportunity. While running might be an intrinsically inexpensive hobby, it is also a big market. Zhao Fan, Chinese distributor for Altra shoes, reports sales tripling every year and expects the trajectory to continue. Most international outdoor equipment brands have invested heavily, and several local rivals have emerged.
Running abroad is an ambition for many participants in Gaoligong. Remi Duchemin, CEO of OC Sport, estimates that approximately 300 million Chinese now have the economic resources to travel for races, and that number is growing every year. In August, 385 Chinese runners will take part in the UTMB, second only in number to the French.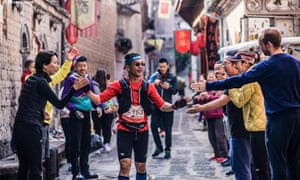 But it would be short-sighted to see Chinese races as mere replicas. While they have imported many of the best aspects – excellent route-marking, efficient organisation and a zero-tolerance approach to littering – they have also added a uniquely Chinese atmosphere. At each of the 17 checkpoints along my 162km slog across the Gaoligong mountains, we are greeted by armies of enthusiastic volunteers offering ginger tea and beer. For a few runners, the CPs even provided a convenient opportunity for a cigarette break. As you approached the finish line, supporters lined the streets. Dan Lawson, the 24-hour European champion, spoke for many when he declared that "China is my favourite country in the world in which to race; the support is unbeatable".
This adulation also helps to explain the popularity of the sport. "In ultra-running, everyone can have their champion moment," says Remi Duchemin. "This is true in all countries, but particularly so in China." After scraping in just under 24 hours and unexpectedly finding myself on the eight-man podium, I can certainly attest to being made to feel undeservedly special, the endless requests for selfies helping to prolong the delusion.
Runners the world over are often aware of this egocentricity. "I don't date other runners," one female athlete jokes after the race. "There isn't room for two self-absorbed people in a relationship". But while the sport might be inherently individualistic, the sense of camaraderie at Chinese races is palpable. A late and improbable burst of energy sees me overtaking a few runners towards the end and each greets me with a smile and a breathless "Jia you" – which appropriately translates as "add oil". The finish line the following day is littered with gaunt, hobbling figures returning to cheer on fellow runners who have battled through a second night on the course.
Whether the drivers behind China's running boom are economic, cultural or both, the trajectory seems clear. "For international runners, China is likely to be a key destination over the coming years," explains Michael Wardian. "I can't wait to come back," Last year's announcement by Abbott, who run the World Marathon Majors, of three new races in the series will only reinforce this. Abbot have partnered with Chinese conglomerate Wanda, so a Chinese race is surely a dead cert to be added to the majors list.
Having run my first ultramarathon in 2010, I have watched with excitement as the sport has grown and developed. The choice of races, the standard of competition and the general interest have all increased dramatically. China's emergence as an endurance sport superpower will add further momentum to this bizarre but compelling cross-cultural trend. And after slogging up and down 160km of Gaoligong mountains, I know that there are few places I would rather run.
Alfie is on instagram at @jogonalfie. His Strava of the race can be found here.
Source: Read Full Article