Dean Karnazes: 'When you're struggling, that's when you feel most alive'
Hi Dean. You have a new book out, The Road to Sparta. What is it about? It is the story and the lore of the marathon, from its genesis in ancient Greece 2,500 years ago to the modern marathon. It's how the marathon became the marathon.
And in the book you take on the Spartathlon race [a 153-mile race from Athens to Sparta] in Greece, right? Well, what I learned in researching the marathon is that there's more to the story than a lot of us thought, and it goes beyond 26.2 miles into an ultramarathon. Pheidippides was recruited to run from Athens to Sparta to recruit the Spartans for battle. He was actually a professional runner, they were called hemerodrome, which meant "day-long runner". The Athenians realised that an elite ultrarunner could outrun a horse; they could essentially dispatch men quicker than horses if needed. So the Spartathlon is the modern-day version of that journey.
As an ultrarunner with Greek heritage, you must feel a strong connection with this story? Very much so. My dad used to always say that we're from the same village as Pheidippides. If you go to the village where my father's from, everyone looks alike.
You've run hundreds of ultramarathons in all seven continents – how did the experience of running in Greece compare? It was a different sort of experience in that I'm a modern-day ultramarathoner. I have all the kit, I'm eating gel packs, hydration fluids and everything … but in this race I tried to recreate what Pheidippides did 2,500 years ago, running in leather sandals, eating figs and olives and cured meat … I mean, they were a tougher breed back then.
What I found when I was running for 24 hours eating only figs, let's say I had some GI issues, my bowels kind of shut down, so I really couldn't eat anything for the last half of the race … only water for 75 miles. I mean, he died at the end of his run, and I can see how it could kill you. There was a point when I was maybe 120 miles into the race, I was extremely dehydrated, my electrolytes were out of balance, and as I was running along I saw what appeared to be a grasshopper, or a praying mantis, a little stick figure in between my feet moving along as I was running. And I was looking down at this thing, trying to make sense of it, trying not to step on it … and then I realised, it dawned on me … that's me! It was as though I was in a helicopter or a hot-air balloon. So I think I had an out-of-body experience. I've never had anything like that happen to me before and I thought, maybe this is how you feel right before you die.
Your books have inspired a lot of people to take up ultrarunning. Is this a good thing? I've been conflicted about this a little bit. There's a race called the Western States 100 that's in my first book, Ultramarathon Man, and there's a lottery to get in. You used to have a 50-50 chance, but now there's 15 applications for each entry, so it's almost impossible to get in and people blame me, they say: "You told the world about ultramarathoning, and now everyone's getting into it."
I respect that, but I think it's something of a myopic point of view because ultrarunning is a noble pursuit and has brought purpose to many people's lives, as it has mine. I wrote about this in my book and, in a way, that gave permission to other people to try these sorts of things.
I think people can identify with my story because it's every runner's story, we all feel pain together. This latest book is about a very difficult race of mine. I could have had a good race and it would just be a standard race report, but this is about a guy falling apart, it's a commonality that unites us.
Do you think you have to be a certain type of person to enjoy putting yourself through this sort of pain? I think there's magic in misery, and that's been lost in western culture. We thought if we took all the pain and struggle out of our lives, we'd be happy, and I think we're so comfortable, we're miserable. When you're struggling, when you look back at that experience, that's when you feel most alive, and I think people seek that out because life is so mundane now.
You've done so many races, can you say if one was the hardest of all? The Badwater ultramarathon across Death Valley is a very challenging race, 135 miles non-stop, over 50C, with a headwind.
Do you record your mileage? Do you know how far you've run in total? Not really, but for the back of the napkin calculation, probably about 100,000 miles.
Do you ever listen to music while you're running? I listen to audiobooks. I probably have 500 on my playlist. I ran across America one time from LA to New York and I probably listened to 50 books in 75 days of running.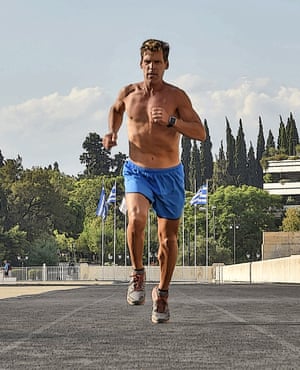 What's the furthest you've ever run in one go? I once ran 350 miles in an 81-hour continuous push.
What do you like to eat while you're running? I'll never live down the story in Ultramarathon Man of ordering a pizza and getting it delivered to the roadside as I ran by. But I don't eat that sort of food any more. I really like nut butters, I find they sit better with me than gels. I like coconut water for hydration, I find that works well.
What's your favourite place in the world to run? It was London today [we did a loop along the Thames in central London before the interview]. My favourite place is wherever I am that day. But that was a glorious run. To you, it was all normal, but it would be like me taking you for a run across the Golden Gate bridge [near his home in San Francisco].
Do you ever run barefoot? On the beach, or the infield of a track, yes. I love running barefoot, but not on pavements. But I did run a marathon barefoot … I wanted to see what it was like.
How was it? It was horrible! My legs were not as sore, amazingly, but my feet were really beat up.
Who is your running hero? Probably my dad. I remember going to the inaugural LA marathon [in 1986]. I was just a young boy and I remember he ended up in the medical tent at the finish. He was a mess, he had an IV in his arm, he was shivering, and I looked at him and my first thought was: why would anyone do this, I'm never going to run a marathon, this is the most ridiculous thing. So he influenced me, but not in the way you would think. But something about it must have resonated.
• The Road to Sparta is published by Allen and Unwin (£12.99). To buy for £11.04 go to bookshop.theguardian.com or call 0330 333 6846. Free UK p&p over £10, online orders only. Phone orders min p&p of £1.99.
Source: Read Full Article