The toughest race in the world?
Twenty-seven hours into the world's toughest footrace, things really started to get interesting. The physical agony I'd been prepared for; the mental torment came out of the blue. Or rather the black. Running up a steep forest path at midnight, my head-torch began picking out writhing, reptilian forms, menacing faces and … cartoon characters.
Shuffling up the hill ahead of me, a fellow competitor was performing comical double takes, clearly also hallucinating. As I neared, his roving spotlight illuminated a squat bush to our left and, as one, we leapt the other way. Sitting there, his coat a vivid blue but otherwise unmistakable, was Pluto. Welcome to the mad, mad world of the Ultra-Trail du Mont Blanc.
Is it really the world's toughest footrace? This annual orgy of masochism certainly takes some beating. The course, a three-country circumnavigation of the massif dominated by Europe's highest mountain, is 103 miles long with an aggregate climb of 30,839ft. Put another way, you're running non-stop from London to Birmingham via the cruising altitude of a jumbo jet. Throw in chronic sleep deprivation and a temperature range of -10C to 30C, and you have an event that is probably going to sting a bit.
So, why do it? To paraphrase Lance Armstrong, it wasn't about the running. Neither myself nor Blake and Cal, the two friends who'd initiated this lunacy, were runners in the strictest sense. That is, we'd never discussed split-times. Or worn Lycra unless absolutely necessary. But driven by the same ill-defined, thirtysomething challenge lust that was to take us to the Alps, we'd completed various marathons and multi-stage events, accruing sufficient points to enter the UTMB.
A festival atmosphere greeted us in Chamonix, the start and finish point. In its seventh year, the event is already huge, dominating the final weekend of August. Lean, weathered competitors roamed the town, sporting elaborate equipment, loading up on specialist fuel. We felt like impostors. This was the pinnacle of distance running; most of our kit still had the price tags on.
Seemingly the entire community converged on the town square to cheer us off on the Friday evening – 2,600 runners outnumbered tenfold by a raucous, cowbell-jangling multitude. The fervour seemed proportional to what awaited, making my stomach churn. To the stirring strains of Vangelis, we were off.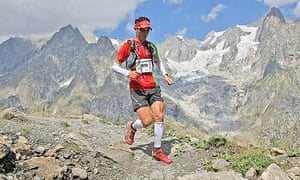 The first few miles were flat, well-supported and fun, but no one was buying it. Sure enough, the first climb wasn't far off. Our training for the event had been improvised at best: Cal had focused on core strength; myself on wearing a groove into a single hill in Greenwich Park; Blake on trying to give up smoking. We certainly could have done more. But as we toiled to the top of La Charme in the gathering gloom, it became apparent that nothing would have adequately prepared us. This was an exam without a syllabus.
St Gervais, 3,300ft below the peak, is a good spot to watch the race, head-torches like fairylights streaming down the mountain. The close-up view is less graceful: if running uphill is torturous, going the other way, we were discovering, is incomparably worse. The town was abuzz with bands, stalls, thousands enjoying the balmy evening. The route led us to our first "revitaillement" point, a gauntlet of cake, biscuits, soup, Coke, cheese. We gorged, replenishing energy and morale.
Les Contamines, seven miles on, was our first "barrier horaire", one of 12 chip-activated checkpoints to be exited by a finite time. We learned to hate these, chasing us out of town, denying us rest. They were, of course, our greatest friend, the brutal compartmentalisation forcing us on towards glory.
Fatigue clouds my recollection of much of what followed. I remember dawn breaking as we ran through the mist at Col de la Seigne, 8,300ft up – twice the height of Ben Nevis. It revealed a stunning view of the massif, the snow-capped curve of Mont Blanc attended by a bodyguard of jagged peaks. It was hauntingly beautiful and largely ignored. Courmayeur, the halfway point, also stands out: for the heat that tormented us as we descended to this strikingly pretty Italian town, and for its sports hall refreshment point, which resembled an emergency shelter after a natural disaster.
The mental disintegration began on the interminable descent from Grand Col Ferret. We began sniping at one another, looking for a rise. Then came the hallucinations. The strain on our minds was becoming unbearable. We had to rest. Perversely, agonisingly, we increased our pace and by Champex-Lac, four hours later, we had a sufficient time cushion for 20 minutes' sleep. Tiptoeing clumsily through rows of snoring runners, we found three spare mattresses. Seemingly 20 seconds later my alarm was buzzing and the tent was empty. Mustering all remaining willpower, we hobbled back out into the cold woods. It was 2.51am, nine minutes from disqualification.
Dawn found us running along the top of Bovine mountain, riding an unexpected wave of adrenaline. On we pushed, buzzing on sugar, running on fumes. Trient, Catogne, Vallorcine. Near Argentiere, we crossed the valley road. Five flat miles to Chamonix. The route planners had other ideas. Far above, we could see scores of dots inching up the sheer, sweltering face of Col des Montets. We'd been running for 41 hours, but still they weren't done with us.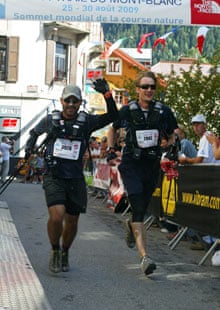 The final descent, in my mind's eye, had been a triumphal procession. The reality was a panic-stricken slog as we battled to reach the final, all-important cut-off: Chamonix, 4.30pm. Failure at this stage was too awful to contemplate. Walkers began to materialise. "How far?" we'd bark in French, hearing only the quickest responses. Bursting out of the trees we found ourselves on the edge of the town. Then, the sweetest of sounds: a distant clock lazily chiming four. We were going to make it.
The centre was as we'd left it, packed, raucous, utterly absorbed in the unfolding drama. With the field thinned out and decimated (half wouldn't finish), we were centre stage. The roar spread like a Mexican wave as we entered the cordon channelling us through Chamonix's streets in a snaking lap of honour. The crowds surged forward to acclaim our efforts, a din of cowbells and horns and hammered advertising hoardings. We responded with a sprint, oblivious to the pain, tears filling our eyes, not quite believing that the finish line was real, that this wasn't just another hallucination, that we'd made it.
A bluffer's guide to completing the UTMB
Take an iPod. Not really in the spirit of the race's 'at one with nature' ethos, but an invaluable distraction from pain. At least initially … Try Running Up That Hill by Kate Bush, Lost And Running by Powderfinger, or Dexys Midnight Runners. Or, if puns don't interest you, go for Seven Nation Army by The White Stripes. It's the best running track ever produced.
Sign up with mates of at least 20 years' standing, with whom you have an unbreakable friendship. It will need to be as fatigue and pain turns you into petulant, abuse-hurling monsters.
Use poles. Not the nationality – the lightweight trekking aids. Leki's telescopic Ultralite Makalu would be my pick. You don't get much change from £120 but, by mile 70, you'd sell your grandmother for the extra support.
Use Bodyglide: Vaseline without the smutty associations. This miracle balm will leave you chafe-free.
Wear Legionnaire's running hat. It's good for sun protection; even better for post-race fancy dress.
Source: Read Full Article