The Kathmandu marathon: 'It's like running with a cigarette in your mouth'
It was definitely done in the finest Kathmandu style. When I arrived at the marathon registration desk at 5.30am last Saturday – I was already half an hour late – the person who was supposed to take my details was nowhere to be found. "She'll be here in a minute," said race director, Nilendra Shrestha, who had taken on the brave task of organising the marathon in the Nepalese capital for the seventh time in a row.
More than 6,000 runners were expected to participate in the event, which featured a full marathon, a half-marathon and a 5km fun run. A lot of the aspirants, though, must have overslept, as the stadium – the start of the race – did not seem very busy that morning. (In the end, 2,359 people took part in the event; 75 full marathon; 138 half; 2,127 5K and 18 wheelchair.)
Nevertheless, it was great to see young and old, Nepalis and foreigners and wheelchair athletes gather at the crack of dawn to run together through the smog and dust of Kathmandu.
"Every year we want to block the roads, but it's just not possible here. We don't have alternative roads and for our citizens and drivers using the roads, this is still something they are not used to," explained Shrestha, who once lived in Germany and ran across what used to be West Germany in the 1980s. "Well, it's certainly a lot easier to do something like this in Europe."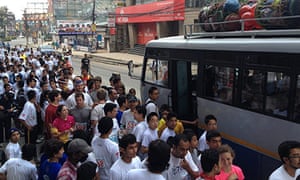 I take my hat off to the organisers; putting together an event like this in Nepal must be a nightmare. The start was supposed to be at 6am, which seems very early but means you might actually have a chance to beat the traffic. Well, that's what I thought. Being a good and punctual German, I walked towards the start at about 5.58am. Nobody to be seen. Not one single person was ready to start at 6am. "Oh well," I thought and ambled back into the stadium, where people were still chatting, registering, stretching or just hanging about.
I ended up talking to a German tourist, who, on the spur of the moment, had decided to do the full marathon distance, something he thought could be the icing on the cake of his four-week-long trip to Asia. Little did he know, what he was letting himself in for. Due to construction works that have been going on for 18 months and have made normal life pretty difficult in Kathmandu, the race could no longer follow the route of previous years. Instead of going through the scenic and culturally interesting main squares of the three former royal cities, (Kathmandu, Patan and Bhaktapur) the 210 runners for the half and full marathons had to pound along the Ring Road, which can probably be compared with the M25 around London – just smaller and more polluted. For the full marathoners, it meant they had to run this loop twice.
While my friend Richard and I were scuttling along the busy road, I tried to imagine what it would be like having to do run this route again, and quickly came to the conclusion that neither my lungs nor my brain would manage to do so. Lost in this thought, I overtook a Brit, who was holding a handkerchief close to his mouth. "Fun, isn't it," I said while a truck blasted past, leaving us engulfed in a thick cloud of black smoke. "It's like running with a cigarette in your mouth," the runner responded, and I guess that was exactly what it felt like.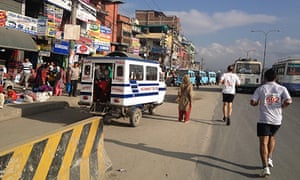 And so we carried on, dodging buses, trucks, cows, bicycles, motorbikes, rubbish vans, chicken vendors, tuck tucks and the like. We also passed some enthusiastic Kathmandu dwellers, cheering us on and congratulating us on our willpower to run through this mad traffic.
After about two hours, we entered the stadium, where we did our final 400-metre loop, desperately craving a drink. "Good job this race is sponsored by REAL juice," I thought to myself, expecting a lovely smiling young lady presenting me with a refreshing glass of juice upon my arrival at the finishing line. But alas there was no liquid at all at the finish. "A few years ago, we handed out juice, but it was absolute mayhem and I was worried that people would kill each other over the free juice, so I decided not to do this any more," said Shrestha.
Despite the lack of juice or clean air, I still think it's wonderful that the Kathmandu marathon is in its seventh year, and Shrestha has not yet given up organising it. "I usually make a loss, but it's very rewarding to see that the number of Nepali runners is increasing every year," he said, emphasising that the fee for Nepali runners was a mere 500 rupees (£3). It certainly gets them out running and might even create a new trend in the Himalayan country. So, Kathmandu marathon – carry on running!
Billi Bierling is a journalist and climber. She lives in Kathmandu and blogs at billibierling.com
Source: Read Full Article