Man v Horse: the world's most eccentric race?
"What's this about running with horses?" the man asked as he peered at my CV. It was a few years ago and I was midway through an interview for a job in international development. Fortuitously, as it turned out, the final line of my CV, the bit that doesn't have to be entirely dull, mentioned my enthusiasm for running "marathons, ultra marathons and, on occasion, against horses".
I never had official confirmation but, given that at least a third of the interview was spent talking about marathons (it turned out he was also a keen runner), I'm reasonably sure that it was a, if not the, deciding factor in my getting the job. It didn't seem to matter that the role in question involved running economic growth projects in far-flung corners of the developing world, rather than quirky mountain marathons.
The Man v Horse marathon in Wales was started in 1980 as a result of a pub bet, and has been an annual fixture ever since. So last Saturday I returned to the Neuadd Arms in Llanwrtyd Wells to join a record field of more than 600 runners and 50 horses and riders for the 35th battle of the species. Among them was the legendary Huw Lobb, who in 2004 became the first ever man to beat the horse – and in doing so claimed the considerable accumulated prize money (£25,000).
Since my previous appearance three years ago, the organisers had decided to add a couple of extra miles and a few more hills – two things this race definitely didn't need more of. That brought the new course to 23.6m, which can be run as a solo effort or a relay team of three. I foolishly opted for the former while my friends, running under the team name of The Brothers Karamazov, chose the latter.
Our pre-race preparation wasn't ideal. We spent the evening before in a lay-by just outside London eating crisps. We eventually arrived tired, hungry and not really in the mood for self-flagellation on Welsh mountains. At least, unlike my previous experience in 2011, it was a dry and warm day. This, we were told, should benefit the bipeds given the difficulty that horses have in controlling their body temperatures.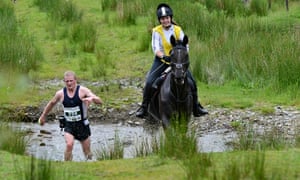 The race started, as all races should, with a long, slow climb. That and an early series of knee-deep bogs and river crossings ensured that we were breathless and muddy within two miles. After the first relay change we were overtaken by the leading horses, who start 15 minutes behind the runners. It's somewhat disconcerting to hear the gallop of hooves and see a horse thundering past on a narrow track. Fortunately their riders were universally considerate – and usually seemed to be in control.
At the halfway point the horses have to attend a "vet check". This ensures their wellbeing and also gives the runners a small but much-needed advantage. Beginning to feel the pain by this point, I only just resisted the temptation to visit the vets myself. Unlike Roger Bannister I did not feel "full of running"; I felt full of the pork pies and beer that had constituted the previous evening's makeshift supper.
With 10 miles to go it was time for the third relay runner to take over – which for me meant being overtaken by smiling, fresh-legged runners after 15 miles of hills. Even the beautiful scenery couldn't distract me from my aching legs, unaccustomed to rugged Welsh terrain. On the plus side I was beginning to get the hang of hurling myself down the lethal, rocky descents, although that might have had something to do with not having the energy to hold myself back.
The atmosphere in the finishing paddock, much like the rest of the race, was friendly, if a little haphazard, and brought to mind a country fair rather than an athletic event. There was nothing amateurish about the performances, though, with the first runner, Jonathan Albon, coming home in an impressive 2hr 42min. This was, however, 20 minutes behind the winning horse, Jeff Allen on Leo, and on this slightly longer course it's certainly going to take something special for anyone to join Lobb (2004) and Florian Holzinger (2007) as the only human winners.
This is truly a first-rate cross-country course, combined with some Welsh eccentricity and hospitality and the added excitement of periodically having to throw yourself into a hedge/bog/ditch to avoid being trampled by a horse. Whether you are runner, rider or horse, I would strongly recommend it.
• wholeearthfoods.com/peanut-power/man-v-horse
Source: Read Full Article