'Strangers' Actress Zoë Chao Starts Her Morning With Coconut Yogurt And A Dance Party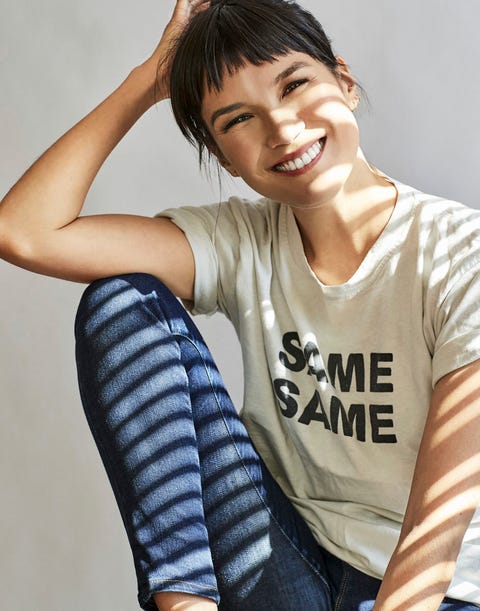 Writer and actress Zoë Chao stars on the Facebook Watch series Strangers, where she hops between room rentals in New York City, trying to figure herself out. But IRL, Zoë knows exactly what she needs and how to set up the first few hours of her day to feel fresh, positive, and inspired by the time she hits work.
8:30 a.m.: As soon as I wake up, I like to ground myself with meditation.
"I meditate for one minute, scanning up my body and focusing on my breath. Once I'm awake my mind starts racing, so taking a moment to check how I'm feeling helps me reset and get in my body."
8:35 a.m.: I check one thing off my to-do list to spark productivity.
View this post on Instagram
Oh this ole thing?
A post shared by Zoë Chao (@zchao) on
"I always make my bed. It's a simple task that helps me set the tone for the day—I don't need to do it, but I tell myself 'evening Zoe will thank you later.'"
8:45 a.m.: Starting my day with fun and movement is really important to me.
View this post on Instagram
The antidote @evenychefa
A post shared by Zoë Chao (@zchao) on
"I have to work out in the morning or it's not happening. Luckily, I live with my sister and we usually start the day with a mini dance party in the kitchen. She'll put on her new favorite song—we heart Sean Paul—and we'll jump around with her huge Siberian kitty, Nubby. It makes me feel like myself and reminds me not to take anything too seriously.
"If I need more exercise, I'll run around Prospect Park in Brooklyn with a friend or do a 45-minute Fitness Blender HIIT workout in my apartment with my sister. It's more fun to suffer through it together!"
9:30 a.m.: I show my skin some love.
View this post on Instagram
HAPPY BIRTHDAY @evenychefa
A post shared by Zoë Chao (@zchao) on
"After my workout, I'll shower and put on SkinCeuticals Phyto Corrective Gel—it evens out my complexion."
9:45 a.m.: I like to learn from podcasts and audio books while I eat.
View this post on Instagram
THISBOOKRIGHTHERE
A post shared by Zoë Chao (@zchao) on
"My go-to quick breakfast is So Delicious coconut yogurt with berries and a matcha latte with oat milk. While I make it, I listen to The Daily podcast or a book on tape—right now it's Educated by Tara Westover."
10 a.m.: Time for work! But first I prioritize and strategize my day.
"I head to a coffee shop to work on two screenplays I'm writing. I use a to-do list with four quadrants that divide goals by importance and urgency. It solves the prioritizing struggle!"
This article originally appears in the November 2018 issue of Women's Health. For more intel on how your favorite stars and influencers lead healthier, happier lives, pick up an issue on newsstands now.
Source: Read Full Article