Starbucks Holiday Drinks: Here's How Many Calories Are in Starbucks Seasonal Drinks – The Cheat Sheet
It might still be fall, but Starbucks wants to make sure we are all ready to ring in winter (and the holiday season) with a peppermint mocha or gingerbread latte in hand. Even if some of us have to drink them over ice until the cooler weather hits (here's looking at you, Californians). And while some customers are embracing the return of Starbucks holiday drinks, others might worry about the lack of health each red cup provides.
Wondering how many calories are in Starbucks seasonal drinks? We break it down for you, ahead.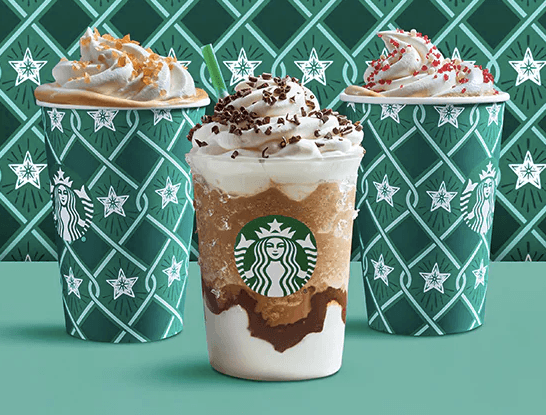 Starbucks holiday drinks are high in calories, saturated fats, and sugar. | Starbucks
Starbucks holiday drinks
'Tis the season for Starbucks holiday drinks! But, while a coffee drink might not seem like much of an indulgence, it's not that far off from your favorite holiday desserts. These Starbucks holiday drinks contain a surprising amount of calories, sugar, and saturated fat — all of which can have a lasting impact on health. Before you order a peppermint mocha, consider the below health facts (plus, how to make them healthier).
Peppermint Mocha
Calories: 240-540
There's no denying that Peppermint Mocha is a holiday staple. After all, the seasonal drink has been on Starbucks' seasonal menu for the last 16 years. But, while that might be impressive, there's one thing (okay, three things) that's not: It's nutrition facts. Without making any ingredient adjustments, a Peppermint Mocha ranges from 240 (for a Short) to 540 (for a venti) calories. And, includes six to 11 grams of saturated fat and 28 to 68 grams of sugar.
Despite those alarming numbers, there is something you can do about it. And, we aren't talking about giving up Starbucks holiday drinks forever (the horror!). For starters, ordering a Short is the way to go. You still get the satisfaction of drinking a Peppermint Mocha without overdoing it. That said, you can also make some modifications to drive down the saturated fat and sugar content. Instead of ordering it with 2% milk, go for almond milk. That will bring the calories down to 210, saturated fat to 4.5 grams, and sugar to 24 grams. To up the ante, you can also ask for no whipped cream, which makes you Short Peppermint Mocha 150 calories with one gram saturated fat and 21 grams of sugar.
Toasted White Chocolate Mocha
Calories: 230-510
A Toasted White Chocolate Mocha might be fewer calories than the legendary Peppermint Mocha, but it's not that impressive. Depending on the size you order, this Starbucks holiday drink has a whopping 230 to 510 calories, six to 11 grams saturated fat, and a whopping 29 to 70 grams of sugar.
As always, there are ways around this holiday faux pas. By ordering a Short instead of a Grande or Venti, you cut the calories to 230, with six grams saturated fat and 29 grams of sugar. On top of that, going with almond milk and no whipped cream can help drive the nutrition facts down to 130 calories, 0.5 grams saturated fat, and 21 grams of sugar.
Caramel Brulée Latte
Calories: 240-550
If Caramel Brulée Latte sounds like a dessert, that's because it basically is. An order of this Starbucks holiday drink will get you between 240 and 550 calories (depending on size), plus five to nine grams saturated fat and 24 to 59 grams of sugar.
Similar to the other Starbucks holiday drinks, you can change your order around to make it less indulging. Simply go for a smaller size, swap out the milk, and hold the whipped cream. A Short Caramel Brulée Latte with almond milk and no whipped cream amounts to 150 calories, with no saturated fat and 17 grams of sugar.
Chestnut Praline Latte
Calories: 190-410
Behold a Starbucks holiday drink that, if ordered in size Short, is less than 200 calories without modifications. That said, the nutrition facts are still not considered healthy by any means. A Short Chestnut Praline Latte has between five and 10 grams of saturated fat with 21 to 49 grams of sugar. See what we mean by not impressive?
That said, compared to other Starbucks holiday drinks, it's much easier to get these numbers down. All you have to do is size down to a Short and ask for almond milk and no whipped cream. That gets you a beverage that is about 90 calories with 13 grams of sugar and no saturated fat.
Gingerbread Latte
Calories: 180-400
Another Starbucks holiday drink under 200 calories? It must be a Christmas miracle. The Starbucks Gingerbread Latte is between 180 and 400 calories with five to 10 grams of saturated fat and 20 to 48 grams of sugar.
If you still want to indulge without the exorbitant amount of sugar and saturated fat, all you have to do is order a Short Gingerbread Latte with almond milk and no whipped cream. That will get your little holiday treat down to 90 calories with 13 grams of sugar and no saturated fat.
Eggnog Latte
Calories: 230-590
The Starbucks Eggnog Latte is a special take on a holiday classic. But, sadly, it's nutrition facts are alarming. Even a Short size is too high in calories (230), saturated fat (five grams), and sugar (26 grams). That said, if this stuff is your jam, you can definitely still indulge — and with less of the bad stuff. Simply ask for a Short Eggnog Latte with almond or coconut milk. That will get you a drink that is 220 calories, five grams of saturated fat (blame the eggnog!), and 24 grams of sugar.
Check out The Cheat Sheet on Facebook!
Source: Read Full Article