Did Starbucks Run out of Red Cups? – The Cheat Sheet
It wouldn't be the holiday season without a little drama over Starbucks red cups. But, this year's saga has a major plot twist. The 2018 red cup controversy has nothing to do with religion and politics (yet). In less than a week from bringing back its beloved peppermint mocha and introducing its new series of holiday cups, Starbucks seems to have run out of red cups.
Rest assured, you can still drink your holiday drinks from one of four Christmas-themed Starbucks cups. Those decorative disposable ones aren't going anywhere. However, if you are trying to be festive and save the planet, you might be disappointed to learn that Starbucks allegedly ran out of its new disposable red cup — and customers are angry. We don't blame them. Who would want to drink a gingerbread latte out of anything BUT a red cup? Those plain white ones certainly won't suffice. And only Ebenezer Scrooge would drink his coffee out of the black "peace, love, coffee" ones introduced earlier in the fall.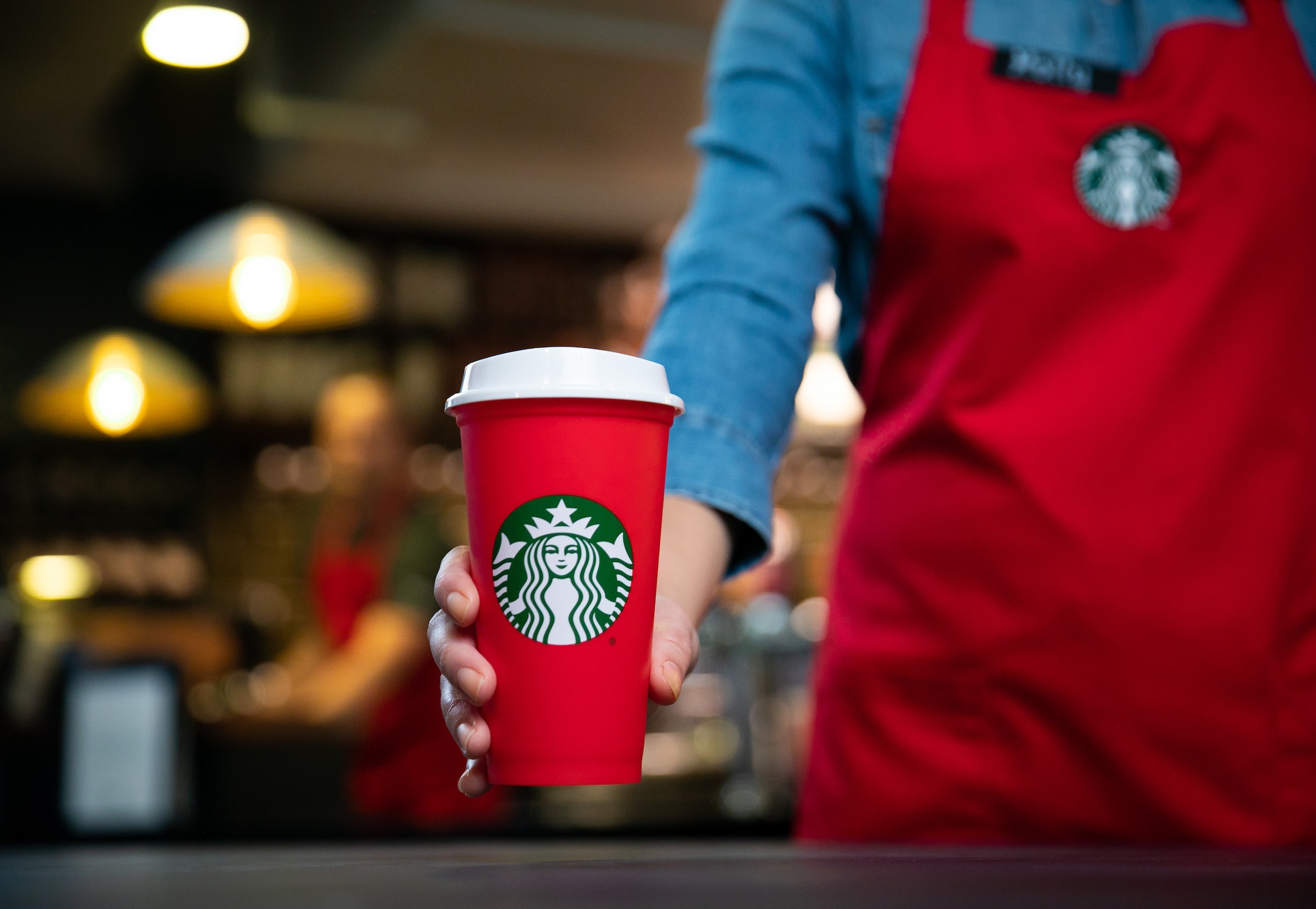 The reusable Starbucks red cups get up a discount on coffee orders. | Joshua Trujillo, Starbucks
With all that said, holiday miracles do happen — but apparently, they will cost you. On Friday, November 2nd, Starbucks offered the free reusable holiday red cup with all holiday beverage orders. And, since the cups were free (again, for those peppermint mocha fans) and people love free, many stores reportedly ran out within the first few minutes of opening. However, those that wish to purchase the reusable red cups, and frolic in all their planet-loving holiday glory, still can. "Customers who did not get a reusable red holiday cup may now purchase the cup for $2.50 to receive $.50 off their grande (16 oz) holiday beverage order through Jan. 7," a Starbucks spokesperson told Eater.
Starbucks holiday cups throughout the years
This year's early upset isn't the only time Starbucks has been under fire for trying to bring the holiday cheer. It ends up in the doghouse almost every season for using its red cups to push political agendas or make the holidays more inclusive of all religions. But, that's just what some claims say. Here's a look back at some of the most notable controversies surrounding Starbucks red cups.
The plain red cup was denounced by some religions
In 2015, Starbucks tried to steer clear of controversy and introduced a plain red cup — similar to the disposable cup it ran out of last Friday. The idea was to make the cup more inclusive for all religion, while still having that Christmassy feel. Well, a Christmassy feel wasn't enough, and some angry customers felt the cups were a dig at Christianity.
Even Donald Trump, who was on the campaign trail at the time, felt the need to denounce Starbucks for its Grinch-like error. "No more 'Merry Christmas' at Starbucks. No more," he told a crowd at a campaign rally. He then suggested everyone boycott the Christmas-hating coffee chain. Who knew a plain red cup could cause such drama?
The green cup was too political
Speaking of politics, the 2016 green cup also caused some issue. The cup featured a 100-person mosaic and symbolized unity. However, some Starbucks customers were upset and felt the sense of unity pushed a political agenda.
The doodle cup supported same-sex marriage
In 2017, the coffee house decided to have some fun with its holiday design and went with a cup covered in fun doodles. At first glance, it seemed like Starbucks finally designed a holiday cup we can all agree on. But, one of the doodles featured two people holding hands, and many believed it was a same-sex couple. Starbucks was in trouble with customers again — this time for pushing same-sex marriage.
Check out The Cheat Sheet on Facebook!
Source: Read Full Article