When Does Starbucks Bring Back Peppermint Mocha – The Cheat Sheet
Believe it or not, the holidays are right around the corner. And, much like with its pumpkin spice latte (which was released earlier than ever this year) Starbucks can't wait to ring in the holiday drink season. Which begs the question: When does Starbucks bring back peppermint mocha? According to its website, it could be sooner than you think.
Up ahead, we take a closer look at the Starbucks peppermint mocha, including when to expect it in stores and how many calories are in a Starbucks peppermint mocha.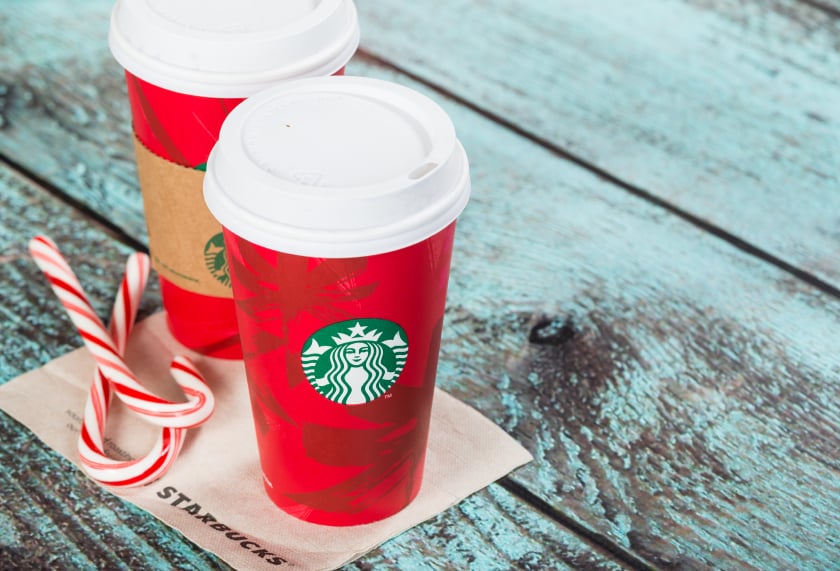 Starbucks holiday drinks typically make a comback in November. | iStock
When does Starbucks bring back peppermint mocha?
Starbucks is eager to get the holiday season rolling. So much so that it could bring back peppermint mocha the day after Halloween (pumpkin spice, who?). In years past, the Seattle coffee house introduced its beloved holiday drinks on November 1st. And while they could hold off until closer to Thanksgiving, chances are the red cups will return ASAP. After all, pumpkin spice lattes were introduced in August this year!
How many calories are in a Starbucks peppermint mocha?
With the excitement around the return of Starbucks peppermint mocha, there's also a downside. Like other Starbucks holiday drinks, the peppermint mocha isn't exactly the healthiest thing on the menu. According to the coffee house's website, a grande Starbucks peppermint mocha with 2% milk and whipped cream amounts to 440 calories. But, that's not the worst of it. In addition to the high calories, the holiday drink also contains 10 grams of saturated fat, plus a whopping 54 grams of sugar — yikes!
That said, making a few minor adjustments can make it a little healthier. Case in point: By simply downgrading your drink size to a tall, you cut the calories to 350, the saturated fat to eight grams, and the sugar to 42 grams. In addition, you can change the milk to almond milk and hold the whipped cream and get it down to 220 calories, 1.5 grams of saturated fat, and 32 grams of sugar. If you want to lower the sugar even more, we suggest asking for one less pump of syrup. And, if you just want a taste, you can order a short peppermint mocha with almond milk and no whip. Doing so makes the drink 150 calories, 1 gram saturated fat, and 21 grams of sugar.
Starbucks holiday drinks
Tis the season for Starbucks holiday drinks! With the return of the Starbucks peppermint mocha, other Starbucks holiday drinks are also making a comeback. See some of the most anticipated flavors of the season, below.
Gingerbread latte
Holiday cookies are a must and the Starbucks gingerbread latte is the perfect way to indulge. Made with gingerbread flavoring, espresso, steamed milk, and topped with whipped cream and ground nutmeg, nothing beats this holiday classic.
Eggnog latte
What would the holidays be without a little eggnog? Starbucks eggnog latte is an espresso beverage with a holiday twist. Featuring steamed eggnog, milk, and a dash of nutmeg, the holiday is sure to keep you warm — and festive — this holiday season.
Toasted white chocolate mocha
White chocolate lovers rejoice! This signature espresso drink features white chocolate mocha sauce topped with whipped cream and candied cranberry sugar.
Check out The Cheat Sheet on Facebook!
Source: Read Full Article