Joanna Gaines Holiday Recipes: Must-Try Dishes From 'Magnolia Journal' – The Cheat Sheet
If you've had a chance to pick up Joanna Gaines' cookbook, Magnolia Table, you know she's quite the cook. But, perhaps what's even more impressive than her farm-to-table breakfasts and mouth-watering biscuits is the holiday recipes shared in this month's Magnolia Journal. From to-die-for desserts to family-friendly beverages, we share Joanna Gaines holiday recipes, ahead.
View this post on Instagram
Which pie is a fall staple for you—apple, pumpkin, or pecan? Get ready for those fall gatherings to come and shop through the link in profile! #MagnoliaMarket
A post shared by Magnolia (@magnolia) on
Joanna Gaines holiday recipes
'Tis the season for home cooking. And, this year, Magnolia Journal has all your Joanna Gaines-worthy recipes for the holiday season. Whether you're hosting a dinner party or baking a "thank you" gift to your holiday hostess, these dishes will make your holidays merry and bright (and, also delicious). Keep reading for some of our favorite Joanna Gaines holiday recipes, found in Magnolia Journal and Magnolia Table.
Jo's Cinnamon Squares
In this month's Magnolia Journal issue, Joanna describes her infamous Cinnamon Squares as a "labor of love." However, she says it's all worth it for a taste of her family's favorite holiday recipe. Here's what you need to make Jo's Cinnamon Squares:
Ingredients:
Dough
¼ cup warm water
2 ¼ oz package of activated dry yeast
2 cups granulated sugar
1 ¼ cups milk, warmed
½ cup butter, melted and cooled, plus additional
2 eggs, lightly beaten
1 tsp kosher salt
6 cups all-purpose flour, plus additional for rolling
1 egg, beaten (to brush on dough)
Filling
2 cups pecan halves or pieces
1 cup chilled butter (2 sticks), cut into pieces
2 cups packed brown sugar
2 tsp ground cinnamon
Directions:
To make the dough, combine the yeast, water, and 1 tsp of the granulated sugar. Let it stand for about three or four minutes until it has a foamy texture. Then add the rest of the sugar, followed by the milk, ½ cup butter, 2 eggs, and salt. Mix everything with a wooden spoon until its well combined. After that, add the flour and stir until a doughy texture starts to form. Rub the softened butter all over the inside of the bowl and on top of the dough, then cover and let it stand in a warm area for one hour. For the filling, combine the pecans, brown sugar, cinnamon, and 1 cup butter into a food processor. Blend until a pastelike mixture forms.
Preheat the oven to 350 degrees and line a 13 by 18-inch rimmed baking sheet with a layer of parchment paper. Then, place another large piece of parchment paper on your workspace and sprinkle a generous amount of flour onto it. Punch the dough, then place it on the parchment and roll it out with a rolling pin. Add two-thirds of the filling to the top of the dough and spread it with the back of a spoon or spatula, all the way to the edges. Fold the dough in half (over the filling) and press the short sides together so that it makes a 14 by 16-inch rectangle. Add the rest of the filling to the top of the dough and spread to the edges again. Repeat the folding motion so that you have a 12 by 18-inch rectangle (make sure to pinch the short edges, too!).
Use a pizza roller to cut the layered dough into 24 squares, then place each square on the baking sheet (make sure the squares touch). Brush the tops of the squares with the beaten egg and back for 25 to 30 minutes until they reach a lightly golden appeal. Serve it warm with a drizzle glaze icing, if you wish.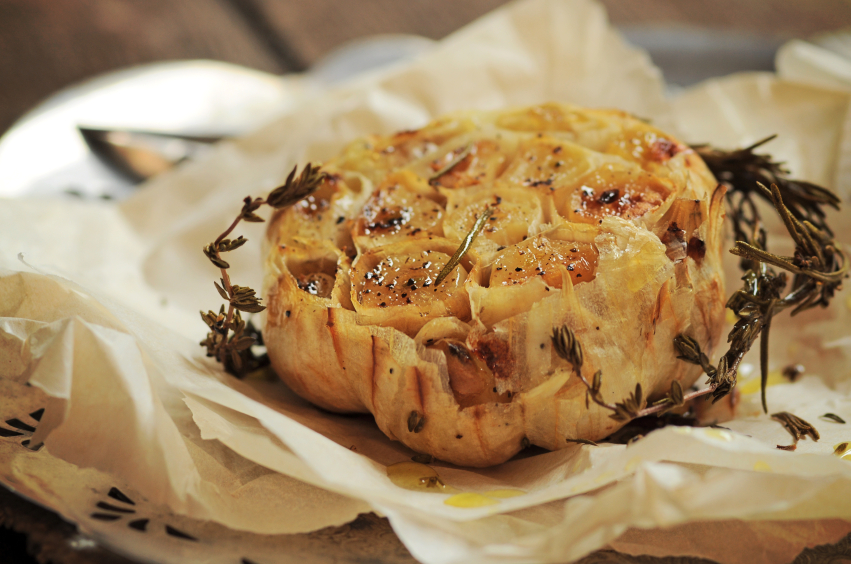 No dinner roll is complete without a little roasted garlic. | iStock
Roasted Garlic
No Thanksgiving or Christmas table is complete without delicious spreads for homemade bread rolls. One Joanna Gaines holiday recipe that caught our eye is her potent (and beautiful-looking) roasted garlic. Here's how to make it:
Ingredients:
Three heads of elephant garlic
2 tbsp butter
Fresh thyme, rosemary, or sage
Sea salt
Directions:
Preheat the over to 350 degrees
Cut the tops of the garlic off (about ¾ inch from the top)
Prepare a piece of foil that is large enough to wrap all three heads of garlic and place garlic on top with the cut sides up.
Place two tablespoons of chopped butter on the tops of the garlic, followed by sea salt and either four sprigs of fresh thyme, two sprigs of fresh rosemary, or three fresh sage leaves.
Pull the foil over the garlic and let it bake for 45 minutes
Serve with bread or roasted veggies
Winter Salad
Salads are a great way to mix up the flavors on your holiday table. And, Joanna Gaines' winter salad is a cool, crispy dish packed full of the season's best flavors. Here's what you'll need to recreate the Magnolia Journal recipe at home:
Ingredients:
1 clove of garlic, peeled
½ cup olive oil
½ cup apple cider vinegar
2 tbsp water
2 tsp stone-ground mustard
½ tsp coarse sea salt
½ tsp fresh cracked pepper
2 tbsp butter
¼ cup packed brown sugar
½ tsp garlic salt
1 cup walnut halves or coarsely chopped walnuts
8 oz. of fresh kale, torn and tough stems removed
3 oz. fresh baby kale
1 cup pomegranate seeds
½ cup crumbled Gorgonzola cheese
Directions:
The day before you serve it, make the dressing: Smash the garlic cloves and place in a screw-top jar. Them, add the olive oil, vinegar, water, mustard, sea salt, and pepper. Cover it with a lid and shake well. Refrigerate until use.
To make the salad, start by candying the walnuts. In a large skillet, melt the button (medium heat) and add the brown sugar and garlic salt. Pour in the walnuts and cook for a few minutes until toasted. Be sure to stir the walnuts constantly to avoid any burning. Then, in a large salad bowl, toss the kale and baby kale and drizzle the greens with a ½ cup of dressing. Mix everything together and top with Gorgonzola cheese, pomegranate seeds, and walnuts.
Rosemary Pomegranate Soda
This holiday season, freshen up with Joanna Gaines' Rosemary Pomegranate Soda. The refreshing, seasonal beverage is fun for the entire family and you can even add an adult spin with a shot of vodka. Here's how to make it:
Ingredients:
2 cups water
½ cup honey
¼ cup fresh rosemary leaves
2 cups pomegranate seeds
1 24-oz. bottle of pomegranate juice
3 cups club soda, chilled
Fresh rosemary sprigs for garnish
Directions:
Add water, honey, and rosemary leaves to a large saucepan and bring to a boil
Remove from heat and add the pomegranate seeds. Smash lightly to release some of their juices.
Let the mixture stand until cooled to room temperature
In an 8-cup measure combine the rosemary mixture and the pomegranate juice. Cover and chill for 24 hours.
Use a fine mesh sieve to strain the mixture into a large pitcher.
Before you serve, add the soda and pour over ice-filled glasses
Add a rosemary sprig for garnish
Check out The Cheat Sheet on Facebook!
Source: Read Full Article