Every Food Recalled for Salmonella in 2018 That You Might Still Have in Your Home
You've certainly heard of this foodborne illness — and thanks to all of the recent food recalls, you may be wary of many of the foods in your home. From E. coli to listeria to salmonella, 2018 has seen its fair share of poisonings. And while all of the following foods that were recalled for possible salmonella contamination have been pulled from the shelves, you may still have them in your pantry or refrigerator.
1. Honey Smacks cereal
The CDC warns about Honey Smacks on Twitter after salmonella outbreak | CDC via Twitter
The Centers for Disease Control and Prevention put out a seriously ominous warning following one of the latest salmonella outbreaks this year. They tweeted, "Do not eat this cereal," after salmonella was found in samples of Kellogg's Honey Smacks cereal, says CBS News. So far, at least 100 people in 33 states have been affected by the outbreak, and 30 have been hospitalized.
Honey Smacks may not have been on your radar until now, but this cereal has been subject to voluntary recall since mid-June. Kellogg was investigating a third-party manufacturer, as they believe that's where the food may have come into contact with salmonella.
2. Dried coconut
If you're a fan of dried coconut, you'll want to check and make sure yours wasn't recalled. Food Safety News reports there was a multi-state salmonella outbreak since September 2017 linked to certain brands of dried coconut. The brands were International Harvest Inc. Go Smile! Raw Coconut, Go Smiles Dried Coconut Raw, and Natural Grocers Coconut Smiles Organic. As the CDC warned, "Even if some of the recalled dried coconut was eaten or served and no one got sick, throw it away or return it to the place of purchase."
In total, 13 people across eight states were sickened by the outbreak. And three people had symptoms so severe that they required hospitalization.
3. Pre-cut melon
Pre-cut melon doesn't last beyond a few weeks, but if you're the type to buy and freeze your produce, then you'll want to be aware of this one. TIME's Money reports Caito Foods, LLC, recalled their pre-cut watermelon, cantaloupe, honeydew, and fruit medlies in June due to salmonella. Sixty people in Midwestern states like Ohio, Missouri, Michigan, Indiana, and Illinois were affected, with over half of the illnesses occurring in Michigan. The case was so severe that 31 were hospitalized.
If you're unsure where your melon came from, the CDC urges you to throw it out just in case.
4. Frozen shredded coconut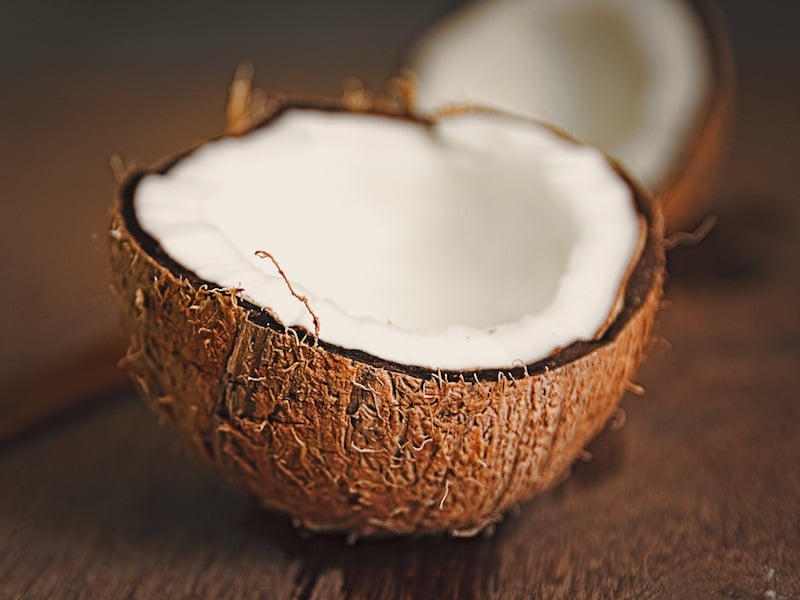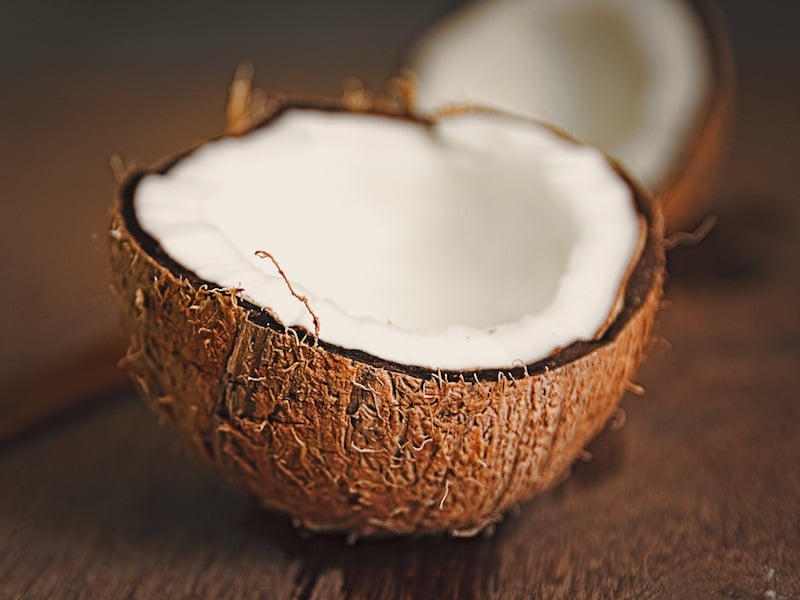 Coconuts cut in half | Vignesh p/iStock/Getty Images
It's been a bad year for coconut. Early on in 2018, the CDC reports Coconut Tree Brand Frozen Shredded Coconut was the source of a major salmonella outbreak. In total, 27 people were infected across nine states, and six of the ill people were hospitalized.
Thankfully, the outbreak was over by February — but if you're someone who grabs bags of frozen fruits and veggies to store in your freezer for months at a time, you'll want to still be careful. Frozen shredded coconut can last many months in the freezer. Double check your brand if you think you may still have some.
5. Kratom
Many folks across the U.S. utilize kratom products for their effects as a stimulant and opioid substitute, the CDC reports. Unfortunately, nearly 200 people were affected by kratom products contaminated with salmonella across 41 states — and 38% of those who fell ill were also hospitalized.
The investigation over the outbreak finished in May, but if you utilize kratom products, be wary. It's possible that contaminated products are still on the market because the investigation couldn't find one single source of where the salmonella was coming from. There were several different types of salmonella in the kratom products that made people sick.
Think you have salmonella? Here's what to do
The good news is that if you do have salmonella, there's a good chance you'll overcome the illness without medical intervention. WebMD explains if you do contract this poisoning, you'll likely have stomach cramping, diarrhea, fever, vomiting, and the chills. These symptoms will typically last around a week, though you may have abnormal bowel movements for up to a month after the illness was first contracted.
If you feel ill, it's smart to drink plenty of fluids. If you're urinating small amounts, are experiencing dry mouth, or have dry eyes, there's a chance you're dehydrated, which can complicate the issue further. And if your symptoms persist or worsen after a week, alert your doctor.
Check out The Cheat Sheet on Facebook! 
Source: Read Full Article