Ultrarunning with the Moroccans: 180 miles across the High Atlas mountains
Samir Akhdar skims over loose rocks and scree, his feet barely touching the ground. Running behind him is like watching a dancer: his arms and upper body making instant, almost imperceptible adjustments.
I only ever witnessed a few moments of this early each morning before Samir and the other local runners competing to win the six-day Trans Atlas Marathon were out of sight. They may have made it look easy, but my own laboured style – all bulk and brawn, sunburn and sweat – soon revealed the true harshness and technical difficulty of the terrain.
Just a few hours by 4×4 from the labyrinthine souks and chaotic hustle of Marrakech, the High Atlas mountains feel truly remote. Crossing vast alpine plains dotted with clumps of cobalt blue and gold flowers, or picking your way over 3,000-metre passes of crimson rock, you can travel for hours without seeing another person. Eventually, a steep descent down a barely discernible path deposits you in a fertile valley and an ancient mud-brick Berber village seemingly lost in time – then you get up the next morning and do it all again.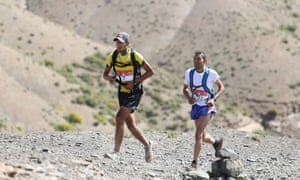 The race is organised by Mohamad Ahansal, a well-known figure in Morocco thanks to his five Marathon des Sables (MdS) victories. It starts in the little-visited eastern section of the High Atlas in the village of Zaouiat Ahansal, from where Mohamad's semi-nomadic family took their name before settling in the Sahara desert oasis of Zagora, 100 miles to the south.
Stage one meted out 2,400 metres of ascent and descent over 35 miles, and I really wasn't prepared for the roughness of the hills. Climbing up from the valley, we passed through acres of twisted, burned acacia trees – their branches cut and scorched to make charcoal – and picked our way round heavily laden mules transporting the haul to market. We followed shepherds' tracks and passed the occasional herder with his family and flock, but the paths soon grew faint and then disappeared altogether. It wasn't long before we were following orange trail markers over boulder fields and across slopes of loose scree. Despite the unforgiving sun, a few, steep snow fields persisted from the winter and we carefully picked our way across, using walking sticks for balance.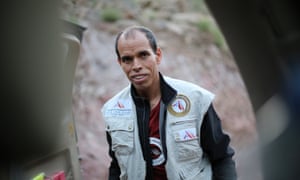 Behind us, Mohamad's older brother Lahcen was acting as sweeper. As a young man, he was fascinated by Patrick Bauer's MdS, which started near his village in the desert, yet had no hope of raising the €1,500 needed to enter. Frustrated, he gatecrashed stage one of the 1991 race – running without a number, food, water or mandatory gear – and blew away the official field to finish first. After years struggling for sponsorship and a few top five finishes, he won the race in 1997. He went on to win the MdS 10 times, eventually moving to Germany where he raced on the international ultra trail scene and started a family. This week, though, he was our human broomwagon, loping along at the back of the field, making sure all runners were accounted for.
If the harsh terrain was a shock for me – straight off the plane from my desk in London and struggling for form, following nine months of frustration and physiotherapy after being knocked off my bike on the way to work – it was more so for the other two British runners in the field who had no ultra experience at all. Mario had only ever run one 10km race before and said the mountains were unlike anything he'd ever seen, let alone tried to run across.
After eight hours or so up high, the route dropped sharply into a lush valley, where farmers harnessed a river to irrigate small patches of land. We travelled for miles along the muddy banks of their water channels, passing through cool orchards and watching women and children at work in the fields, harvesting corn with handheld sickles and loading mules for the long trek to the nearest road. The pumping music of the final checkpoint carried me over the finish line to be greeted by smiling faces and a cup of super-sweet mint tea.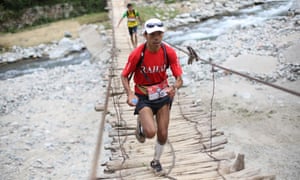 Mario was safely guided home in the dark by Lahcen after 13-and-a-half hours on the trail – a determined display. Brutal was his verdict afterwards.
All the Moroccan competitors, and the other two international runners on the race (German Nicola Wahl and Italian Tommaso de Mottoni), had finished long before – but the kitchen crew rustled me up some soup, a plate of meat and couscous, and a few cups of verbena tea. Some runners who had tackled both rated the Trans Atlas Marathon tougher than the MdS in terms of distance, height gain (14,000 metres) and technicality of terrain – but, on the TAM, not having to carry your own food and sleeping gear for the week is a real luxury.
Apart from one night camping at a high pass, TAM competitors stay in mountain gites with electricity and a shower, a phone signal and occasionally even Wi-Fi. Breakfast (bread and jam) and an evening meal (usually soup, couscous and vegetables) are provided – and with each competitor getting one overnight bag transported by 4×4 each day, it is possible to take extra food (I took enough SIS protein powder for two shakes a day, which I find helps recovery on multi-day races, and if anyone's thinking of doing the race I'd recommend taking extra breakfast supplies).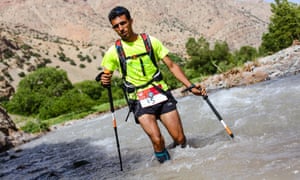 If you make friends with the right people, you might even score some "Berber whisky" – a local firewater made from figs and typically supplied in old 7Up bottles, whose green glass you can see smashed on street corners in larger towns near the mountains.
The next couple of days saw us travel ever higher into the Atlas – an experience only made possible by Mohamad's contacts. His celebrity from multiple home MdS victories had gained him a letter of support from the king, which cut through local red tape, and his relationship with Berber villagers meant he knew who to ask to get 100-litres of water carried near an otherwise inaccessible pass (or tizi) by mule. That meant we were able to keep hydrated in areas which were five or six hours' walk from the nearest 4×4 track, a necessity given the heat and the length of time some of us were spending out on the course.
The rest of the week took us over the 3,360-metre Tizi Tarkeddid and on to a vast alpine plateau, ringed by jagged snow-capped peaks and filled with wild flowers and swarms of tiny butterflies. We descended past rapids raging with meltwater and enjoyed brief moments of cool shade in the narrow alleyways of mud-brick villages.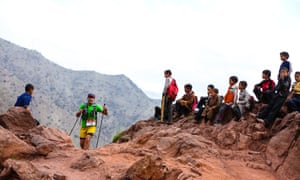 Local children would keep up with us for as long as they could. One of the highlights of my week was the small boy who ran alongside me for a mile or more – his face lighting up when I panted "bon coureur" at him in halting French.
After five days, as we neared the more touristy west of range and the spectacular Toubkal national park, home to the highest mountain in the Atlas at 4,167 metres, the final stage even threw in some British-style weather. Greeted by horizontal hail and sleet as we crossed our last high pass, the point of the waterproof jacket and trousers I'd resented carrying in the heat became clear. I felt right at home on the wet scree and mud descent into Imlil and the end of our journey. Like reaching the last chapter of a good book, I didn't want the race to finish.
In the end Samir – understandably a bit tired after placing fourth in the MdS a few weeks earlier – missed out on first spot by three minutes to Lahcen Zardi, a baker from the mountainous region of Kalaat M'gouna.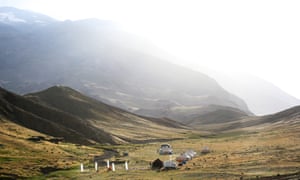 Before returning to his day job as a mountain and desert guide he handed me a bag of Slilou – the homemade powder mix of dates, almonds, seeds and herbs he uses for fuel on his runs – and explained how you can add honey to form small balls which are easier to consume on the move. I'm not saying it's going to make me run faster, but anything's worth a try …
The next Trans Atlas Marathon runs from 20 to 30 May 2016
Source: Read Full Article