Swimming in New York: the pool on the 42nd floor
I wrote last week about swimming in New York's not-for-profit pools. This week, I'm dandling about on the "for profit" side. I'm going up in the world.
Up to the 42nd floor as it happens – two blocks below Central Park, so you know the views will be special. The other two pools I'd visited had been firmly bargain basement, but it seems that the more money you have, the higher you can put the water. The pool on the 52nd floor of the Shard will prove my point, if it ever opens. Richard Branson is probably planning a Virgin Moon™ pool as we speak.
There are a few rooftop pools in New York; this one belonged to the Le Parker Meridien hotel on W 56th, which we nearly walked past, so discreet was its frontage. The lobby was less discreet – a mix of very hi-gloss modern with Corinthian-shape pillars and marble. On one wall was a piece of contemporary art made apparently from vacuum-cleaner bags and, by the lifts, a mockup of a traditional barber shop complete with authentic signage. The lift came with swooshing sound effects, which were a bit Dr Who 1994. We arrived on the 42nd floor to find they were playing host to the Self Storage Association Economic Summit; tempting though it sounded, we decide to forego the session on "Deals of the Year" and get straight into the water.
The pool room is stunning, with two sides of high glass giving you vertiginous views – right over the park on one side, though an obscuring fog was down. There's an A-shaped glass roof – they've missed a trick not having it open to the sky in warmer months (like the one at the Berkeley hotel in London). It takes a second for your pupils to open to the space, for your ears to adjust to the muted noise; it felt unexpectedly, disorientatingly quiet up there, particularly when you can almost see the noise of the streets below, and have just felt the loud hum of the Self Storage Association Economic Summit. We grabbed towels, changed and got in, joining a woman exercising with a pool noodle (not a euphemism).
The pool is half-sized; plenty for the holiday dandler who swims without getting his or her hair wet, but not quite big enough for serious lapping. It is deep, though, so you can practise your tumble turns, play, potter, relax. You'll feel part of a different New York, where the towels are thick, the product plentiful, the atmosphere rare and restful. It's well-cushioned in every respect. And there's something to be said for standing in your costume, nose pressed to the glass, drinking in those views – if your stomach will allow.
Sometimes you meet people that you know are going go stay in your mind for a long time. It happened to me with the late Dr Andy. The old king of Tooting Bec lido, he was much loved and respected in the way that clever, dry, humorous kings are. When there were two walking sticks by the steps, you knew that Dr Andy was in the water somewhere. He had his own rules of cold swimming (we all do), and described the temperature of the water in winter as "either cold, or fucking cold" – an observation given more bite by the fact that he wasn't a sweary type. Dr Andy swam into his 90s and died two years ago; though I never got past more than a few sentences with him, I think of him often.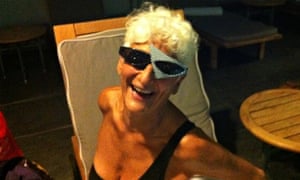 It happened again in New York. The pool-noodle woman introduced herself within a minute of us getting in as Hattie Retroage, a self-described "extreme cougar". A swimming cougar – a swougar, if you like. She didn't particularly like being called a cougar, but it is the term by which people have come to understand her preference for sleeping with much younger men. (The youngest, a couple of years ago, was 18; the fact that my son is that age would have added nothing to the conversation.) Hattie is in her late 70s and looked utterly fabulous, lithe and alive. A force of nature in a cut-out swimsuit, she's been a resident of New York for her whole life, until she recently decamped to the West Indies. We learned much about Hattie and from Hattie – everything from the poison of GM foods to herbs that help the menopause (royal mace); from the best kind of hip replacement to her life as a young communist in 50s Brooklyn. From what to clean your teeth with (peroxide, bicarb and a bit of mint, for flavour) to the best Greek restaurants in Manhattan (Molyvos, apparently). The advice flows from her to me to you, like some weird Chuckle Brothers sketch.
We found out, too, that Hattie had been filmed for TV's Extreme Cougar Wives in that very pool. I pride myself on my pool-spotting abilities, and have been known to shout "Hampstead Ponds!" in a crowded cinema (Tinker Tailor Soldier Spy). When you're watching Extreme Cougar Wives, you can do the same – you're welcome. We talked for an hour, bobbing in the deep warm water, until we looked up and realised it had gone dark outside and we had to hurry and change. We took a quick snap of Hattie and a last look at the view, now lit with distant neon from below.
We shared the lift down again with a delegate from the Self Storage Association Economic Summit. I asked him how it had gone. "It was a great day," he said, and went on to tell me that "the self storage industry is bigger than Hollywood". So next time you go see a movie, be grateful people still bother to make films when the glamour and cash of the self storage industry beckons.
Source: Read Full Article