My 50th-birthday challenge: week five
Friends and readers have commented, with concern, that rest days are necessary for your body to recover and train more effectively. And of course they are right in the general scheme of things. But I've set myself a particular type of challenge that involves not resting and not succumbing – either to laziness or tiredness or both. I didn't want it to be easy – what would be the point? To me it's interesting to see how far you can push yourself. The brilliant thing is that you can always push further than you imagined, and then further again. And the mental toughness that not succumbing gives you is priceless.
This week I've been a bit of a Jekyll and Hyde: one moment zombie-like, tired and more than a little pathetic; the next moment borderline hysterical, elated and hyperactive. The good, happy, energised moments have usually been at 10.30pm, post-swim, when everyone else is tucked up in bed, unable to appreciate the lively me. Most people see the weary me. It's not an easy journey for any of us.
Sunday 29 March, Tooting Leisure Centre, 33.3m
I had a really busy weekend, so Sunday's swim was squeezed into a less-than-ideal evening slot. While everyone else was recovering from roast dinners and watching TV, I reluctantly schlepped off to Tooting to swim. Not at the beautiful lido there, but at the local leisure centre. At least it had the decency to be open on a Sunday evening for lane swimming – a rarity for London pools. I was properly grumpy and fed up when swimming, wishing all the while that I was at home. But the pool was airy, long and cool enough to keep me from getting even grumpier. An hour to get there, a 45-minute swim, an hour home. Not exactly a relaxing end to the weekend or great preparation for a busy week ahead.
Monday 30 March, Tiller Leisure Centre, 25m
Monday, 6pm, post-work, lying on my bed, I wailed to my boyfriend: "Do you think it would be OK to take a day off?" Him, mock appalled: "What?! Just lie and pretend that you've been swimming?" "No! Just actually take a day off!" He raised an eyebrow. I already knew the answer. I got my kit together and set off for a pool in the middle of nowhere on the Isle of Dogs. Driving round and round, lost, trying to find the pool. A stark contrast between the high-rise offices of the City and the human scale of the social housing there. Finally, the pool. A swimming club took up one lane; there were two lanes for public swimmers (fast and slow); and a lane of scuba divers. The scuba divers were comical, wearing huge amounts of kit (full wetsuits, oxygen tanks, massive fins) and just sitting cross-legged on the bottom of the pool. I felt dynamic and superior, unfettered by kit.
Tuesday 31 March, Queen Mother Sports Centre, 25m
Tonight I was joined for my swim by Meg, who I met in the middle of a lake in the Cotswolds, where we were both competing in a nine-mile endurance race. She was 14 years old. Meg swam the English Channel solo when she was 16. I haven't seen her for years. Since we last saw one another, she has finished school, got a degree, lived in Australia, and started working in HR. She heard of my challenge and, always brimming with energy and smiles, wanted to join me. We met in the water, and after a big hug, got on with our swim. Just like the years had never happened, we were sharing the water again. Afterwards, in the shower and the walk to the station, we filled in the past seven years, and talked about how, having swum the Channel, we feel slightly fraudulent for living on past glories.
Wednesday 1 April, St George's pool, 33.3m
I didn't have fond memories of this pool. My last experience there was stressful – I was learning how to capsize in a kayak. But it's not that far from where I live, and it's longer than usual at 33m, with cool water, and it's bright and clean. I met up with a small delegation from my swimming club: Ewan, Jo and Hilary who gamely joined me for my mile. It was brilliant to have their company and support. At the end of the swim Ewan proffered me a rather strange post-swim energy drink to help combat fatigue and hunger – and in the changing rooms Hilary presented me with a hoodie she had had made for me with "50 days, 50 swims, 50 pools" printed on the back. Jo, Ewan and Hilary are all faster swimmers than me, which makes me feel slightly inadequate in my darker hours, but their support and encouragement are hugely important to me. I am grateful for my good swimming friends.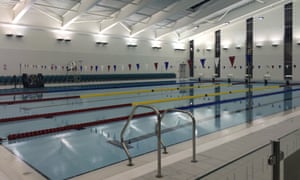 Thursday 2 April, Kensington Leisure Centre, 25m
An emergency at home meant that I had to swim in the evening. Not ideal as I was having my hair cut at 7pm. A hasty discussion with my hairdresser went something like this. "Just cut it, then I have to go." "No drying, no styling?" "No. I have to swim afterwards." "Are you sure?" "Yes. No drying." Sigh. Hair duly cut and not dried, I hurried off to Kensington Pool. Newly refurbished, posh, clean, brand spanking new – and deserted. I shoved my hair hurriedly under a cap and started swimming. But tonight I was jangled and harassed, and sharing the pool with just one other stranger disconcerted me. I dashed out my 1600m and headed home as quickly as I could. Thank goodness for Easter.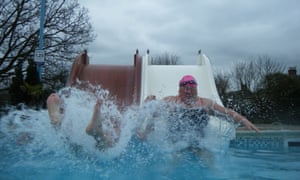 Friday 3 April, Hampton lido, 36m
Bryn, a demon breaststroker from out of town, had arranged to come and swim with me. He had brought another swimming friend, Sarah, along for the fun. Sarah is bubbly and never seems to undertake anything except with a huge smile. Bryn and Sarah both mostly swim in rivers, the sea and in unheated water. Despite this they both seemed to like Hampton lido – it is nestled in a low-key setting and has a lovely family feel to it. And it's heated. It has lanes for swimming different speeds and a "free" area for kids playing, or for more leisurely swimmers. And two slides. We swam for an hour then got out and had lunch and nattered, then popped back in again. Sarah insisted we try the slides and do handstands before we finally left the water. As we left we realised we had frittered five hours swimming, lunching, more swimming, showering, coffee-ing and larking about. A fabulous life affirming day.
Saturday 4 April, Park Road lido, 50m
To my shame I have never visited this pool, despite relatively close proximity to my home. But it has recently been refurbished, the water is heated and at the moment it's open in the mornings only for lane swimming. I turned up at 10.30am to swim. It's surrounded by grass but also by a box hedge probably 25ft high, giving it a slightly bleak, impenetrable feel. It was grey and chilly as I hurried into the water. I stumbled up and down for an hour – it took a good half an hour before my body stopped aching and I enjoyed swimming.
At Park Road lido, quite by chance, I met a woman who I had been conversing with on a Facebook swimming forum while trying to find out more information about the lido. In the Hampton pool I said hello to a woman whom I recognised from Brockwell lido the week before. (She had just swum a mile in Brockwell's chilly water and was sitting very serenely as I shivered and shook after my swim.) Also at Hampton I bumped into an old swimming buddy of mine, Paddy, who swam the Channel the year before me. Such a wonderfully small world. Throughout this challenge I have felt like my swimming world is getting bigger and smaller at the same time. I'm not looking forward to the end of my challenge, despite the tiredness.
Along the way Sally is raising money for the Royal Marsden Cancer Charity – you can donate here – justgiving.com/50SwimsIn50poolsIn50Daysat50/
Source: Read Full Article