My 50th-birthday swimming challenge: week four
"Are you faster?" "Are you fitter?" "Do you feel any different?" People are anxious that my swimming journey reaps some physical rewards. As am I. The trouble is, I don't know how to answer them. I think I may be a bit faster. I certainly feel knackered most of the time. I don't know if I feel fitter though or different or have lost weight. Surely this should be paying off somehow by now? Anxious for results, I find myself trying to put some extra yardage at each pool I visit. An extra 400m here and there to make it up to 2km instead of 1,600m. I'm getting anxious that, having given up my less frequent but longer swims, I'm actually getting less fit. Is that possible? It's stressing me out. That's not to say I'm not enjoying the process – it's just tinged with a frisson of anxiety.
Sunday 22 March Clapham Leisure Centre, 25m
Julia and Jenny from my team at work, who both live in south London, have arranged to swim with me. I arrive 20 minutes early and get a few hundred metres in before they turn up. Julia loves swimming outdoors and is often at Tooting Bec lido in the summer – a swimming free spirit, and Jenny is a softball player and has a mean front crawl. We happily swim and chat till it's time to get out. Coffee and cake in Clapham round off the morning. I feel so touched that they have come to support me.
Monday 23 March Brixton Recreation Centre, 25m
Despite a massively busy day at work I decide to gamble with an early-
morning swim in Brixton. Brixton "rec" was a pool I'd hesitated at putting on my list. A huge brown brick edifice, it looks more like a large shopping mall. I climb apprehensively up the stairs into the brown 1970s lair. The swimming pool is on the fourth floor. I have to take an escalator up to it. Seriously? Who puts a large swimming pool on the fourth floor of a five storey building? The pool is way too hot and dark and brown. It's all brown brick, brown wood panelling, and dark ambient lighting. Even the lane lines are marked out in brown brick tiles. Madness. What was the architect thinking? I bash out my lengths and hurry back off to work. It's a challenge to get there in time and I'm practically hysterical all day with the frenzy of my schedule.
Tuesday 24 March Chelsea Leisure Centre, 25m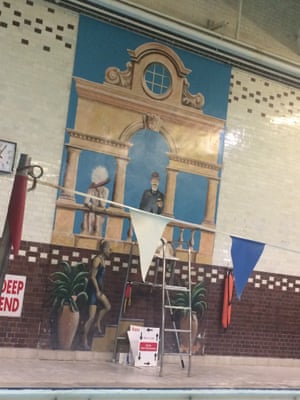 I much prefer evening swims. My routine goes as follows: finish work, dash home. My lovely boyfriend makes me a peanut butter sandwich as I dash around changing into trackie bottoms and T-shirt with cozzie underneath. He puts the sandwich into a tupperware box. I fill my drink bottle up with a litre of water laced with Ribena. He jokes: "Peanut butter sandwich – CHECK! Drink – CHECK! Money for locker – CHECK!" He comes over and presses a pound coin, a fifty pence piece and a twenty pence piece into my palm, to cover all eventualities. He continues: "Underwear – CHECK! Postcode – CHECK!" I double check one last time that the pool I'm supposed to be going to is open and I haven't made a mistake or got confused. I head off into the night.
I'd had such a busy couple of days at work I was relishing an evening swim and was relieved in a way that I was not meeting anyone. I headed off to Chelsea. This pool, this swim, was everything I needed tonight. It was sweet and charming – and empty. I shared my lane with one other man who soon got out, leaving me to slowly unwind. A curious and brightly painted trompe d'oeil at the end of the pool portrayed Victorian figures lurking in a formal garden, beside a man in an old fashioned bathing suit. There was a lifeguard chair right beside it and when a lifeguard sat in the chair it looked like he was part of the scene. It made me chuckle as I looked up.
Wednesday 25 March Leytonstone Leisure Centre, 25m
There wasn't much to recommend this swim. Not every pool is beautiful, not every swim full of love. A long journey to Leytonstone, a centre that was a bit smelly and a pool populated by slightly hostile-looking men. I pride myself on being someone who can find a silver lining in anything, so here goes. The water was amazingly and deliciously cold. I was genuinely shocked at how cold it was. I don't know how they get away with it – most people hate the cold water. But nobody seemed bothered. Half of the pool was given over to a fun session, while the other half to lane swimming and lessons. Unlike many London pools, where evenings are given over to "adult-only sessions", this one had happy school kids hanging out and diving and bombing and playing and swimming. So good to see on the day on which the ASA announced that one in five people in the UK can't swim.
Thursday 26 March Pancras Square Leisure Centre, 25m
I dashed out at lunchtime with Colin, a triathlete, who works in the same team as me, and went to fit in my mile. I had to leave at 5pm to get a train to Brighton, so this was my best opportunity. It was great swimming with Colin who is upbeat and smiles all the time at work. He was exactly the same in the water, grinning as he passed me every six lengths or so, being super encouraging. Even so it felt a slog. There is a jacuzzi on the poolside, which I never have time to go to. But I thought, "I damn well deserved five minutes in the jacuzzi," so I persuaded Colin to join me. What an indulgence.
Friday 27 March Golden Lane Leisure Centre, 20m
My day started in Brighton, speaking at a conference to 300 people. Not something I'd ever done before. I hardly slept the night before, anxiously tossing and turning. The talk went well, and I felt on a high. But while everyone else went off to the pub to mingle I got the train back to London. By 7.30pm I could barely talk. I just wanted to crawl into bed. But – my internal ruthless channel swimming voice kicked in. I hadn't heard that voice for a good while. "Is there really anything that is preventing you from going swimming?" No. There really wasn't. I packed my bag and staggered down to the pool. And once I was in the water, apart from a headache, I was fine, I managed my mile. Golden Lane is a sweet poppet of a pool and often virtually empty. Thank God for that.
Saturday 28 March Brockwell Lido, 50m
Brockwell swimmers invited me enthusiastic to come and swim at their lido, promising cake and encouragement aplenty. As the lido is unheated, I had been hoping the water would rise above 10C before I swam there. But it was slightly shy of that and I was nervous. At 9am I turned up to a warm welcome, a free Brockwell Swimmers swimming cap, and smiles and encouragement all round. I decide to break my swim into two more manageable batches of 800m with a warm up in between – a technique often used by cold water swimmers who are trying to acclimatise to longer swims. That way I could achieve my mile albeit in slightly less hospitable temperatures. Swimming for a month in warm indoor pools has not helped with acclimatising to the cold water. Even though it was a bit of a shock to begin with, it was wonderful to be outdoors and in cold water again. After my first 800m I got out, put on my second costume, lots of layers of clothes and sat in the cafe with the lido regulars and drank hot drinks and ate a lovely cake that they had made for me me.
As everyone was leaving after coffee and cake and animated chatter I shed my warm layers and got back in to finish what I'd started …
Sally Goble is raising money for the Royal Marsden Cancer Charity. You can donate at justgiving.com/50SwimsIn50poolsIn50Daysat50/
Source: Read Full Article