Six obstacle races and mud runs for kids and families
The boom in obstacle course racing (OCR) and mud runs is showing no sign of slowing. There are now more events in more parts of the UK than ever – including those designed just for kids. Find a Race's OCR aficionado, Stuart Amory, says: "We are all still kids. Some of us are bigger than others but we all love the thrill of climbing over something without our parent's consent, getting downright wet and muddy and being rewarded with something at the end of the day. A lot of OCR race directors are cottoning onto the fact that your children are highly jealous of you having all the fun, so they are designing and including races just for kids alongside their main event. What is great about this is that both the adults and kids races have many wave start times so a family can all race at the same event."
Here is his list of six of the top OCR races for kids, in no particular order:
Mini military mud runs
These races are all about the kids – but they let the adults join in too. The medals join together in a jigsaw to keep your wee ones entertained and addicted. The race organisers' aim is to make the kids' obstacles just like adults' ones – and they certainly do that well.
Dates: 12 March, 16 and 17 April, 25 and 26 June.
Location: Rugby, Warwickshire.
Cost: £15.
Website: event.bookitbee.com/4513/mini-military-mud-run
Ironrun junior
The junior run takes place on the main adult course, using nine of their obstacles including an exciting water slide. The site does get muddy at times throughout the year so this is a great event for any juniors wishing to get as mucky as possible. They also have a mini fun run so children under six can take part too.
Dates: 14 May, 6 August, 1 October 2016.
Location: Kettering, Northamptonshire.
Cost: £20.
Website: ironrun.co.uk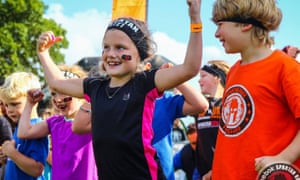 Spartan Junior
Spartan is a way of life, and these guys really want junior spartans to foster a lifelong commitment to health and fitness. Walking, running, crawling or climbing around their fun courses will no doubt have your children enjoying themselves –getting muddy with a smile on their face. Don't forget to teach them the Spartan war cry… AROO AROO AROO!!!
Dates: 23 and 24 July, 3 and 4 September 2016.
Location: Edinburgh and Peterborough.
Cost: £20.
Website: spartanraceuk.uk
Dirty Rascals
Dirty Rascals hold their events right next to the adult's Dirty Dozen Races with the start and finish lines included within the event village to make the little warriors feel special too. They have lots of crawling, hurdling, climbing and carrying obstacles as well as their trademark Viking Shield Carry. Once they've got their medals, they are actively encouraged to sing and dance with the Dirty Dozen MC too.
Dates: 16 April, 9 July and 20 August.
Location: Kent, Monmouthshire and Essex.
Cost: £10.
Website: ultm8warrior.co.uk/dirty-rascals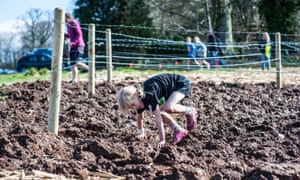 Rock Solid Race Stars
These guys love to get the kids involved next to the adults by having the warm up areas side by side – and sometimes have the courses going over and under each other to really hype up the atmosphere, giving the little ones some helpful motivation and inspiration. Medals, T-shirts and yoghurt are there to greet your kids when they reach the finish line.
Dates: 19 March and 29 October.
Location: Exeter and Milton Keynes.
Cost: £20.
Website: rocksolid.life
Nuclear Rookies
When "nuclear" is mentioned on the obstacle race circuit the word "mud" usually follows and this certainly applies to the Rookies' races. Keeping the pressure to a minimum, they encourage teamwork, be that from their parents or fellow Rookies. Ditches, cargo nets, monkey bars and ramps are all in place to test and entertain your little warriors.
Dates: 14 and 15 May 2016.
Location: Brentwood, Essex.
Cost: £20.
Website: nuclear-races.co.uk/event/nuclear-rookies
Reviews by Stuart Amory, personal trainer and MC for Dirty Dozen Races. Feel the full force of his motivational powers over on Twitter.
Source: Read Full Article