Joyce Smith: 'I stopped running when I was 74. You don't pick up your feet as much'
Joyce Smith began running in the 1950s, at which time the longest distance for women in international competitions was 800 metres. She broke the world record for 3,000m in 1971, and ran at the 1972 Olympic Games. In 1979, she retired from track racing and turned to marathons. She won the Toyko Marathon in 1979 and 1980 and won the first London Marathon in 2:29:57, becoming the first British woman and the first woman over 40 to complete the distance in less than two and a half hours. A year later, she won the event in 2:29:43, again setting a new British record, and becoming the oldest woman to win the race at 44 years, 195 days – a record which still stands. She retired in 1986. She and her husband Bryan, who was also her coach, are on the board of trustees of the London Marathon Charitable Trust.
First, do you still run? No.
When did you stop? Three years ago. I was still going out for three mile runs, but as you get older – because I'm old now! – you don't pick up your feet so much, and I had a fall on an uneven pavement and it came up like that [makes balloon gesture] on my ankle. And I thought, this is silly, because [what would have happened] if I'd been a long way out and had to get home … So I just go to the gym and go on the running cross trainer, and I do static cycling. I think if you have run the whole of your life, you still want to feel fit.
How many miles a week did you run at your peak? For marathons, between 70 and 90. I didn't go over 100.
When people ask you for a training tip, what do you tell them? I refer them to my husband [laughs]! He still coaches a few women marathoners.
Did you ever wear a watch or running gadget? No.
Did you even listen to music? No, never.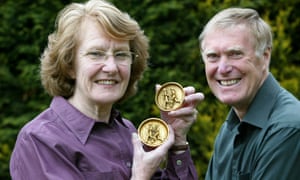 How did you distract your mind when you were running? In Tokyo, in the interview after the race in the first year, they said: "Did you enjoy seeing all the sights of Tokyo?" I said: "I didn't see any of them." You're just concentrating so much on what's happening around you, what you are doing, getting your drink and so on, that you don't think about anything else.
What's the greatest thing about running? Obviously achieving something at whatever level, and being happy about it.
And you didn't do too badly. Not too badly, no. I would have liked to run marathons earlier in my career, but in the whole of my athletic career I just moved up when the new event for women came in.
People forget that it wasn't long ago that women were not allowed to run beyond 3,000m? Yes, the 3,000m came in in 1974, then it went to the Olympics in 1984. The marathon actually went into the Olympics very quickly. I don't know if it still is like this to this day, but to get a new event into the Olympics it had to be in all five continents. So that's why it took longer for some events.
What's the worst thing about running? When you have had a bad run, or you haven't done quite what you wanted to do.
How did you motivate yourself on those cold, wet, grim mornings? You look ahead and to what you are hoping to achieve. You know you've got to do it. So you do it.
What did you have for breakfast before a race? Honey on toast. Couple of bits of toast.
Did you have anything in the races back then – no gels and so on? No, just water. Well, actually, we were sponsored by Robinsons, so there was squash. I used to put the tiniest bit of lemon squash in the water. But then Bryan used to give me jelly beans; I used to eat them quite a lot before a race.
What was your post-race indulgence? Chocolate, lots of chocolate. We used to get Mars bars too. I still love chocolate.
Who would you watch, Mo Farah or Usain Bolt? Both. Usain has brought something to sprinting – watching him, his style is great. And Mo is just … I've known Mo since his younger days. Because he won the mini marathon, and when he went to St Mary's, London Marathon were involved. So we've watched his career develop, and we knew his first coach very well. So it's just nice to see what he has done.
Who is the greatest runner ever? Oh dear … Well, obviously we all look to Paula Radcliffe and what she has achieved. But when I first did athletics I used to look up to Diane Leather – the first woman to go under five minutes for the mile. I met her when I made the international team as a reserve for England v Scotland. It was a long time before events came in for us, as women. When the 800m went into the Rome Olympics, I was actually the third fastest in the country, but Diane made it for that – and it was wonderful for her to make it to an Olympic Games.
Source: Read Full Article