Ultrarunner Zach Miller: 'I love digging in the pain cave'
Zach Miller is stirring porridge on top of a wood-burning stove. Outside, snow lies on the ground surrounding his log cabin. We're halfway up Pikes Peak, a 14,115ft mountain in the Colorado Rockies. The front door opens and a runner steps in, a man in his 50s, red-faced from the effort of getting up the mountain. Through the door, the early morning sun flashes off the frozen forest. "I can't believe you're here," the man says, beaming at Miller. "You inspired me to run, man."
Miller, 29, is something of a cult figure in the world of ultrarunning – long-distance races of any length beyond a marathon, often 100 miles or more. I first heard about him last year, when he was tearing away at the front of the world's most competitive ultra race, the 105-mile UTMB in France. He finished sixth, but for me, along with many others, the most memorable thing about the race was Miller's swashbuckling attempt to destroy the field from the start. The accepted wisdom is that it's best to start off steady and conserve energy: if you go charging off like a startled horse, you're usually in for trouble. But Miller ran without fear, constantly pushing the pace, and buckling only at mile 92, when he finally surrendered the lead.
Later that year, Miller popped up again in a video that went viral in the running world. It's the last mile of another fiercely competitive race, the North Face 50 (miles) near San Francisco, and he is leading. He's well clear of his rivals, but again he's turning conventional wisdom on its head with his guts-out approach. In ultrarunning, competitors usually finish at a jog, enjoying the last section of the race, waving to friends, often embracing family before the finish line and crossing it with them. What's the rush, after such a long race? But here is Miller, well clear and heading for an impressive victory, still running as if his life is in danger, arms pumping and breathing hard. He keeps it up right to the line, before collapsing into the arms of his girlfriend.
It's this all-or-nothing approach that has made Miller such a hero. "This guy has a God-given gift to connect with people," the visitor says. "He's so inspiring. My friends laugh at me, say I have a man crush. They don't get it." The man has time for only a quick selfie with his hero before he has to head back down the mountain. It's six miles to the nearest road. It took me three hours walking briskly, leaving in the heat of a warm day down in the town of Manitou Springs and trekking up through dry scrub to forest and then snow.
Miller's cabin is part of Barr Camp, an off-grid hikers' refuge halfway up the mountain. It gets electricity from solar panels and filters water from a stream. Along with his sister and her husband, Miller is the caretaker: his jobs include cooking breakfast, chopping logs for the fire and mountain rescue.
Many hikers who stop by have no idea who he is, but often, his sister says, people come up all this way simply to catch a few moments with him. If he's out for a run, they'll sit and wait. "People think it's lonely living up here," Miller says, "but I interact with people more than if I'm in town. People don't just burst in through the door like that if you're in your home."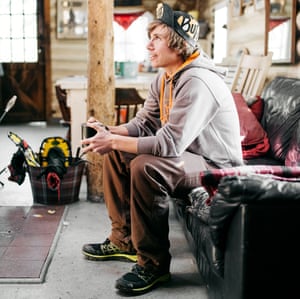 Miller has lived here for two years, coming off the mountain only for races, often in far-flung corners of the world. It's perfect training country. For his core strength, Miller likes to chop wood. "I spend a lot of time up here doing manual labour. I love it. The North Face 50 race was at the end of the fall, and I'd spent all fall splitting wood and hauling it into the store. I was pretty strong."
When he's not chopping wood or clearing snow, Miller heads off into the mountains to run for hours at a time. He is a low-tech guy: he doesn't have a coach or follow a training schedule, and his watch doesn't have a built-in heart monitor or GPS; it's a $5 Casio he bought in a market in Portugal. He used to race without a watch, but he kept missing his meals: in ultrarunning, you need to eat at regular intervals, otherwise your energy stores can crash badly. He usually runs about 20 miles a day, sometimes 30. "I don't really count," he says, "but something like that." In winter, when it gets dark early, he often runs at night in special snowshoes fixed to the bottom of his trainers.
It may seem a hard existence, but the effort is something Miller relishes. "I grew up in rural Pennsylvania and loved helping my dad outside. I have this fascination with manual labour, just getting things done, seeing progress, whether it's mowing the lawn or clearing snow. Running can be like that."
Pain is not something he shies away from. "I love digging in the pain cave," he says. "I hate it, and I love it. And I think people identify with watching someone who's really trying their best, someone who's struggling, but is still trying to push as hard as they can."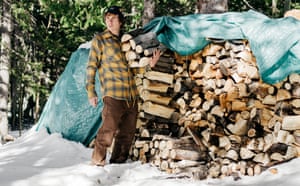 Once, when the camp was busy and he didn't get his run in, he decided to run to the top of Pikes Peak at 2am. The summit is 4,000ft higher and usually a day's hike from the cabin. He enjoyed it so much, he went up again the next night. And the next. "I ended up doing it seven nights in a row," he says. "I don't know why. I just felt like it."
Sometimes, after running all day, he gets a call telling him someone is in trouble on the mountain and he has to head out again to find them. Does he skip training when that happens? "No." He grins. "I think of it as bonus training. When I first got the job as mountain rescue, I was like, 'Whoa, my running is actually useful!'"
After breakfast, he invites me to join him on a gentle run. I'm an occasional mid-pack ultrarunner, so I'm nervous about keeping up, but he assures me he's taking things easy this week, after stumbling on the trail and twisting his back. We set off heading downhill, off the snow and into the pine forests. He chats as we go and I trip along happily behind him, catching glimpses of the surrounding peaks through the trees. The farther we descend, however, the more worried I get. It's going to be a long slog back up. Sure enough, at the first minor incline, Miller is gone. He waits for me at the top of the hill, but eventually, I have to cut him free. We've run a couple of miles.
"You go on," I say. "I'll follow the trail straight back up from here." Keen to run at his usual pace, he doesn't argue and, with a quick nod, he's gone, scarpering off into the trees, leaving me to walk the last mile back to the camp.
***
Life up on Pikes Peak is a long way from Miller's early ultra training. After graduating from college, where he ran track and cross-country, he got a job working in the print shop of a cruise ship, the Queen Mary 2. Most runners would probably consider their training days over if they got a job like that, but Miller made it work. "I could write the book on how to stay in shape on a cruise ship."
Whenever the ship was docked, he would go out and run. "We'd go to Chile, Patagonia, and I'd just go and run in the mountains. Wherever we were, I'd look around for the tallest thing or the coolest mountain, and try to run to the top and back before the ship left. Sometimes, I had to run really fast to get back in time. If you miss the ship, you have to get yourself to the next port – then, when you get there, you may or may not have your job any more." He never missed it.
On sea days, the best place to run was up and down the crew stairwells. After an hour or so running up and down stairs, he'd go to the gym to run on the treadmill. "My co-workers thought I was half-crazy. They'd be in the bar, usually drunk, yelling at me to stop running."
It was during a break from the ship that he entered his first ultra race, a 50-mile run in Maryland, the JFK 50. "My family thought I was crazy. My grandmother thought I was going to die or something. And I didn't know what I was doing."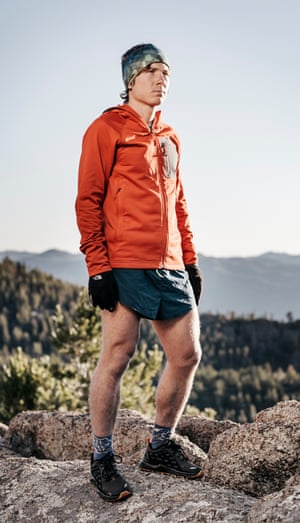 Halfway through the race, he found himself running at the front with another guy. "I said, 'My name's Zach. What's your name?' And he said, 'Rob.' I said, 'Rob who?' He said: 'Rob Krar.'"
At the time, Krar was one of the biggest names in ultrarunning, having just won the Western States 100, the biggest ultra race in the US. Miller felt like an idiot. "I mean, I didn't know much about ultrarunning, but I knew who Rob Krar was." They ran together until mile 38, when Miller started to pull ahead. "At the next aid station, when I arrived ahead of Rob, everyone went crazy, pulling out their phones, trying to figure out who I was. But there wasn't really anything to figure out. I had been a college runner, but I wasn't that good. I mean, I ran 31:23 for 10K, which is pretty mediocre. So they asked my friend, 'What's his marathon PR [personal record]?' And he told them I hadn't run a marathon."
He won, running the third fastest time in the history of the oldest ultra race in the US. "It was pretty fast, considering I didn't know what I was doing," Miller says. "That's when I got signed by Nike." He was 24. "I'd always dreamed of being a pro-runner," he adds, "and it happened – just not the way I expected it to."
For a long time, ultra and mountain running was on the far fringes of the sporting world, but recent years have seen a huge expansion in events, participation and people following the sport. As a result, faster and younger athletes are taking it up. "The course records tell the story," Miller says. "Times people thought were untouchable are being broken by big chunks."
Legendary ultrarunner Dean Karnazes, who has been active for 25 years, says he has also noticed the difference: "The biggest change is the number of really fast, young guys." The increased competition has led to a rise in sponsorship money. After three years with Nike, Miller has just signed a bigger contract with North Face. "Five years ago, if you told someone you were a trail runner with an agent, they'd have laughed at you," he says. For the first time, he doesn't need to work, apart from his running, but he loves Barr Camp so much, he plans to stay as caretaker for the foreseeable future.
The evening after our run, Pikes Peak is hit by a huge snowstorm that leaves a fresh 4ft of snow over the mountain. Miller is a bundle of excitement at breakfast the next morning, bristling to get out. "Running is the closest we can get to flying," he says. "Someone else said that, but I like it. For a brief moment, you're off the ground. And when you run as far as I do, you get lots of moments like that."
• Commenting on this piece? If you would like your comment to be considered for inclusion on Weekend magazine's letters page in print, please email [email protected], including your name and address (not for publication).
Source: Read Full Article