Big is beautiful: the razzmatazz of the grand ultra
I've been running ultra marathons for about 16 months now, but I've been mostly keeping to low-key, smaller races such as the Ring O Fire in Anglesey, or the Miwok 100K in California. These races are intimate: you get to know the other runners, the race organisers. You get to feel like an oddball as you shuffle alone at dawn through quiet country towns with your backpack and head torch.
But with the UTMB looming – the biggest ultra mountain trail race in the world – last week, it was time to get my first taste of the razzmatazz of the European ultra trail circuit, by taking part in the Lavaredo Ultra Trail in the Italian Dolomites.
The world of ultra running may still be little known in the UK or the US, but in France, Spain and Italy, these races are huge. In the piazza of Cortina d'Ampezzo, just before the 11pm start, the town is alive with noise and bustle. As well as the 1,600 runners cramming into the start area, thousands of people have come out to cheer us on our way, sitting high up on walls, dancing on hotel balconies, as a huge sound system gees everyone up.
The race is 120km along some spectacular and steep mountain trails. It's a daunting prospect, so I hang near the back as the moment to start approaches. Up at the front, superstars of the sport such as the Americans Hayden Hawks and Tim Tollefson, Fernanda Maciel from Brazil, and the former Nepalese child soldier Mira Rai, are introduced to the crowd to huge cheers. You rarely see this much excitement or buzz at the start of a road race. This is a sport full of colour and adrenalin, with lean, chiselled mountain men and women with tattoos and expansive handshakes everywhere. And a lot of beards.
And then, as the clock strikes 11, and to the strains of the race's theme tune, The Ecstasy of Gold by Ennio Morricone, we're off. The showboating is over – now it's time to run.
With so many competitors, once we leave the town and head into the mountains, the narrow trails get congested to the point where I'm often forced to walk, or even stop completely. But this is good, I need to force myself to slow down in the early stages of these races. Too often in my fledgling ultra career I've set off too fast, too eager, and I've ended up being that guy slumped by the side of the trail at 90km, not sure how I'm going to continue. Not this time, I tell myself, as I wait for another bottleneck to clear.
The night ticks slowly by, traipsing up and down through woodland trails, following the highway of head torches, until the chilly morning emerges suddenly and we find ourselves face to face with the immensity of Tre Cime, a huge trio of rocky peaks that seem otherworldly in the dawn light.
After some pasta soup at a crowded aid station – who knew mini star-shaped pasta floating in vegetable stock could taste so good? – we begin the first long descent back down into the valley.
These mountain races are, of course, a series of climbs and descents, and until today I've always struggled with both, having come to ultras from road running. But today, finally, it all starts to make sense.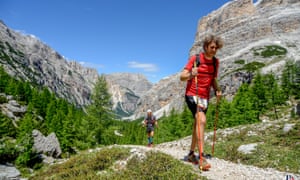 On the climbs, I have a new friend, a pair of Leki hiking poles. I've always been resistant to using poles in races. It reinforces the walking element of mountain trail running, which I try to ignore. I like to think of myself as a runner, not a hiker. This is ultra running, I tell myself, not ultra hiking. Besides, the runners I'm most impressed by, people such as Kilian Jornet and Zach Miller, seem to cope just fine without them.
But the truth is that in a 120km mountain race like this, I'm going to spend a fair amount of time hiking up steep climbs, and poles certainly look like they might help. When I ran the 100 Mile Sud de France in October, I was pretty much the only person in the race without poles.
Of course, you're supposed to practice with poles before you use them. So you don't trip yourself up. So you know how to store them when you're not using them. So any number of a thousand possible unseen problems can be avoided in advance of the race. But practising with poles when you don't live near any mountains is not easy. I tried them out on the coast path near my home in Devon, but the climbs are so short – even though they can be very steep – that I'm forever putting the poles away and getting them out again. It's all good pole practice, but it slows your run down. So I do it once. It doesn't seem so difficult.
In the event, the race becomes the practice. By the time I'm finished, I have it nailed. I barely grip the poles, but let them mostly dangle in the straps around my wrists. That works better, and doesn't rub my hands. And they really seem to help. It's like having a rail to hold on to up the biggest ascents. Throughout the race, even though getting them out of my bag is a hassle, I use them on every climb.
But it is the descents where things really click for me. I keep waiting for my legs to start complaining, but on each downhill I just let myself go, flying and skipping along through the field. From 900th position at the first checkpoint in the race, about 10 miles in, I gain around 100 places on every descent. People look at me racing by, particularly near the end, with a touch of annoyance. It does seem a little unfair to be making up so much ground on the downhills. They're the easy bit. But why doesn't everyone else go a bit faster?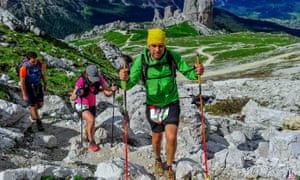 I know why. I've been there before, where your legs are so tired that even going downhill is a struggle, where your legs don't want to, or can't, lift your feet from the ground. Where all you can do to stop yourself sitting down is to keep up a slow, pained, forward shuffle.
But after 10 ultra races, for the first time, I'm not that guy. I'm that other guy. The one who comes from nowhere, full of energy, skipping past you, and you think, bloody show off.
In the end, I finish, 120km later and in 366th position, back in the buzzing town of Cortina. Twenty-one and a half hours. I grab my free beer and sit down in the square to take it all in. Something has shifted. My whole perception of time and distance seems to have changed, because suddenly it doesn't seem that crazy to have been out running for so long. When I started ultra running, the thought of running for more than four hours felt a little insane. I remember the first time my GPS clicked past 30 miles and finding it hard to process. But now, well it seems sort of normal. Seventy-five miles is a long run, sure. But not that long.
Still, I'm shivering and tired and night is falling, so I'm grateful that Giovanni, the owner of Hotel Villa Argentina, is a runner and has given everyone in the race his phone number so that when we finish he will come and pick us up and scoot us back to the hotel bar for pizza and lemon soda, followed by a long, warm bath. All those things that are just bloody incredible after a long run. Even if it's only a 21.5-hour-long run.
Source: Read Full Article