Tromsø Skyrace: Kilian Jornet & Emelie Forsberg's mountain epic
Kilian Jornet and Emelie Forsberg are two of the most talented and passionate mountain runners ever to grace the sport. And now they have turned their hands (and feet) to organising their own event, creating a truly unique event in the arctic peaks of northern Norway. In many ways, Tromsø skyrace contains everything they love about running in beautiful, rugged terrain – it's remote, exposed and relentlessly exhilarating. For the majority of participants, however, that equates to something more akin to an unforgettable adventure than a running race.
"Emelie and I have run a lot in the mountains around here," says Kilian Jornet, the day after the inaugural event. "We started to think of all these amazing routes we could do and mountains we could link up. Then we thought that we have to show people this incredible environment, so we decided we should have a race." To understand their idea of what a race is or could be, one has to look no further than their own alpine antics.
Forsberg and Jornet rule the world of Skyrunning – a sport that basically involves racing up, down and over gnarly, high altitude mountains. They've both won multiple Skyrunning World Championship medals. When they're not racing Skyrunning events, they live a mountain life of running trails and climbing mountains as fast as possible. Last year, for example, Jornet ran up and down the 4,476-meter-high Matterhorn in the frankly ridiculous time of two hours and 52 minutes. Come winter, they trade trail shoes for skis and compete on the skimo [SkiMountaineering] circuit – a sport that basically involves racing up, down and over gnarly, high altitude mountains whilst wearing skis. It's no surprise, then, that Tromsø Skyrace exists somewhere between athletics and alpinism.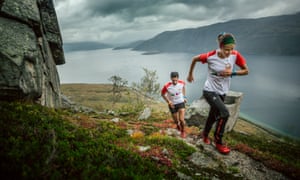 The route they came up with takes in two of the area's most iconic and beautiful summits; Tromsødalstinden and Hamperrokken, as part of an "out and back" course. It's certainly not for the fainthearted. "It has everything that we like – that's why we made it!" says Forsberg. "It's very demanding for sure – 45km with 4,500 meters of climbing. It's off trail, very steep with some technical scrambling and a narrow ridge."
They were also unwilling to downgrade the race's sheer difficulty – it's incredibly challenging but also, without doubt, the best way to really become immersed in the unique, wild nature that northern Norway serves up. Add to that their affable, hands on approach to organising and you have yourself one very folksy get together indeed. It's not every day, for example, that you can finish a run as off the grid as this and then have one of the founders of Yogi Tea, Atma Singh, serve you a hot cup of chai while you devour a couple of cinnamon buns and chocolate chip cookies baked and served up by Forsberg and Jornet themselves.
"For us, it was all about the ambience," says Jornet. "We wanted it to be like a family atmosphere where everybody could chat and share the experience." This approach led to a definite sense of camaraderie amongst the twenty five different nationalities of entrants back at the finish area in Fjellheisen – a stunning restaurant perched on a mountaintop above the sea and the town's urban hub, the island of Tromsøya. Stories were swapped, blisters and war wounds compared and a genuine air of achievement, not to mention relief, hung in the air. No more so than with the two beaming organisers.
"I was so nervous before the race. If you fall here you could be seriously injured or even die," says Jornet. "I ran the race to see if there were any problems on the course. I wanted to see what the other runners were feeling and how they liked the race. So, this time, I couldn't enjoy the scenery too much!" It's a sentiment that's shared by Forsberg. "I'm so happy that everybody seemed to enjoy it," she says. "Everybody stayed for hours afterwards – talking, eating and coming out to cheer all the finishers – that was so so nice." They were so enthused with the response, in fact, that they were already scheming for bigger and better things for 2015 even before the last Fjellheisen cable car took the stragglers back down to Tromsø.
"Now that everyone is safe and happy after this year's event we are already starting to plan for next year," says Forsberg. They've spoken about adding a longer race and also a vertical kilometre – a 1,000-meter hill climb – to the programme. Whatever they choose to do going forward, they've certainly put Tromsø on the running map. Their race is far from the easiest introduction, but it's arguably the purest and most intoxicating way to experience skyrunning.
• The Tromsø Skyrace website will be updated with details on next years race when available.
Source: Read Full Article