My workout: 'Netball gives me a massive buzz'
I played netball all through my school years and loved it. When I left school though, there were no clubs I could join. So I got on with adult life, got a job and soon lost my fitness. I never thought I'd play sport again. Then six months ago I came across the Back To Netball scheme, for women like me who haven't played in a while, and gave it a shot. It wasn't long before it all came flooding back.
Netball is a seven-a-side team sport; the aim is to pass the ball up the court and put it in the net. You can't run with the ball – as soon as you've grabbed it you have to stop – and each player can only move within certain boundaries, depending on their position. But despite these rules, it's not at all restrictive; the game has a lovely flow.
About a year and a half ago, I was diagnosed with osteoarthritis in my hips and told by doctors to keep active. I went running and went to the gym, but I found it all so boring. Now that I've rediscovered netball, I've packed in all that other stuff. I enjoy this so much more, and I get just as much of a workout, if not more so. It's fast-paced, high-impact and I'm absolutely shattered when I'm done. The greatest benefit I've seen from playing netball is to my confidence, which has grown massively. I've met a fab bunch of women and made genuine friendships. I've also discovered that I'm quite competitive – I get right into it. We do a few tournaments now and it's all for fun, of course, but we spur each other on.
I'm waiting for an operation at the moment – I've got bulging discs in my neck and have to have them taken out – and I was absolutely gutted when I found out I'd have to take some time off. I get dead excited every week. When I'm playing, and the adrenaline's pumping, I get a massive buzz. I didn't ever think I'd be playing netball at 43. I'm really proud that I am.
My weekend workout

How often do you play? Once a week, and then tournaments every two months.
Favourite position? Goalkeeper.
Post-netball ritual? A hot bath.
Five ways to get started

1 If you're a returner to netball or looking to play socially, England Netball's Back To Netball scheme is your best route back. Your first session is free, and then it's run on a pay-to-play basis.
2 In the UK, men often have a preconceived idea of netball being a "girls' sport" but in reality anyone can play. There are mixed leagues all over the country which are very welcoming to guys.
3 There is no right or wrong way to pass. Some people favour a chest pass, others throw from the shoulder, or bounce it to a team-mate. If a pass ends up in the right place, your technique's correct.
4 Shooting is more technical. Stand with both feet pointing towards the post and make sure you're balanced. Hold the ball with one hand using the other for support, bend your knees, elbow and wrist, then extend your arm and push the ball out of your hand.
5 To reduce the risk of a knee or ankle injury, practise your landing skills. First, jump up and down on two feet, moving forwards a little each time. Now do it on one foot, then the other.
Danielle Titmuss, Wasps and England U21 coach
Essential kit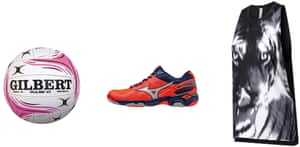 Source: Read Full Article