My 50th-birthday swimming challenge: week three
What is that banana-shaped box?
"Excuse me, madam. Wait a minute. What is that banana-shaped box?" the lifeguard asked me sternly. "It's a banana box," I replied with a grin. "Does it have goggles inside it?" he asked. Me, baffled: "No, it has a banana inside it; it's a banana box". The lifeguard had already told me that I couldn't take my kit bag to the poolside, as well as banning me from using fins (although hand paddles were deemed safe enough): "Sorry, madam, there are a lot of rules here. You can't eat food on the poolside." "But it's only a banana, and I haven't had breakfast!" I pleaded. He was unmoved: "No food."
Sunday 15 March, Seven Islands Leisure Centre, 33.2m
Rotherhithe, a bleak and rainy lunchtime, slightly frazzled. I'd planned to swim at Peckham Pulse but found out at the last minute it was closed for renovation. Seven Islands was a late substitute. The pool looked uninviting from the outside – perfectly suited to its rather desolate surroundings. Despite the the scruffiness of the building generally, and the many and wide-ranging rules, the pool itself was long, and clean and empty. I shared my lane with a man who was, impressively, doing lengths and lengths of butterfly. My arms were heavy and tired on day 15, and I made rather a meal of my swim, and anxiously wondered if I will get fitter and quicker. Otherwise, apart from having fun, what is the point?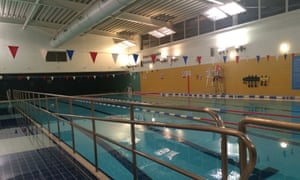 Monday 16 March, Phoenix Fitness Centre and Janet Adegoke Swimming Pool, 25m
Last week, I reflected on bottling that "post-swim feeling" for when you lack motivation. And at 6pm on Monday, after a hard day's work, I needed some motivation so badly. I threw a tantrum like a small child. I did not want to go swimming, I just wanted to curl up on the sofa. That's exactly what I would have done, had I not committed to this challenge. Instead I went home, made a peanut butter sandwich, and headed west, munching as I went.
It was a small shed of a pool, municipal in outlook, in a forsaken part of Hammersmith. However once in the pool and swimming, I started to unwind and enjoy myself and get into a rhythm. A big burly guy in the same lane as me was charging up and down. All muscle but no finesse. At 40 lengths I stopped for a drink, and he was standing at the end of the lane chuckling. He turned round and explained that he'd shaved his head at the weekend and now his swimming cap kept slipping off. I suggested he didn't need a cap if he had no hair, and we both laughed. He said, encouragingly: "You've done a good first stint" and when I said I was a bit bored he chided me gently: "No! Just pause, regroup, and get on with your second bit." Brilliant advice. I drove home wondering who the person having a tantrum at 6pm was. Was that really me?
Tuesday 17 March, Highbury Pool, 25m
I'd got home at 10pm from swimming but had to force myself to get up again eight hours later and pack my bag for an early morning swim at Highbury Pool – the only time that day I had time for a swim. I am constantly amazed at how many people are in the pool so early – what the hell are they doing there at that godforsaken time?
Wednesday 18 March, Leyton Leisure Centre, 25m
I found myself in Leyton, at 8.30pm, after a long drive. The pool is by the bus station, the complex has a large fun pool and a small lap pool nestled between water features. Swimming underneath the flumes, I shared a lane with a solitary other swimmer. Our paces almost – but not quite matched – we passed and caught up, drifted together and apart. I paused every 14 lengths to let him lap me, and counted lengths till he lapped me again. I played games trying to extend the time it took before he lapped again. And at the end of our session we laughed about it and compared notes. In the changing room I had a massive coughing fit and the lifeguard asked if I was ok and if I had asthma, which impressed me no end. Again, I left so much happier than when I arrived.
Thursday 19 March, Oasis Leisure Centre, 25m
Oasis is a London institution, a heated outdoor 25m pool in the heart of Covent Garden. A colourful clientele and a well used facility, it nestles in between office blocks. My lovely supportive boyfriend, who had joined me for a swim on a rare day off, retold a story of an advertising agency he worked with in the 1980s that had an office that overlooked this pool: they had three telescopes in their office trained on the water, so that clients could gawp at the action below. A tawdry tale. My swim was tetchy. I was unimpressed by the dirt in the pool. How can it be hard to keep clean? Maybe I was just tired now, my lengths and weeks catching up with me.
Friday 20 March, Swiss Cottage Leisure Centre, 25m
Patrick Smith, a man I'd never met, but a fellow long-distance swimmer, messaged me on Facebook and said he would really like to swim with me for my 50-swim challenge. He was visiting London for work on Friday and so I suggested we meet in Swiss Cottage pool at 7am. I arrived poolside and was greeted warmly by Patrick, who was already swimming. We chatted for five minutes before I plopped into the water into the lane beside him and we swam, happily, for my mile. Swiss Cottage – packed to the rafters with eager swimmers – public and club swimmers all coexisting, cool delicious water, a great pool, wonderful changing rooms and hot powerful showers. We had time for a coffee and a chat about swimming exploits before setting off for the business of the day. What a brilliant thing.
Saturday 21 March, Dulwich Leisure Centre, 25m
Thank goodness for the weekend and a more leisurely approach. I was joined by an old friend from Glasgow and her daughter, visiting from university. The pool was bright and beautifully restored, but packed and chaotic and too hot for my liking. Mandy – who I have known for more than 20 years – and Cora loved that it was warm. And after initially feigning alarm at the fact that they might have to spend hours in the pool as I swam a mile, they gamely got cracking. Cora, a hockey player and rock climber, wickedly outsprinted me with a youthful twinkle in her eye.
And so the end of another week. I'm beginning to realise that there is a real difference between swimming in the morning (before work), and swimming in the evening. Swimming in the morning is all guns blazing. It has a frenetic nature, a single-mindedness about it. It's about ramping up for the day. You have to just get in and get on with it – no time for relaxing – do your allocated lengths and get out and ready to face the day. It's about pragmatism and fitness and exercise and adrenalin. It's on the clock. To me, swimming in the evening has a completely different vibe. It's about winding down, about washing away the day's stresses. Even if you have an energetic swim in the evening it's about relaxing. About enjoying the activity on its own terms and about interacting in some way with the people you share your space with. I appreciate the afterglow of a morning swim but I prefer the activity of swimming in the evening and the joy and happiness it brings me.
Sally Goble is raising money for Royal Marsden Cancer. You can donate at justgiving.com/50SwimsIn50poolsIn50Daysat50
Source: Read Full Article