How do you launch a running shoe? With a big budget
Countless new trainers are launched each year. According to data by Editd, 3,003 new womenswear sports shoes arrived on the UK online market in January alone. So far in 2015, we've had the Adidas Ultra Boost – "the greatest running shoe ever"; the Asics Gel-Kayano 21 – "built-in impact guidance system"; the Puma Mobium Elite Speed NightCat – "improved visibility"; among thousands more designed to meet every conceivable sporting need. There are even websites dedicated to trainer releases, such as Europe-focused Drop Date, "so you never miss out again".
With so many trainers being released, you might think each launch is no big deal. You would be wrong. I went along to the global launch of the Reebok ZPump Fusion in New York, and was flabbergasted by the scale. The event was held at Spring Studios, a vast downtown venue that also hosts catwalk shows during New York fashion week.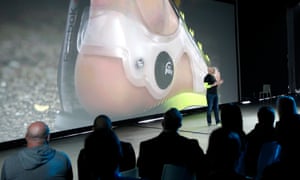 There were, as you'd expect, presentations from the company's top brass: Matt O'Toole, the president; Bill McInnes, the head of running (who used to work for Nasa); and Paul Litchfield, whose brilliant job title is "head of advanced concepts". There were screenings of the hilarious 1980s advert for the original Reebok Pumps, the new advert and the company's current campaign, Be More Human. There were appearances from some of Reebok's sponsored athletes, the UFC fighters Jon Jones, Conor McGregor and Paige VanZant. There were film stars and models. There were scores of journalists and bloggers from all over the world, all encouraged to try on the shoes and, at one point, take part in an excruciating team game (I hid at the back with a fellow organised-fun-phobic from El País, who announced: "I didn't do sports at school, and I'm not about to start now"). There were huge interactive screens, massive artworks and lavish – yet ultra-healthy – refreshments.
https://youtube.com/watch?v=cSyWvaDiyMs%3Fwmode%3Dopaque%26feature%3Doembed
Of course, Reebok is hardly alone in spending gazillions on promoting its latest shoe. And the potential gains are vast: US consumers alone spent $21.17bn on sports footwear in 2014. The global athletic footwear market is predicted to be worth $84.4bn by 2018. So the cost of venues, publicity and some star turns in big venues must seem like pocket change to big brands.
I spent the day in a daze, muttering to myself: "All this for a shoe …" Though, of course, according to Reebok, it isn't just a shoe. It is (drum roll) a revolutionary new footwear technology. The ZPump contains a bladder that wraps around your foot and can be inflated until, so the theory goes, the shoe fits you perfectly. According to Vanzant: "It almost feels like you're not wearing shoes." Jones waxes lyrical: "It's awesome, versatile, comfortable … When it's unpumped, it's like a sock – your foot feels safe." Then again, he's paid to say that.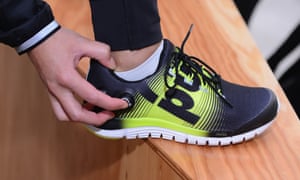 So what is it really like? Having worn my pair several times, I haven't noticed any real difference in fit, though they are comfortable. The standard version, in black and fluorescent yellow with deeply unsubtle branding, is pretty eye-watering, although monthly "drops" are planned with more appealing, fashion-conscious colours and design. After watching the promo films, I had expected them to inflate dramatically when I hit the pump button, despite being warned that the videos were slightly exaggerated. In reality, you have to pump multiple times to notice any extra cushioning. I do like that pump feature, though – stopping to press the button when you're getting tired gives you a little psychological boost. The best thing about the trainers is how light they are, thanks to the pared-back design, making them easy to cart to and from the gym. Nice, though surely not much of a payoff for years of Nasa-level research.
No doubt modern technology like this does improve top-flight athletic performance – where marginal gains can make the difference between victory and defeat – and, of course, big brands are going to shout about their latest innovations. But I'm not about to add Drop Date to my bookmarks – for most of us, getting around to doing any exercise at all is more important than the technology in the trainers we wear to do it.
Source: Read Full Article