'An Injury Left Me In A Dark Place—Until Working Out Got Me Out Of It'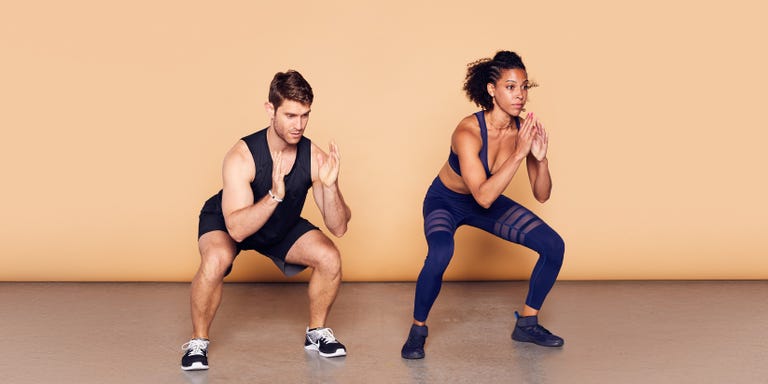 Women's Health partnered with our sibling publication Men's Health to find and recognize Power Couples—ultra-fit pairs who work out together and basically epitomize #swolemategoals. Meet half of our first Power Couple: trainer Bree Branker. Then, visit Men's Health to read about trainer CJ Koegel.
I started dancing when I was 3 years old, and it quickly became my life.
I danced throughout my childhood but really got serious about it in high school, when I attended a prestigious boarding school for dance. One of my teachers there really took an interest in me, which put me on track to make dance a career.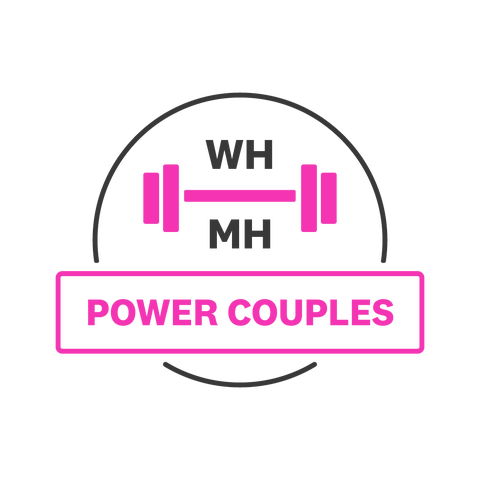 .
Immediately after I graduated, I moved to New York and everything took off: I was cast in musicals, movies, TV shows, and commercials. I even danced with the Rockettes. I traveled the world and had an incredibly successful career.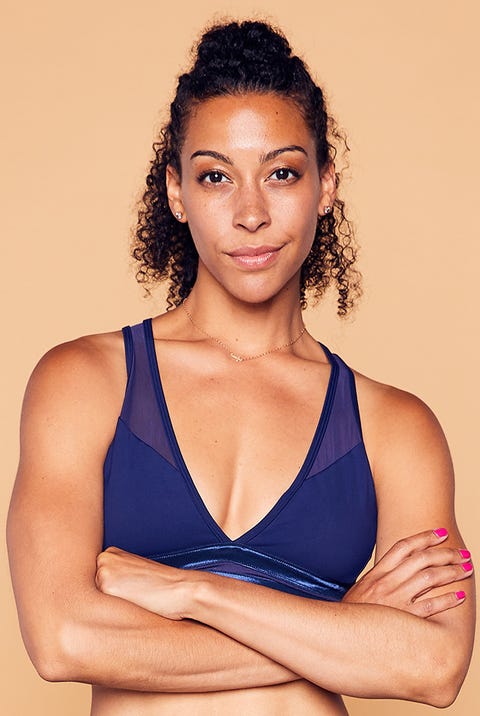 Kathryn Wirsing
But then, my hip started hurting. I was 19 years old and touring with the show West Side Story at the time. We were performing in Berlin, and I couldn't ignore the pain I'd been feeling in my hip anymore. I went to see a doctor in Germany, who didn't speak English particularly well, and I still remember him trying to ask: "How do you say 'quit dance?'" He told me my hip wasn't good enough to keep performing, but I was totally stubborn and didn't listen to him.
Then, a few months later, I was working with Cirque du Soleil, and they actually fired me because I was a liability due to my bad hip. But of course, I still didn't take the hint.
Years after that, when I was on tour with another show, the pain in my hip became unbearable. I finally caved and started doing cortisol injections for treatment. Eventually, I had the surgery doctors had wanted me to get for years.But my stubbornness persisted, and I went back to the show just four months after my procedure—even though everything hurt.
Spinning became my saving grace.
A post shared by Bree Branker ✌?️ (@breebranks) on
During my recovery from hip surgery, I started riding a stationary bike at the gym—but I thought it was so boring. Then I heard some people in the dance community talking about SoulCycle.
When I took my first class, I thought: "Wait, this is so fun! It's like dance but there's no impact!" I became obsessed and spent way too much money on classes. I quickly realized there was no way I could financially sustain my SoulCycle classes, so I decided to look into teaching spin.
I started my training at FlyWheel while I was still doing a Broadway show at night. I pictured having this amazing life where I taught spin during the day and then performed in the show at night—but the show flopped, and I was left with just spin.
I decided I need to become a whole new kind of strong.
A post shared by Bree Branker ✌?️ (@breebranks) on
The only problem with my up-and-coming spin career: I couldn't do the arm portion to save my life. The reality is, while I was a strong dancer, I didn't have the strength I needed to really succeed in the fitness industry. So much of dance is about making challenging movements look pretty, but I never learned how to move my body to be a functional human.
So I started taking bootcamp classes. During that time, I met Akin Akman, a SoulCycle instructor, Nike master trainer, and now the creator of Akin's Army. He and I clicked right away—his classes include a lot of dance elements, even though he's not a dancer, and that really resonated with me.
Akin also saw potential in me during a time when I definitely didn't see it in myself. I still remember him telling me: "You're on the brink of being really great, but you need to push it."
At the time, I kind of felt like a fraud. After all, I was just a dancer. But Akin told me I needed to get all the fitness certifications I could (so people would value my opinion) and really make a career out of it. He also encouraged me to teach bootcamp and get into fitness modeling. He opened up all these doors for me that I didn't know existed in fitness. I'm so grateful I met him.
Being immersed in the fitness world changed everything.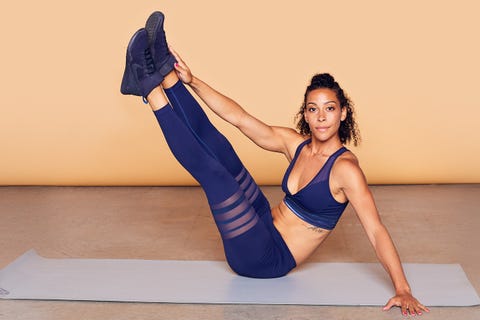 KATHRYN WIRSING
I moved away from dance and started teaching bootcamp with Akin. I also ended up taking his advice and joined Wilhelmina Models as a fitness model. My career kind of snowballed from there.
That's also how I crossed paths with my now-partner CJ Koegel (check out a workout from Bree and CJ): We met on the set of a rock-climbing fitness shoot. He introduced himself to me, and all I could think was that he was like a ray of sunshine—with abs. I thought "How is this guy real?" A few months later, we started dating, and we've been together ever since.
At the time, I was a little too intense with fitness—I was doing two to three workouts a day. But CJ helped me chill out and not stress too much or overdo it. He helped me remember to have fun with fitness and enjoy the people I was working out with.
Now, I feel so grateful that I get to be surrounded by CJ and the best trainers in New York—all by accident, all because of an injury that made me start taking spin classes.
I'm not dancing professionally anymore, but I still do it for fun when I can. And that's okay; I've come to peace with it. I'm really grateful that it all worked out the way it did, because I finally found something I'm just as passionate about as dance—and the industry has welcomed me with open arms.
Now my workouts are more balanced.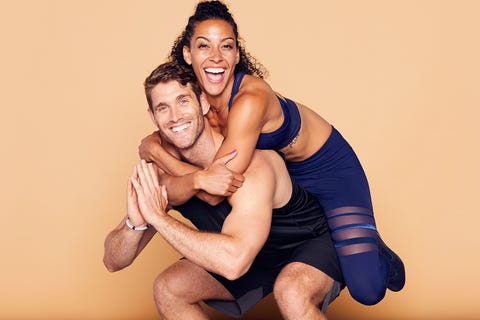 KATHRYN WIRSING
I try to make it to one or two cardio-based workouts a week—usually spin. Then I'll do one solid strength workout (either bootcamp or boxing), and then yoga once a week. I shake it up and keep my workouts as varied as possible so I don't get bored.
CJ and I do most of those workouts together—plus, he'll usually come to the classes I teach, and I'll go to his.
To be completely honest, I'm notorious for my bad diet.
A post shared by Bree Branker ✌?️ (@breebranks) on
When I'm out, I can never resist a good Chipotle bowl or anything with French fries.
So rather than fight it, I try to balance things out: When I buy groceries, I only buy healthy food so there's no junk in the house. That way, when I'm out, I don't have to stress so much.
I'm really big on making healthy bowls, because I feel like you can put anything in them. My go-to at home is a quinoa-based bowl with a protein like salmon or chicken, black beans, sautéed kale, and sweet potatoes. Oh, and pro tip: If you add goat cheese to anything, it will taste amazing.
I won't sugar-coat it: Getting past my injury was tough.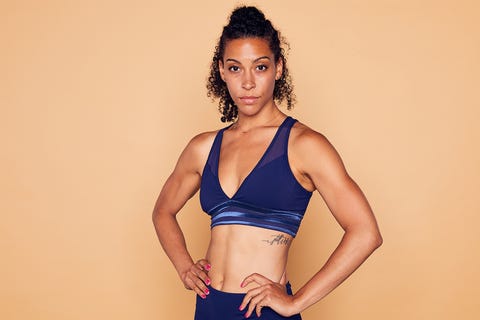 Kathryn Wirsing
When I was younger, I thought I was invincible, so I spent a lot of time in denial after my injury. It's like when you have a cold and think it'll just go away.Dealing with it head-on was hard—I like to think of myself as a strong, confident person, but it took me years to accept that I was injured. And even after going through physical therapy, surgery, and rehab, there are still things I just can't do anymore.I don't think I've ever been depressed, but the closest I ever got was realizing my dance career was either going to change or end because of my injury. It took me a long time to accept my new body and realize my limitations don't define me as a person.It wasn't until I found fitness that I finally felt like I had a home again.
The most important thing is loving what you do.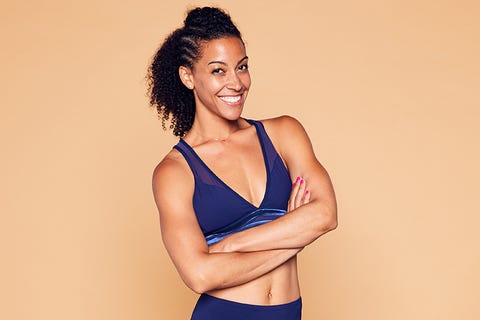 Kathryn Wirsing
You have to find something that's next-level fun for you. If you don't enjoy it, you're not going to do it. Whether that's an instructor you love, a type of exercise, or the right music. You have to find the thing that keeps you engaged and invested.
And the people! The people are so important—the people I take classes with now are some of my best friends, and my fitness community is like my family.
Read more about trainer CJ Koegel on Men's Health.
Source: Read Full Article