These No-Frills Ab Workouts Will Carve Your Core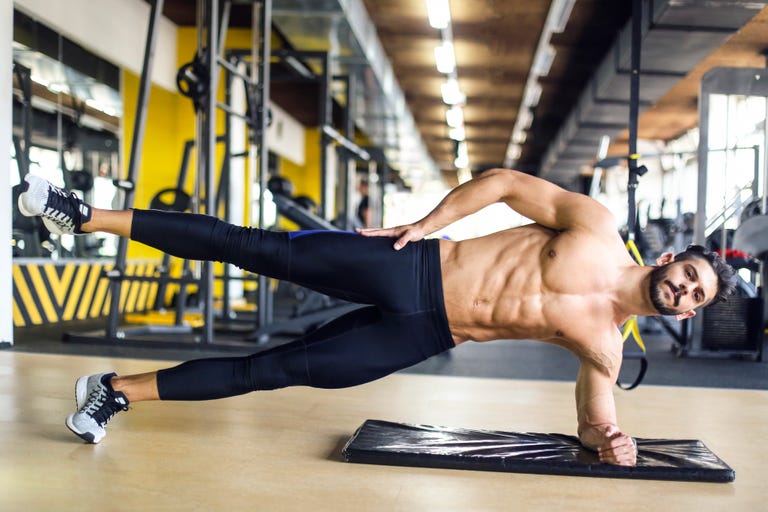 You know your abs are ready and waiting to shine beneath your belly — they just need a little push to show out in the form of a six-pack.
You'll need to focus your attentions on several fitness factors to get the ripped-up midsection you're after, but you'll need to start with plenty of sweat. Along with general strength training, dedicating workout time solely on the abs themselves can help to bring them to the surface.
Most people assume that's an invitation to max out on crunches until they're out of gas. Most people are wrong. The crunch is an inefficient movement, recruiting more of your lower spine and hip flexors and putting stress on your lower back, rather than the core.
Instead of flailing around on the ground, try out these two ab circuits. Add them to your regular workouts as finishers or perform them on active rest days, and you'll be well on the way to the core of your dreams.
The Workouts
The Seaside Toner
You don't need tons of fancy equipment to get the abs you've always wanted, thanks to this quick four move workout from Marc Pierre, a personal trainer and boot camp instructor at the Four Seasons Hotel at the Surf Club in Miami Beach.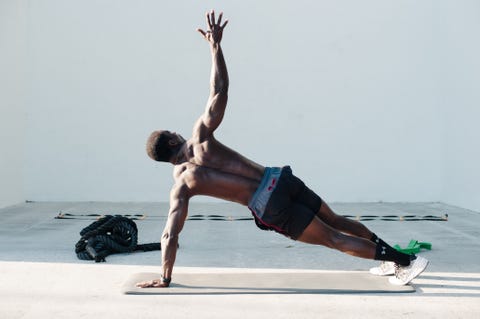 Enamarie Montero
His ingredient for getting results faster? Working out on a sandy surface, which challenges your stability and forces you to maintain your balance. "Increase your muscle reaction and core stability in a soft beach sand environment, with the heat from the sand relaxing the muscles for more range of motion," Pierre told MensHealth.com.
Ready to load up on vitamin D and train your core at the same time? Perform the four moves consecutively with as little rest as possible. Once you finish one circuit, rest for two minutes, and do it all over again. Aim for three to four full rotations per sweat session — beach optional.
1. Plank rotations
10 reps on each side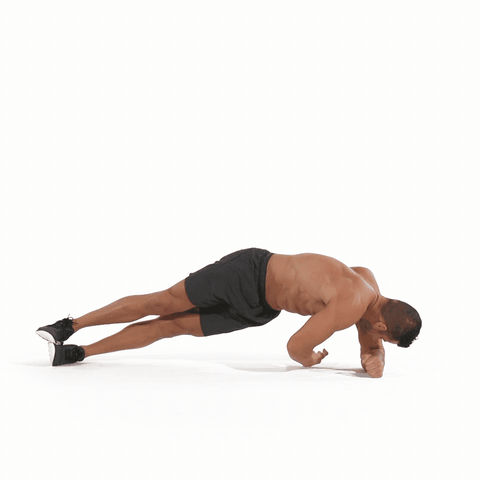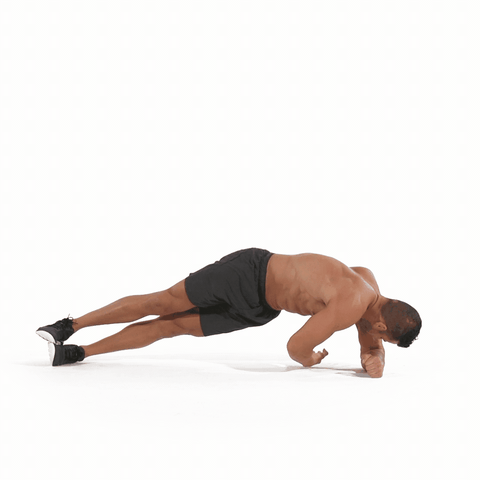 Men's Health
In addition to working out your abs, plank rotations also bring the burn to your shoulders and arms. "Begin in a plank position and switch to a one-handed push-up and use the free arm to go under your stomach," said Pierre. "Reach that hand straight to the sky until it stacks above the other shoulder." By putting one hand under your stomach, you're targeting your core and toning your shoulders at the same time. If you're on the sand, it's best to use a yoga mat for stability during this move.
2. Bicycles
20 reps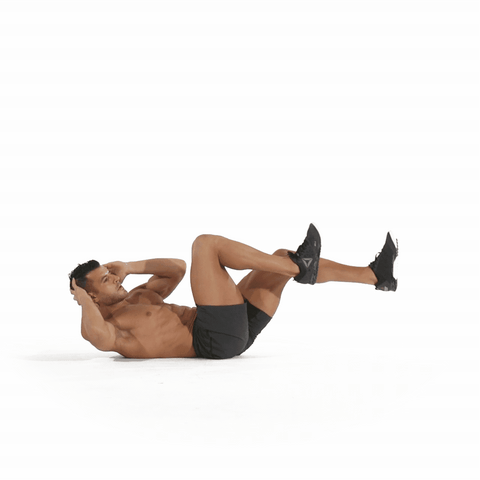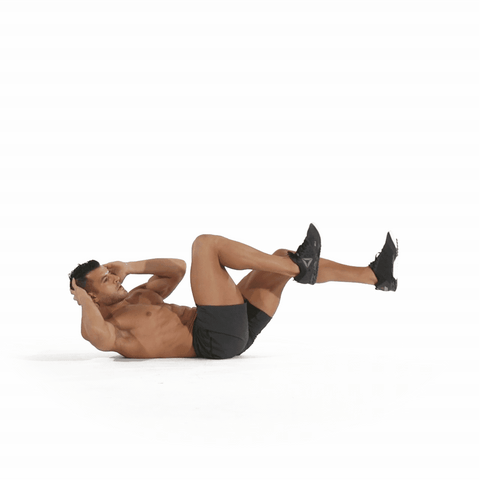 Men's Health
Bicycles are a pretty standard move, but if you want to build abdominal strength and tone your thighs at the same time, they're the way to go. "This is the go-to ab workout for many people," said Pierre. "Begin by lying flat on the ground with both hands behind your head with your shoulder blades slightly off the ground. Rotate your opposite elbow to your opposite knee and repeat on the other side."
3. Modified Russian twists
15 reps on each side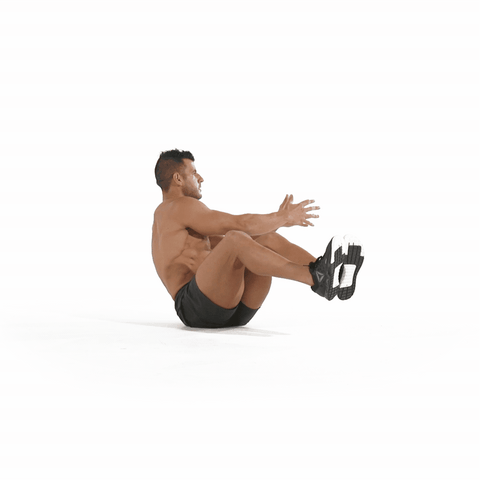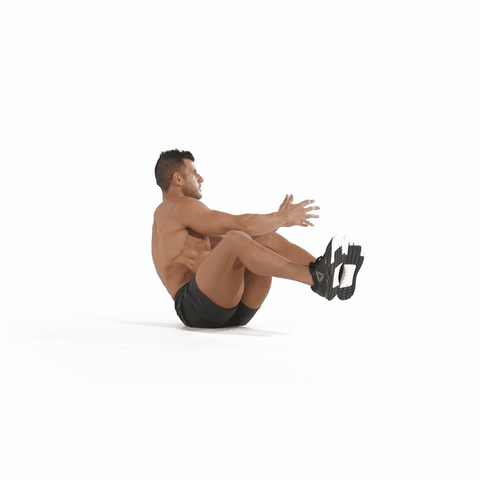 Men's Health
For a core exercise that targets both the middle core and obliques, Russian twists are your go-to. "Sit down with your legs off the ground and knees bent. Put your hands together and perpendicular with your body," said Pierre. "Twist your torso in one direction and repeat for the other side, and for optimal results go faster and hold for two seconds on each side." To avoid putting stress on your lower back, Pierre suggested sitting in a more upright position.
4. Toe Touches
10 touches on each side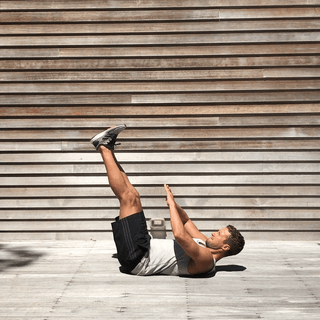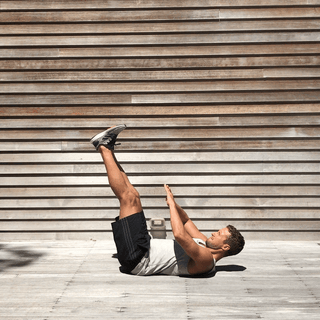 Men's Health
This exercise gives you maximum power for a core workout. While laying on your back with your legs straight in the air, put your hands together, reach overhead, and touch your toes. "Athletes enhance toe touches by going at them diagonally instead of straight, creating more torque in the core," said Pierre.
The Helicopter Plank Ladder
Since not everyone has access to a sandy beach, you're going to need to take your workout inside. For a great indoor ab routine that excels on a solid gym floor surface, check out this circuit from Anarchy Abs trainer Andy Speer.
The workout isn't complex — it's just two exercises consisting of two moves each — but it will leave you sweating and your core burning after you work through the full load. The difficulty ramps up with each set, since both moves follow an ascending structure.
Perform both moves consecutively for one round. Aim to complete three rounds for the full circuit workout.
1. Reverse Plank to Pushup to Reverse Plank
Ascending from 1 to 5 pushups
Start in a reverse plank position, with your hands planted on the ground facing away from each other and your chest facing the ceiling. Keep your core tight and your spine straight. Spin your body over to face the floor in pushup position with your weight on one arm without breaking postural integrity, then perform a pushup. Spin on the same arm back into reverse plank position, hold for a moment, then spin on the other arm into pushup position. Perform two pushups. Repeat the cycle until you reach five pushups.
2. Candlestick to Deck Squat Jump
Ascending from 1 to 5 jumps
Begin in a seated position on the ground. Straighten your legs and arms, then roll onto your back, lifting your legs up into the air. Hold them straight up together for a beat, keeping yourself centered with your arms out at your sides. Roll your legs back down onto the ground and use the momentum to immediately stand up into a squat jump. Fall back into the seated position and perform the movement again, this time completing two squat jumps. Repeat the cycle until you reach five squat jumps.
Check out more core-flattening ab circuits with the full, six-week Anarchy Abs program.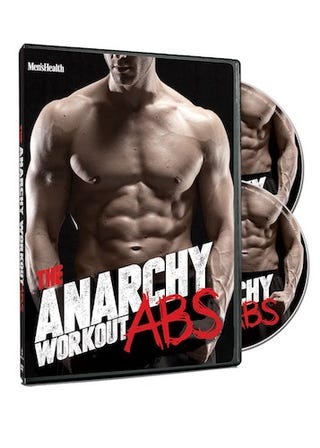 Men's Health
Order Now
Source: Read Full Article