The Spine Race 2015: 'The camera became my little friend'
It's still strange seeing yourself on screen, even in our smartphone age. In the Spine Race Film, I don't look nearly as heroic as I'd hoped. I teeter in the wind. I slur my words. The eyes don't lie, apparently, and in mine you can clearly see fear and vulnerability. I thought I was some kind of warrior of the wilds, impervious to all that the weather and the race could throw at me. It turns out, I'm a bit of a wimp.
As apocalyptic storms battered the 2015 Spine Race in January, Summit Fever Media made a film of the race that rightly calls itself "Britain's most brutal". I tried to capture as much as I could of the runner's perspective on a GoPro camera.
This was my second go at the Spine Race, a single-stage (so the clock is always ticking) foot race in winter along the 268-mile Pennine Way, England's oldest and toughest national trail, which wiggles, rises and falls all the way from the Peak District to Scotland. The Spine Race is known for extreme weather, sleep deprivation and hallucinations, and for myriad afflictions from trench foot to hypothermia. But I also wanted to show just how life-affirmingly joyous it can be too. The huge highs it gives you. The many memorable moments. And some of the wondrous (not a phrase that stretches to a waterlogged Blenkinsopp Common at 3am, admittedly) and gloriously remote scenery the race passes through.
I was thrilled to fortuitously capture a scene where, as Beth Pascall, Mark Townsend and I descend from the extraordinary snow-clad canyon of High Cap, semi-wild ponies galloped across our path. It's only a few seconds of unsteady footage. But I've probably watched it 20 times and it sends a shiver up my spine (pun half-intended) each time.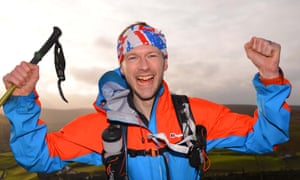 If I was trying to show what the Spine is really like, there's another moment that should have been in the film. Between Alston and Bellingham, four days into the race, I had my lowest moment. I felt powerless for hours. I was getting lost in idiotic ways. I felt like it had been dark for days. I was so tired and paranoid that I thought a local who helped me with directions was trying to sabotage my race. Painkillers weren't masking my tendonitis and I was worried about long-term damage. I contemplated giving up. I reached for the camera to … I'm not sure what exactly, probably whinge self-pityingly about it all. Maybe cry a bit. But the battery had died – thankfully, on reflection.
The camera became my little friend. A little pocket pet I could talk to. I told it all sorts of things. When I felt great, when I felt not so great. I even told it jokes. I'm pretty sure I fed it Shot Bloks. The Spine Race takes you to some strange new places (and I don't just mean Alston), and there's plenty of that strangeness – from me and from others – in the film.
It's a wonderful adventure film, despite how frequently I appear in it. Many, many hours and a lot of love have gone into it. Aside from some extraordinary footage of the Pennines in winter (and as the author of the official guide to the Pennine Way, I'm thrilled that Summit Fever Media were so determined to include it), there are two other moments that really stand out for me.
https://youtube.com/watch?v=9dyY3M9nMAU%3Fwmode%3Dopaque%26feature%3Doembed
The first is for reasons of mirth. At Hawes, the second major check point, Nici Griffin, who's often described as "the Ultramarathon Mum" and who knows I need a punt up the proverbial sometimes, tries to coax me out of the door, back into the storm I've just escaped. "What's the weather forecast like?" I ask, hopefully. "Shit," she says. "It's not fucking Barbados you know. Get out there." I'm not sure what she does for a living when she's not in the Spine Race, but I don't think she's a full-time meteorologist. Even so, that pithy summary was entirely accurate.
The second moment is near the end of the film [spoiler alert]. Interviewed in Kirk Yetholm's Border hotel – the race end – a remarkably fresh looking Beth Pascall sums up the experience perfectly. After describing the weather and the emotional extremes she'd been through, she says: "It was awful." Then her eyes light up, and a guilty smile starts to crease across her face: "But it was amazing."
• The Montane Spine Race Film is available now on DVD or download from Summit Fever Media.
Damian Hall is an outdoor journalist and author of the official Pennine Way guide.
Source: Read Full Article