My workout: 'Samba is about enjoying the music and expressing yourself'
I discovered samba through a dance aerobics class. One day the instructor asked if anyone was interested in performing at Notting Hill carnival. I'd never done anything like that before and liked the idea, so signed up. I went to a night run by the Paraíso School of Samba, and that's when I saw what I was getting into. I just fell in love and thought, I have to learn how to do this properly.
Samba is a Brazilian dance. It can be difficult at first because you have to move your feet, arms and hips incredibly fast. It's much freer than other forms of dance; not as placed, not as perfect, and not choreographed within an inch of its life – samba is about feeling, joy and passion. I love the music, which is rhythmical; at my school we're lucky enough to have a live percussion band, the bateria, at every class.
I enjoy the opportunities we get to perform, but lots of people treat classes like a cardio workout. You dance at such high intensity that once you've mastered the basic step it's like sprinting on the spot. Samba has become so much more for me than exercise, but along the way it has toned my arms, stomach and improved my fitness.
Women can get such a warped view of what their bodies should look like, and samba has helped undo some of that for me, which may be surprising given the small costumes. I was a bit intimidated at first, but you soon realise it's about enjoying the music and expressing yourself. It's inspirational to look around and see people of all ages, shapes and sizes doing just that. I'm more accepting of my flaws and have gained confidence in all aspects of my life.
I've never been a gym bunny. I can't spend hours on the treadmill – it's boring. But in samba, I've found something that gets me fit but doesn't feel like a chore. I get to wear sparkly heels and fantastic costumes, dance to the most amazing live band, and make new friends. It's no longer just a dance class – it's all-consuming.
My weekend workout
How often do you train? Two to three times a week.
Number of carnivals danced? This year was my fourth.
Most memorable class? In Rio de Janeiro, at the top of a favela as the sun was going down. It was magical.
Five ways to get started
1 The most important step is the samba no pé. Step back with one foot, forward with the other, then bring your back foot into your front one. It sounds simple, but can take weeks to master as it's performed quickly, so be patient.
2 You have to move your hips. A lot. It's natural to be a little self-conscious at first – it's not at all in British nature to be OK with doing any of this – but once you relax it becomes easier. Everyone is in their own little world, and no one cares if you're doing it wrong.
3 For women, if you're not used to wearing heels, don't let that put you off. Start with trainers or flat dance shoes, see how you get on, and take it from there.
4 Like most dance classes, there are usually more women than men, but samba is open to everyone. It makes me laugh to think how many guys are missing out – classes are full of girls, and it's all about shaking your hips and your bum. It's a great way to date.
5 Unless you want to perform on stage or at a carnival, samba is something you do by yourself – you don't dance with a partner, which makes it less intimidating.
Essential kit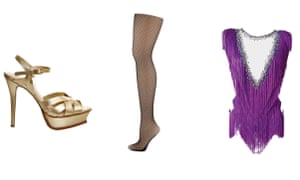 • Do you have a passion for exercise? Send your story to [email protected]
Source: Read Full Article