J.Lo Posted Another Abs Pic On Her Birthday And…Damn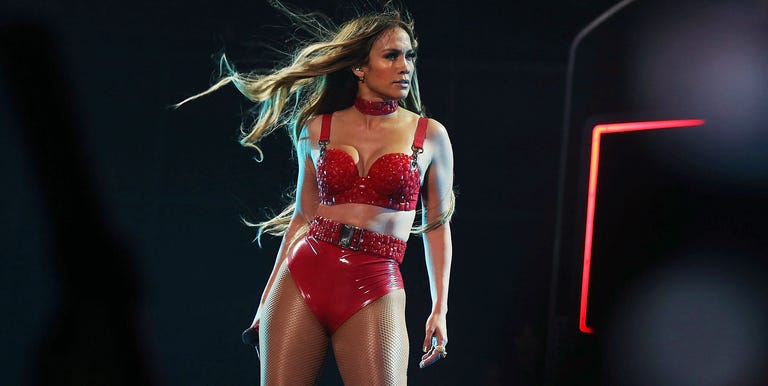 J.Lo has a sick body. And in other news, the sky is blue. But it's still easy to feel blown away when the singer posts a photo flaunting just how jacked she really is.
The latest evidence: A new Instagram she shared to celebrate her 49th birthday. "Current birthday situation…yup," she captioned a shot of herself, her boyfriend Alex Rodriguez, and a few other pals clutching bottles of bubbly on the beach.
Current birthday situation… yup
A post shared by Jennifer Lopez (@jlo) on
Cute! But can we talk about her abs for a hot sec? Jennifer Lopez turned 49-freaking-years old and she's got a serious washboard situation going on.
Apparently J.Lo is well-aware that her stomach looks good, too, because she shared a photo on Instagram right before that of herself at the gym in skintight pants and an abs-baring sports bra.
#SundayFunday kind of… ? gotta get it in… now let the fun begin!! #birthdayweekbegins @niyamasol
A post shared by Jennifer Lopez (@jlo) on
Jennifer told Us Weekly in 2016, per Hollywood Life, that she likes to get her workouts over with in the morning. "I don't like doing it later; it's harder to get there when I have my day going already," she said.
A-Rod also shared some gorgeous shots of the birthday girl on Instagram, with this sweet message:
When we were kids, birthdays were exciting because it was all about the gifts we would be getting. A new bat, dance shoes, maybe a new CD (yes I'm old!). I see firsthand how that's changed for Jennifer, and how she's found joy in sharing with others. For someone who has been about giving everything she has 365 days a year—to our children, our families, the world—I hope today, we can give you all the happiness you deserve. I love you mucho Macha 13. ❤️
A post shared by Alex Rodriguez (@arod) on
And he shared even more sweet snaps of the two of them and their families in another birthday post:
Birthday girl ?
A post shared by Alex Rodriguez (@arod) on
Damn, she makes birthdays look good.
Source: Read Full Article