How Horror Master Jason Blum Keeps in Killer Shape
Jason Blum knows things could get gory. He's facing a 24-inch-high wooden box topped with five 4-inch-high rubber plates (44 inches in all, if you're keeping track at home). The stack is nearly at Blum's chest, but the six-foot producer has every intention of jumping onto it."You might get a lot of blood," he quips, summoning visions of busted shins, split lips, and the all-around FUBAR-ness of a failed landing. "I make horror movies."
Don't wish him a Happy Death Day just yet. Blum bends his knees, leaps, then tucks his legs tight. He lands with a smile."This," he says, "is my specialty."
The way Blum sees it, there's nothing better than a rush of adrenaline and fear (and sweat, too!) to get him pumping out adrenaline-rush nail-biters like Paranormal Activity, The Purge, and Glass. So whenever the 50-year-old is in Manhattan, he heads to Brick New York gym, just as he's done on this day, to fight through a CrossFit-style metabolic-conditioning workout with trainer Ian Creighton. "I tell myself that I do better work and I get more done if I give myself an hour a day to work out," Blum says between sets of landmine shoulder presses and ab drills. "I don't know whether it's true or not, but I've never not given myself an hour a day to work out, so I'm not going to find out."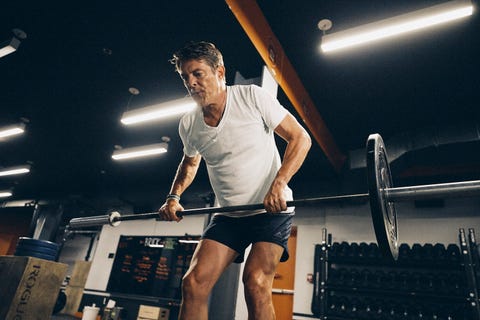 Steven Counts
There's no reason to mess with success, and from the Purge films to Whiplash and Us and Glass, Blum has had plenty. He heads Blumhouse Productions, the Hollywood film factory that specializes in transforming micro budgets (try under $15,000 for 2007's ParanormalActivity) into major moolah (see: nearly$200 million at the global box office).
He traces his discipline back to when he decided to quit smoking at age 30. He'd smoked since high school, but at a nightclub during the 1999 Hamptons Film Festival, tired of being constantly out of breath, he resolved to quit and stomped his final cigarette butt into the ground. "I replaced it with the gym," he says.
Not that he was a box-jumping badass right away. His first post-smoker workout as a 20-minute session on a hotel stationary bike—and it left him wrecked. But a decade later, while on the Vancouver set of the family comedy The Tooth Fairy, which he produced, he stumbled onto a CrossFit workout with a lunchtime group and loved how the pace fired up
his muscles and had him dripping in sweat. "I'm very into efficiency," he says. Blum wanted more hardcore fitness, so he asked to work out with the film's star, Dwayne Johnson, who trained at 3:00 A.M. No luck. "I endlessly tried to get in there and work out with him, and I never pulled it off," Blum says. "He was always super nice about it: 'Yeah! We'll do it next week!' But he never let me. His workouts are incredibly private. But whatever he's doing is working."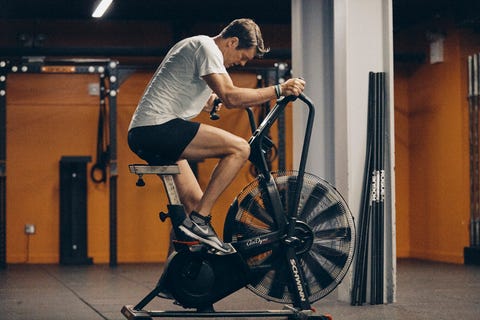 Steven Counts
Whenever Blum trains, he makes sure to push himself to his limits. On this day, he rides his bike 30 blocks through Manhattan traffic (hey, more adrenaline!) to meet Creighton. (Creighton and Jeff Scarborough, Blum's Los Angeles trainer, always keep their schedules flexible when he's in town.)
Forty-five minutes later,Blum is doubled over after busting through 40-seconds-on, 20-seconds-off intervals on the dreaded Airdyne bike, his T-shirt plastered to his midsection. He wouldn't have it any other way. "I really like that my mind is totally blank," he says.
The Break of Brawn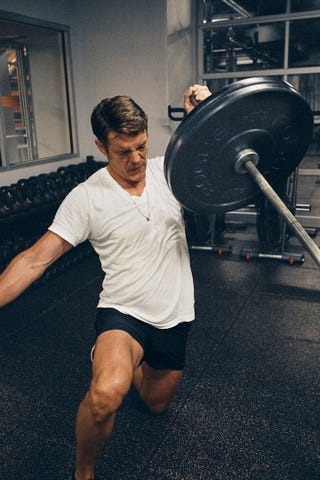 Steven Counts
When Jason Blum hits the road, he can't do his beloved box jumps, but he still makes time to train, thanks to 15-minute sweatfests like this conditioning circuit from Ian Creighton. Grab your backpack (or empty out your roller bag and use it) and rip through this in your hotel room!
1. Alternating Overhead Lunge
2. Suitcase Thruster
3. Burpee with Suitcase Jump
Source: Read Full Article