How a Riverdale Star Got Shredded for His Next Movie in Just 21 Days
When some actors prep for a role, they know they're in for a dramatic body transformation. That typically means extensive prep periods—think James McAvoy building up his body over months to become the Beast in Glass, or Brie Larson getting fit for her debut as Captain Marvel, when she trained for a whole 9 months.
Then, there's Riverdale actor Drew Ray Tanner, who took just 21 days to get super shredded for his latest role. The young star was cast as the romantic interest of one of the characters in an upcoming Netflix movie, the Alicia Keys-produced Work It, and the film's director had a very specific challenge for his look: "She told me, 'I want people to watch this movie, and I want you to be like, the hot guy of the generation,'" Tanner recalls in an interview with Men's Health. "'I want it to break the internet' were her words."
The only problem was that Tanner didn't have much time to get in shape. Knowing that his shred window was small, the actor linked up with trainer Alex Fine, who he met through his Riverdale co-star KJ Apa.
Fine takes most of his clients in-house, literally. Tanner moved into Fine's home in L.A. to start the prep for the role, and Fine took on most of the workouts alongside the actor.
"We called it a 21-Day No Days Off program," says Tanner. "Essentially it was cardio in the morning, then in the afternoon it would be strength and conditioning training. If there was a day off, it would be like a 15 mile run. Then I got to have a no run day the next day–but still did strength and conditioning."
Day 2 of the program, for example, consisted of a speed run session in the morning (3 sets of 1 mile runs at a fast pace, with .5 mile walks for recovery), then a back day circuit workout. To close out each day, Fine had a different core session to put even more focus on Tanner's midsection. You can check out the whole plan here.
The No Off Days Workout, Day 2
5 rounds

At one point, Fine could tell that Tanner was close to hitting a wall. "If I see someone is at their f*ck point, I try to break it up to reset," Fine says. To give Tanner a spell from the monotony, Fine took the actor on a trip to Mexico to take on a boxing workout and ride ATVs. After that, Tanner was dialed in—enough so that he was even able to finish out the program on his own when he had to leave for the shoot.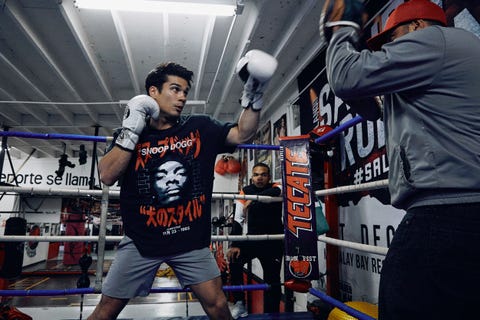 Tanner training in the ring.

Drew Ray Tanner
Tanner also adhered to a strict diet that restricted his calorie intake significantly. He would eat one 400 to 500 calorie meal a day, drank tons of water, and had one daily reward. There was a smoothie bar near Fine's house, which is where Tanner had his sole indulgence during the training period. "I could have whatever smoothie I wanted from this bar," he says. "I used to trick that up and add maca, add the essential oils, the whole bit. They were like, $20 smoothies by the end of it."
All told, Tanner estimates he was eating about 1,200 calories a day during the first week of training, before dropping to 1,000calories a day for another week, then 700 calories through the last 4 to 5 day stretch. He became extremely aware of everything he was putting in his body, using a food scale and timing his meals to optimize his workouts.
Importantly, the program was built only for that super short prep window—this type of intense training and meal plan isn't sustainable in the long term. For Tanner, this was acceptable because he had a specific goal and target in mind.
Tanner didn't start the program in bad shape, but the final results were still dramatic. By the end of the period, he had cut 19 pounds from his 5'9″ frame, and felt good at the final weight of 154 pounds. He looked just how he wanted for the part—and earned Fine's respect to boot.
View this post on Instagram
I was able to work with @drewraytanner over 21 days for Movie Role Prep. He's an extremely dedicated nerd who dropped 19lbs and got shredded in 3 weeks. We are selling his exact workout program in my bio. It's absolutely brutal. We're giving u the ingredients to the sauce but u still gotta make it. #transformationtuesday
A post shared by Alex Fine (@alexfine44) on
"He was one of the hardest working dudes I've ever had," Fine says, high praise from a trainer who works with elite pro athletes like Odell Beckham, Jr. and Saquon Barkley. "The first week was pretty f*cking miserable."
Most importantly, Tanner was happy with the whole experience, and feels like he's now armed with the tools to train and fuel his body more intelligently going forward. "You don't know where your body and your mind are capable of until you do it, and I think we're all just waiting for the right excuse to get there," he says. "I don't want to go back to the way it was. I want to continue being able to live a healthy lifestyle."
Source: Read Full Article