Emily Skye's Abs In Her Latest Before-And-After Transformation Photo Are Truly Stunning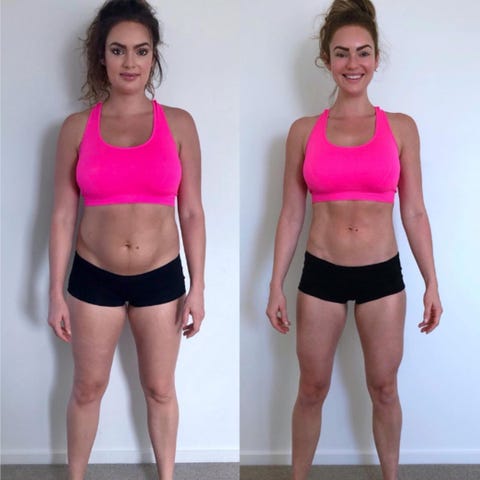 Australian fitness expert Emily Skye has been incredibly candid about her postpartum fitness journey, regularly sharing photos and updates of her progress on Instagram since she had her daughter Mia in December. And her latest before-and-after photo is…damn.
A post shared by EMILY SKYE Health + Fitness (@emilyskyefit) on
In the side-by-side photos (taken six weeks postpartum and eight months postpartum, respectively), Emily is wearing similar pink sports bras and black workout shorts and wearing her hair in the same ponytail. But she looks stronger, more fit, and happier in the more recent photo.
"People said things like: 'Your body is ruined now,' 'You'll never be the same,' 'Let's see what happens to your body once you have a baby,' 'You'll bounce back,' Bla bla bla," Emily wrote in the caption. "People always have something to say and there will always be naysayers so you should stop listening to them."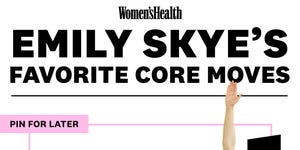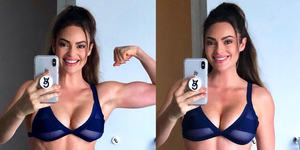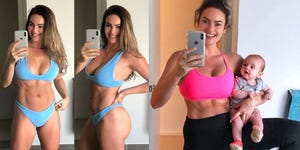 "I'm getting fitter and stronger every day," Emily continued. "I'm absolutely blown away by my body because it grew a human and is still making food for that human." Not only that, Emily says she loves her body "more than ever now" and has "never felt more confident."
She ended her caption on this note: "Love yourself no matter what, choose to be your best and never doubt yourself—you most certainly can look and feel amazing whether you've had a baby or not."
This isn't Emily's first mind-blowing postpartum update: In May, she shared before and after selfies on Instagram that revealed her ridiculously toned abs.
5 months postpartum progress! ?? . It was hard to notice changes until I looked back to where I started. I'm feeling pretty proud of myself because I have worked really hard but I've been really balanced too. I'm not strict, still enjoy life (and treats) and I don't spend much time away from Mia. ??? The hardest part was the start when I first got the all clear to begin exercising at 6 weeks PP. I felt so slow & sluggish but I worked on it by doing my FIT Program about 5 times a week at midnight or so (after Mia finally went to sleep). I'm becoming fitter and stronger every day but I still have to be really conscious of holding my core tight when standing and walking around. It just wants to come "out" all the time. ?? It was pretty big when I was full term so it's no wonder it takes time to return back to normal. I just have to keep working on training my muscles to hold everything tight, with good posture and get my core strong again. ??? – I'm getting there one day at a time! . Question for all the mums out there: How long did it take for your tummy to stop wanting to push/hang out? I know everyone is different but I'm just curious. ?? . .
A post shared by EMILY SKYE Health + Fitness (@emilyskyefit) on
She also shared that she's been doing her FIT program five days a week at midnight or so when her daughter went to sleep. And earlier in August, she shared her go-to abs workout with WomensHealthMag.com which includes up to 45 minutes of toning work using just a mat, sliders, and stability ball.
Congrats, Emily!
Source: Read Full Article