A Virginia Doctor Allegedly Performed Hysterectomies and Tied Patients' Fallopian Tubes Without Consent
Today in objectively horrible news that will make you sick to your stomach, an obstetrician-gynecologist in Chesapeake, Virginia has been accused of performing hysterectomies on patients who didn't agree to them.
A 69-year-old doctor named Javaid Perwaiz has been charged after the FBI got a tip from a hospital employee who suspected he was "performing unnecessary surgeries on unsuspecting patients," according to ABC News. The patients were allegedly unaware of the procedures they were undergoing.
After one of his patients who came in for an ectopic pregnancy later sought treatment at a fertility specialist, the new doctor said "both fallopian tubes were burnt down to nubs, making natural conception impossible." Court documents allege that Perwaiz tied her tubes without her knowledge or consent.
69-year-old Javaid Perwaiz was arrested for health care fraud and making false statements related to health care matters. #13NewsNow pic.twitter.com/GkK2yP0isi
Perwaiz allegedly told a separate patient she needed a hysterectomy because of an "imminent onset" of cancer, and despite her consenting only to a less invasive operation focused on her ovaries, she allegedly woke up to discover he performed a total hysterectomy anyway. NBC News reports Perwaiz was also accused of cutting her bladder during surgery, causing sepsis. Her medical records reportedly describe the surgery as "elective" and cancer is not mentioned in them.
According to the Virginian-Pilot witnesses told investigators that Perwaiz "routinely brought up cancer in order to scare patients into having surgeries." Witnesses also allege that Perwaiz didn't use regional anesthesia on patients.
In the past, Perwaiz has faced eight malpractice lawsuits. NBC News reports they include allegations he "caused permanent injuries to three patients and life-threatening injuries to two others and failed to use techniques that were not invasive."
This story will be updated as we get more information.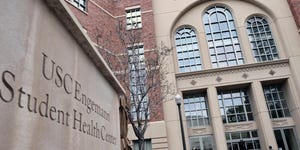 Source: Read Full Article