Watch LeAnn Rimes Try To Guess The Starbucks Holiday Latte
You guys, LeAnn Rimes is starring in a Hallmark Christmas movie this year! It's called…wait for it…It's Christmas, Eve (get it? because her character's name is Eve?). Other essential details: It premieres on November 10 at 8 p.m., and because I know you were wondering, yes, she will sing in it.
To help LeAnn kick off her Hallmark Christmas movie debut, we asked her to try Starbucks' full lineup of holiday drinks (and a few of their seasonal foods, too), to see how many of the flavors she could accurately guess. Even though her go-to order is normally a green tea, the singer waded through mounds of whipped cream (so much whipped cream!) in the name of taste testing everything you can order in those cute festive cups this holiday season.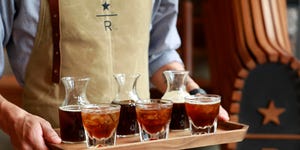 Let me just say, LeAnn might secretly be a food critic; she is actually freakishly good at picking up on the distinct flavor notes of the different lattes and seasonal pastries. Either that, or she is a closeted holiday beverage fan who was definitely not trying these drinks for the first time. (Guess we'll never know for sure.)
But the real question: Does LeAnn prefer the classic peppermint mocha? Or is she more of a chestnut praline latte girl? What about when it comes to the chocolate swirl brioche versus the pistachio honey croissant versus the sugar plum cheese danish? You'll have to watch the video to see which flavor emerges victorious—and which of the pastries she recommends the most.
Source: Read Full Article