The Starbucks 'Keto White Drink' Is The Newest Keto Diet Obsession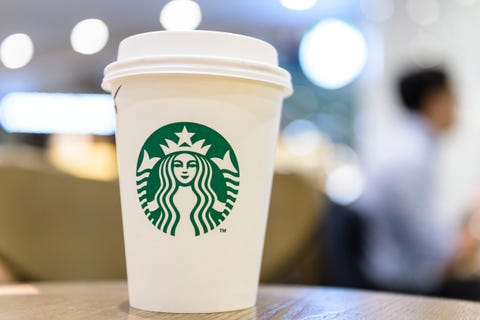 Following a keto diet is crazy-limiting, and it can turn even the simplest food choices—like grabbing your morning Starbucks—into a full-on macros math problem.
But now, the keto (and Starbucks) faithful have come up with another new drink that absolutely fits a keto diet (no carb-counting required): Peach Citrus White Tea.
So funny storyy…? I finally made it to Starbucks to try the famous keto friendly Peach Citrus White Tea thanks to the Genious @ketosony ??? So I order it exactly as pictured (exactly how @ketosony did) took one sip and OMG!!!???? I was like this can NOT be sugar free! I right away stopped drinking it thinking that the barista messed up my order and gave me the regular vanilla syrup cause it was pure DELICIOUSNESS!!❤❤❤❤ So I decide to stop at another Starbucks to order the same thing and compare the 2 and WOW!! It was not a mistake! This drink is straight up AMAZING!!???? Thank you so much for sharing this idea girlie!? *Swipe to see the way to order*➡️➡️➡️➡️➡️➡️➡️ #KeepingItKeto #Starbucks #PeachCitrusWhiteTea #SugarFreeVanilla #HeavyWhippingCream #Blended #Yummy #FitnessJourney #Keto #KetoDiet #Ketogenic #KetogenicDiet #Ketosis #LowCarb #LowCarbHighFat #LifestyleChange #WeightLossJourney
A post shared by Danielle (@daniellegoesketo) on
This new keto drink isn't technically an official Starbucks offering (you know, like the keto pink drink). It's off of the "secret" drink menu (a.k.a. people mixing-and-matching individual ingredients).
Basically, the keto-friendly Peach Citrus White Tea is a spin-off of Starbucks' Peach Citrus White Tea Infusion, according to Spoon University. People have gone so far as to describe the drink as liquid peach cobbler. Not totally sure how I feel about that, but if you love peach cobbler, it sounds like a win.
Here's exactly what goes into this keto-friendly Peach Citrus White Tea, according to Spoon University:
The drink is carb- and sugar-free, which, of course, is why it's keto-diet approved. And if you're feeling a little extra that day, you can get it also get it blended.
It should be said, though, that the drink has precisely zero coffee in it (although thankfully the tea does seem to have some caffeine)…but people are straight-up losing their sh*t over this online:
Switched it up and tried THE Peach Citrus White Tea and it's super yummy! Really does taste like peaches and cream! ? • • • • • • • • • • • • • #keto #ketostarbucks #ketostarbucksdrinks #ketofriendly #peachcitruswhitetea #ketosis #ketones #ketogenic #ketofam #ketocommunity #ketogirl #ketocarsen #ketolife #ketoaf #ketoliving #ketolifestyle #ketoweightloss #diet #dieting #starbucks #ketodrinks #yum #yummy #weightloss #weightlossdiary #losingweight #weightlossjourney #lowcarb #nosugar
A post shared by Carsen (@keto_carsen) on
With summer just around the corner, @starbucks iced teas are always my go to. I love the shaken peach citrus white tea right after my workout in the mornings. I get this unsweetened and add my own HWC so I'm aware of how much I'm putting in. I also add in @lakantosweetener 10-12 drops to give the sweet tea taste. I usually split this into 2 and also add a table spoon of @nowfoodsofficial MCT oil to get my fat in. #keto #ketogirl #ketofriendly #ketodiet #ketorecipes #ketogenicdiet #ketolife #deeperstateketo #ketobreakfast #ketonesforfuel #ketomeal #ketolifestyle #starbucks #peachcitruswhitetea #tea #heavywhippingcream #nowfoods #mctoil #lowcarbhighfat #nosugar #lakanto #monkfruit
A post shared by @ keto_md on
For the record, this keto-friendly drink isn't limited to the Peach Citrus White Tea variety—you can mix and match this with any kind of (sugar-free) tea and (sugar-free) flavoring your keto-friendly heart desires. The keto possibilities are endless.
Source: Read Full Article