7 Ways You Can Get Your Starbucks Fix On The Keto Diet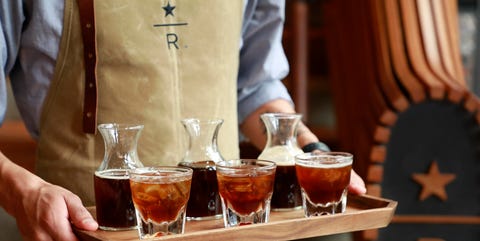 When you're on the keto diet, at first, you feel like an unstoppable one-woman keto army—cooking at home, meal-prepping, even brewing your own coffee.
But damn, that's hard—especially when all you want to do is go for a Starbucks run.
Good news, though: You don't have to give up your beloved 'bucks orders. There are plenty of options out there so you can stay keto and enjoy your fave morning (or afternoon, or evening) pick-me-up in the process.
Overall, you want to stick with four simple rules, says Julie Upton, R.D., co-founder of Appetite for Health: First, order sugar-free options, since sugar = carbs. Next, opt for heavy cream over regular milk (again, lactose is another carb). And then consider adding unsweetened nut milks like almond or coconut to drinks.
But those are just the basics. Here are some specific drinks—based on your specific needs (and mood)—that are still totally keto-friendly
View this post on Instagram
When the gang makes a stop at sonic, I make them stop at Starbucks for me! #dayoferrands #with3kids #keto #ketodiet #ketolifestyle #ketoaf #ketoweightloss #ketojourney #weightloss #weightlossjourney #ketofood #ketolunch #ketodinner #ketobreakfast #ketostarbucks #ketocoffee
A post shared by @ keto_momma__ on
Black coffee—hot, iced, or cold brew—is always going to be a winner in the keto department but it's a little…intense.
Still, it's calorie-free with no sugar, which is definitely keto, Upton points out. "At two to five calories per serving, coffee (brewed, espresso, or instant) simply does not have enough carbohydrates to get someone off track of their keto diet," says Scott Keatley, R.D., of Keatley Medical Nutrition Therapy.
If you just can't have yours straight up, it's 100 percent okay to add heavy cream and a flavoring like cinnamon or sugar-free syrup. If you need a little sweetener (fair), bypass the sugar and try a little stevia. "Sugar subs that have no calories or carbs can fit on the diet," Upton explains
View this post on Instagram
Happy Monday! ☕️ Today I'm back on STRICT Keto. This is my morning breakfast. I added stevia and @sportsresearch MCT oil #keto#ketodiet#ketorecipes#ketostarbucks#ketotransformation#ketoweightloss#ketoweightlossjourney#ketobreakfast#ketosis#ketolife#ketodrinks
A post shared by @makeupbyjay_xo (@xox.janelle) on
Sure, you can be on your keto A-game on most days, but sometimes you just need a good, comforting cup of something warm and sweet.
You can do an Americano (a.k.a., espresso and water) and add heavy cream and stevia, order a cappuccino or flat white with heavy cream instead of milk, get a mocha with half heavy cream and half water (to create a "milk"), or have a latte with an unsweetened nut milk and add your own flavoring.
"The high fat and low sugar content of coconut milk can work on a keto diet if factored into the total daily allowance," says Beth Warren, R.D.N., founder of Beth Warren Nutrition and author of Secrets of a Kosher Girl. Also, heavy cream has a high fat and low sugar content, making it great for keto, she adds.
View this post on Instagram
Finally jumped on the #pinkdrink train and I am so glad I did. I did not get any sweetener in mine and, even so, it is so good and refreshing! I will add some liquid stevia when I get back to the office, but I could drink this without it. I needed something that tastes like summer! . . . . . . . . . . . . . #ketostarbucks #starbuckspinkdrink #keto #ketolifestyle #ketoweightloss #ketolife #lowcarb #ketodiet #lowcarbdiet #sugarfree #lowcarbdiet #ketostyle #SF #nosugar #starbucks
A post shared by Meg (@meg_a_keto) on
Sure, not everyone is into coffee, but Starbucks clearly has some cool drinks that look amazing on Instagram. If you're just going for the likes, you can DIY a pink drink that looks awesome in pics.
Plenty of people have shared a variation of this on Instagram, but it basically involves mixing Starbucks' passion fruit iced tea with a few pumps of sugar-free vanilla syrup, and cream. You can have it blended or just over ice. Voila!
"This doesn't have a lot of carbs so it would fit," Upton says. Keatley agrees. "One cup of herbal tea has about 0.5 grams of carbohydrate per eight-ounce serving, the sugar-free vanilla syrup has so little carbohydrate content that it can state zero on any packaging, and heavy whipping cream has about one gram of carbohydrate per ounce," he says. "At the same time, it has almost 100 calories which can help you meet your macro targets."
View this post on Instagram
Had to copy @fitgirl_marci today!!! ?#ketodrink #ketostarbucks #ketogenicweightloss #ketocommunity
A post shared by KetoKansasGal (@ketokansasgal) on
Any Starbucks hot or iced tea, without sweetener, is a safe bet, Upton says. Or you could get a chai-brewed tea and add some heavy cream to the mix. (Just make sure to ask for brewed chai vs. the stuff they pour out of a box—that has sugar in it.)
Be wary, though: Some of their blended teas and tea lattes (even if you sub in cream) are off-limits since they contain sugar, Keatley says.
View this post on Instagram
Y'all. ? I just ordered this frappaccino from Starbucks that I saw on @peaceloveandlowcarb's page and it is ridiculously good. Game. Changer. If you need me I'll be over here with a steady brain freeze because I can't put it down. #keto #ketolife #lowcarb #yum #starbucks #gamechanger #ketofrappuccino
A post shared by Caitlin Louise (@ketobycaitlin) on
Getting a Starbucks reward feels almost as good as winning the lottery, and you don't want to blow it on something basic like black coffee.
If you have a reward that you can't wait to spend, try asking a barista to mix up a keto-friendly Frappucino. Start with the basics: Order a Frapp made with unsweetened almond, coconut milk, or heavy cream, and whatever sugar-free flavoring is your pleasure (vanilla, caramel, hazelnut…there are a bunch to choose from).
"Keto is about cutting carbs and not limiting fat," Upton says. "That's why cream and coconut milk are okay.
View this post on Instagram
When you need a quick breakfast on the go! #starbucks #starbucksaddict #sousvideeggbites #ketostarbucks
A post shared by Lindsay Wisniewski ?? (@tattoedketofurmama) on
Clearly the bagel, croissant, and banana bread aren't going to fly, but their bacon and gruyere sous vide egg bites are a solid high-fat, low-carb option, Warren says.
Per serving: 310 cal, 22 g fat (14 g sat), 9 g carbs, 2 g sugar, 600 mg sodium, 0 g fiber, 19 g protein.
View this post on Instagram
@starbucks snack break… I finally found a keto Starbucks' coffee that I like… skinny mocha with 1/2 heavy cream and 1/2 water and meat and cheese, of course… aaaaaand it just occured to me to wonder exactly just HOW MUCH hwc is in there ???. . #ketowoe #ketolife #ketostarbucks #ketoonthego #ketoweightloss #ketoweightlossjourney #ketosnacks #ketodrink #lowcarbdiet
A post shared by Alison (@intentional_keto) on
Starbucks has several protein boxes that are solid for when you're on the go, but most also contain fruit (carbs) and crackers (totally obvious carbs), Upton says.
Still, that doesn't mean they can't fill you up when you're keto. You can opt for the egg and cheese protein box and just skip the fruit and bread, or go for the Felino Uncured Italian Salami and Manchego box. Starbucks also usually has string cheese and Moon Cheese handy, both of which would make a solid snack.
Source: Read Full Article