The Best Sparkling Water Brands You Can Buy
We're all trying to drink more water these days — and if you find the taste of normal tap water too bland to get down, you're not alone. Now, you can stay hydrated with every flavor of sparkling water under the sun. These drinks are refreshing, often sugar-free, and a favorite among many — but with so many choose from, it can be tough to know which brand is worth your cash.
Here are the five tastiest sparkling water brands you need to try right now.
Spindrift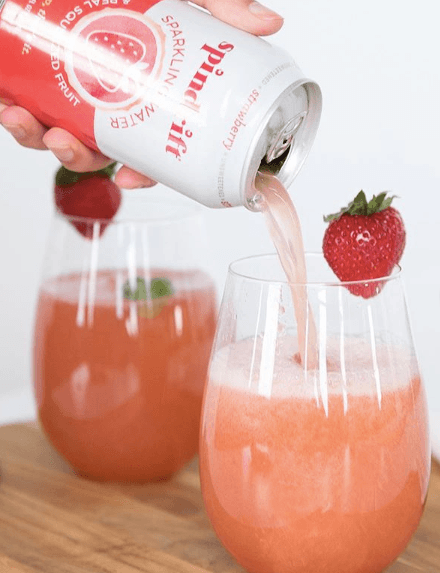 Spindrift seltzer being poured into a glass | Spindrift Sparkling Water via Instagram
If you love the taste of real, fresh fruit, you'll need to try Spindrift. This sparkling water company uses carbonated water and real, fresh-squeezed fruit for flavoring — and that's it. Unlike other brands, Spindrift beverages also have a slight hue from the fruit juice, so you can tell what you're getting is the real deal.
As for flavors, Spindrift has plenty of classics like Grapefruit, Blackberry, and Lemon — but they also have unique flavors like Half & Half (brewed iced tea with real lemon) and Cucumber. Well+Good also tried the product and found it to be delicious, flavorful, and not overly sweet.
LaCroix
If you drink sparkling water, you've certainly heard of LaCroix. This seltzer superstar made a huge splash on the scene thanks to its delicious taste and fun flavors. Spoon University notes the best part about LaCroix is the brand's pleasant mouthfeel. The publication notes that "the bubbles are softer and tend to froth in the mouth."
As for flavors, one of their most popular is the Pamplemousse, which is better known as grapefruit. But that's not all, as you can also try fusion flavors that combine pineapple and strawberry, kiwi and watermelon, apple and berry, and blackberry with cucumber. There's really something for everyone.
San Pellegrino
Aside from the beautiful packaging and elegant label, San Pellegrino knows how to perfect a simple sparkling water. Spoon University notes the mineral taste is present in this sparkling water, which appeals to many. Not only that, but the bubbles are smaller and less aggressive, giving the drink crispness without it feeling overbearing.
We recommend the original Pellegrino for the calorie-free option, but if you're looking for a special treat, try one of the flavored options. They're made with fruit juice concentrate, so they aren't calorie-free. But the Blood Orange, Lemon and Mint, and Prickly Pear are excellent replacements for soda.
Polar
Polar Seltzer | Polar Seltzer via Instagram
When you think of sparkling water, you probably think of Polar first. This brand has a dominating presence in the water aisle (especially if you're a New Englander) for a reason, as the flavors are subtle and crisp and there's no excess sugar involved. There's nothing super fancy (or expensive) about Polar water — it's simple, delicious, and the perfect accompaniment to any meal.
When it comes to flavors, there's no shortage here. Boston found Triple Berry to be the clear frontrunner for many, with one contributor even stating they "buy this stuff in bulk." Ruby Red Grapefruit, Lime, Granny Smith Apple, and Cranberry Lime were also favorites.
Bubly
PepsiCo introduced Bubly recently — and so far, seltzer fans are loving it. The Well+Good staff notes the drink's flavorings are subtle and not overly sweet, and it seems some agreed that the aroma of fruit was actually stronger than the taste. If you're looking for just a hint of fruit flavor, this might be the ideal sparkling beverage for you. And as far as ingredients are concerned, Bubly contains just carbonated water and natural flavorings, too.
This sparkling water doesn't come in as many flavors as Polar, but if you're interested in water with hints of lime, cherry, lemon, grapefruit, orange, strawberry, mango, or apple, then you'll be more than pleased with the offerings.
Check out The Cheat Sheet on Facebook! 
Source: Read Full Article