This Is Not a Drill! Pop-Tarts Cereal Is Back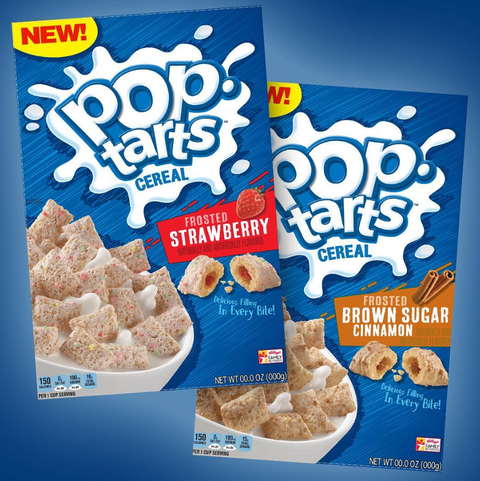 Way back in 1994, Pop-Tarts entered a new, milk-covered, eat-by-the-spoon era. Pop-Tarts Crunch cereal, according to Bustle, came in two flavors: Frosted Strawberry and Frosted Brown Sugar Cinnamon (the BEST Pop-Tart flavor). Unfortunately, the cereal got pulled off the market just a year later, Bustle reports. People were bummed (rightfully so), and there's even a Facebook group called, "Bring Back Kellogg's Pop Tarts Cereal."
Brace yourself, Pop-Tart cereal fans. It's COMING BACK! Kellogg's told Bustle that the Pop-Tarts cereal will be returning to shelves nationwide in early 2019. The best part? We get the original flavors: Frosted Strawberry and Frosted Brown Sugar Cinnamon. Bite-size brown sugar cinnamon Pop-Tarts sound sooooo addicting. Kellogg's told Bustle that there will be "filling and frosting in every bite."
Instagram user Candy Hunting (@candyhunting) posted a photo of the original boxes as a throwback, and the packaging definitely looks like it's 24 years old.
TBT: Remember Pop-Tarts Crunch cereal? Well, it looks like it will be present in more than just our memories soon. ?
A post shared by @ candyhunting on
The new boxes are reminiscent of the original ones, but with more of modern, graphics look.
Pop-Tarts Cereal is coming BACK in early 2019, in Strawberry, Brown Sugar Cinnamon, and potentially S'Mores (see @markie_devo for the pic; Kellogg's has not confirmed it with me)! ??
A post shared by Cerealously (@cerealouslynet) on
While you're waiting for Pop-Tarts cereal to hit shelves again, grab you can indulge in these amaaaaazing cereal-flavored treats from Sugarfina.
From: Delish
Source: Read Full Article