New Dessert Alert! Cinnabon and Carvel Are Making Churro Ice Cream Sandwiches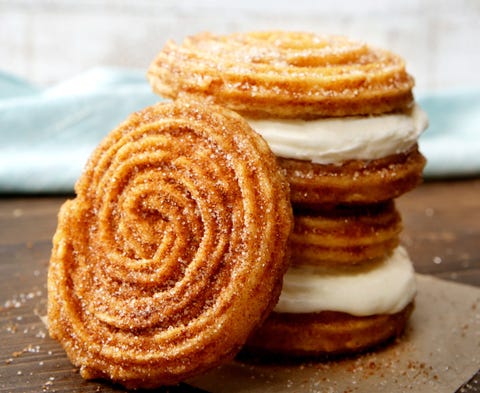 Cinnabon has pretty much perfected the cinnamon roll. There's no passing by that sweet scent and not at least considering stopping in to ruin your diet/warm your soul. But rather than rest on their center-of-the-roll laurels (the most genius dessert invention since the muffin top, IMO), Cinnabon is offering up a new sweet treat to try — the Churro Swirl.
The round cinnamon twists are a literal spin on the typical churro, and they're pretty as heck. You can order one in several ways, depending on what level of sweet tooth you're feeling that day. Buy one on its own, or layer Cinnabon's cream cheese frosting between two. As you can see, there's no skimping on the frosting happening here.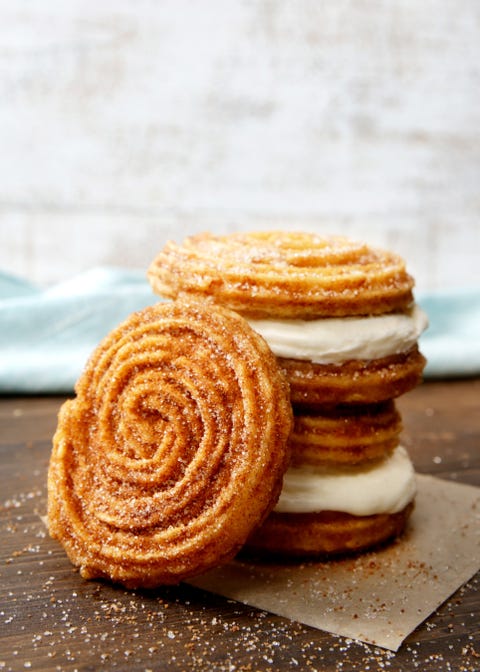 To celebrate the end of summer, Cinnabon teamed up with Carvel to create the third churro swirl option: a churro ice cream sandwich, with two round swirls wrapped around Carvel soft serve. Keep an eye out for a potential Auntie Anne's collab, too — back in 2016, Carvel started putting ice cream machines in dozens of Cinnabon and Auntie Anne's locations.
The churros are available now for a limited time at Cinnabon locations nationwide, with a retail price of $2.49 for a single churro and $4.99 for a frosting sandwich (though that may vary by location).
From: Delish
Source: Read Full Article