Here's How to Win Free McDonald's for Life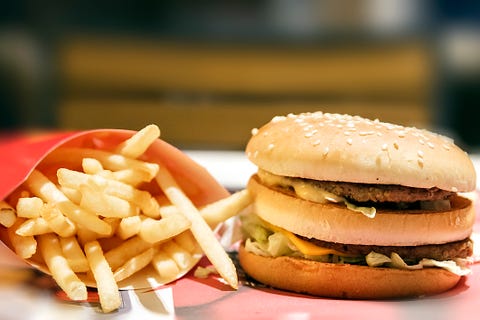 Bill Gates might already be one of the richest people in the world, but the Microsoft founder also enjoys a perk that most people don't know about. As the holder of a McGold card from McDonald's, Gates is able to receive free McDonald's from any of the restaurant's locations worldwide. (Even though he can definitely afford a Big Mac every now and then.)
The philanthropist Larry Crandell also had an unlimited card, and while other celebs like Warren Buffet and Rob Lowe have spoken about owning a gold card, their cards were only accepted at certain locations, and Lowe's card was only good for a year.
For us normal folk, there's pretty much no way to get a gold card ― unless you're a hero like Charles Ramsey, who helped rescue three kidnapped women in 2013 and was awarded with free McDonald's for a year by the company and unlimited burgers for life by 14 local restaurants. But as McDonald's just announced, the chain is going to randomly give away a McGold card for the first time ever.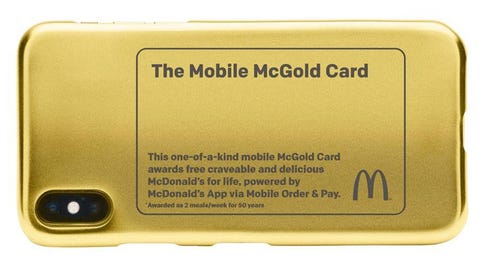 For a chance to win the McGold Card and free McDonald's for life, customers in the U.S. will need to download the McDonald's app, and then place an order via Mobile Order & Pay, any time from August 10 through August 24. Each order that you place is an entry into the contest, with a limit of one entry per day.
Legend becomes reality when one person wins FREE McDonald's for life! Order w/ Mobile Order & Pay on our App 8/10-8/24 for a chance to win. More info – https://t.co/a24BCT2jpA. No purchase necessary, see rules to enter via email. pic.twitter.com/8DWpCIsA5Y
The winner will win a brand new, first-and-only-of-its-kind mobile McGold Card in the form of a 24-carat gold-plated phone case etched with their name, marking their membership into the exclusive club of McGold Card owners. And then bring on the McNuggets. Take that, Bill Gates.
From: Delish
Source: Read Full Article