Baptize Your Peanuts in Coca-Cola for a Trip Straight to Flavor Heaven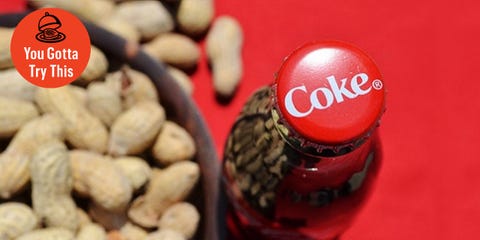 As a Southerner, I spend a lot of time pushing a heavy agenda of Dolly Parton, excessive butter use, and college football. We don't always get it right (ever heard of pig's feet?), but when we do, we really get it right. We are the good people who bring you grits, biscuits and gravy, and fried green tomatoes. One of our lesser-known slam dunks? Coke and peanuts.
I was first indoctrinated on my mamaw's front porch, when my dad said "trust me," and poured half his bag of salted peanuts into my open bottle of coke. Blasphemy, right? Negative. What resulted was a mix of savory and sweet deliciousness. Better yet, the peanuts stick around, stay crunchy, and give you a nice little snack at the end of your beverage. Think of it like the working man's strawberries in champagne.
According to the National Peanut Federation's site, the practice likely originated in the 1920s, when workers with dirty hands didn't want to touch their peanuts, so they just dumped them in their Coke. For me, it was 1995, and my hands were probably gross because I was a child, but nonetheless grateful for the ingenuity of all the dirty boys before me.
As for peanuts and Diet Coke? Gross. Diet Coke is sweetened with something that isn't sugar—likely the sins of our fathers—so it just doesn't pair in the same way that good ol' Coca-Cola Classic does.
Do it yourself: grab a 20 ounce Coke and a bag of lightly salted peanuts. The salt matters. Pour half in and go forth. Be happy.
From: Esquire US
Source: Read Full Article