How KJ Apa Gets Ripped for 'Riverdale'
When you think of classic comic book characters, there are definitely a few you'd expect to have toned muscles and rippling abs in a real life adaptation. But those would most likely be from iconic superhero titles, like Superman or Batman—not Archie, the everyday teen character who inspired Riverdale, the CW's pulpy, atmospheric show based on the long-running comic.
KJ Apa, the 22-year-old New Zealander who plays the modern day Archie, trains like a superhero to bring more muscle to the series. He and many of his cast mates like Charles Melton, Hart Denton, and Drew Ray Tanner work with celebrity trainer Alex Fine to sculpt their bodies into the type of shape that steams up the small screen and helped to make Riverdale a hit. Fine, who has also worked with director Peter Berg and NFL players like Odell Beckham, Jr., typically trains his clients out of his house in L.A., creating a familial, intense environment that fosters intense workouts.
That type of commitment is especially important for Apa, arguably the face of the series. The actor has to work on other projects too, like I Still Believe, his latest movie (releasing on March 13)—so his time in Fine's gym is essential.
The Men's Health crew visited Apa and Fine in L.A. to see how the training goes down and what goes into a chest day workout. "It's pretty brutal," Fine told MH, with Apa standing by. "[Apa] has to be in outrageous shape pretty much year round for all the roles that he's doing, so…"
"He's gonna kill me today," Apa cut in. Fine agreed.
If you want to try Apa's workout, just make sure that you're ready to adjust the exercises to fit your own training capacity. There's a ton of volume here, so be willing to work with lower weights and adjusting movements based on your ability.
KJ Apa's Intense Chest Day Workout
Cluster 1
Bench Press – 10 reps
Close-Grip Bench – 10 reps
Pushup Fly Machine (Pushups on sliders) – 10 reps
Weighted Ring Dips – 10 reps
Cluster 2
Half-Mile Treadmill Run
Resisted Rowing Machine – 500 meters
Slideboard Skaters – 100 reps
Core Workout
Ab Roller – 7 middle, 7 right, 7 left
Hanging Crunch with Kickout – 8 to 10 reps
Hanging Russian Twists – 8 to 10 reps each side
Hanging Leg Raise – 8 to 10 reps
Exercise Ball In and Out (feet on bench) – 20 reps
Exercise Ball Knees to Elbows (feet on bench) – 20 reps
Want more celebrity workout routines? Check out all of our Train Like videos.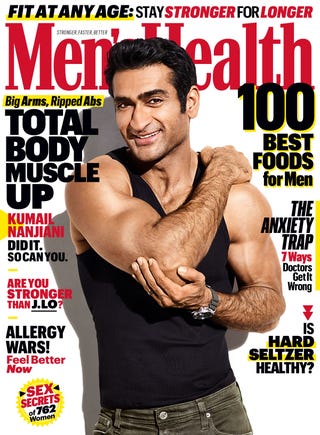 Source: Read Full Article