You Can Now Buy An Edible Candy Cane Candle That You Can Literally Pour into Hot Cocoa
Have you ever been in a room with a burning candle that smelled so sweet, you would maybe consider tasting it (if it wasn't a candle, that is)? Smith & Sinclair, a UK-based company that calls itself "Willy-Wonka for grown-ups," created a very special candle that allows you to experience the scent in a completely new way. The company's new candle gives off a festive aroma perfect for winter, and unlike other candles, tastes as good as it smells.
Per a press release, the Flaming Hot Choc candle is made with a mixture of coconut oil and raw cocoa butter, and comes in two flavors. The spiced orange candle has "sweet notes of mandarin, cloves and cinnamon", which sounds like it would be a really good addition to a hot tea. I'm eager to try the second flavor, candy cane peppermint. Smith & Sinclair says the edible candle is the first of its kind in the world.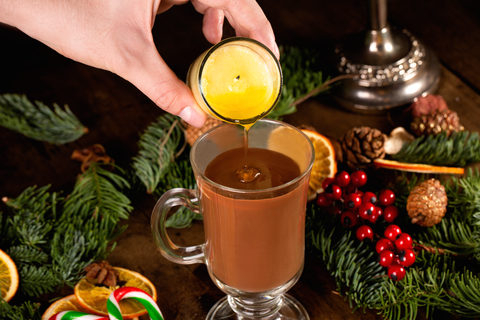 You can burn the Flaming Hot Choc candle the same way as you would any other (non-edible) candle. Smith & Sinclair suggests adding two teaspoons of melted wax into hot chocolate, for either a "spiced chocolate orange" or "warming peppermint flavor".
Emile Sinclair, head of innovation for Smith & Sinclair, says, "Christmas epitomizes cozy nights in with glowing candles, a roaring fire and a hot chocolate, so why not combine these two festive stalwarts and use our Edible Candle to pimp your hot chocolate!"
It appears that the candle is not yet listed on the company's website, but per the press release, they will be available online for £9.99 ($12.77). Shipping to the U.S. and Canada costs $15.34, but it seems worth it to be able to freak your friends and family out when you start eating candle wax in front of them.
If candles aren't particularly appetizing to you, Smith & Sinclair also sells edible fragrances, which can "add a playlist twist to the way you consume your drink". Another option, the company notes: "…Spritz onto skin and lick off…or get licked off". Very interesting, indeed.
Delivery to the U.S. takes 7-10 business days, so if you're ordering any randomly edible gifts for your friends and/or perhaps horrified family, make sure to place your orders soon. The website also notes that "during peak periods deliveries may take a little longer than usual." Enjoy your candles!
Source: Read Full Article