'DWTS' Pro Witney Carson Says She Felt 'Gross' On The Keto Diet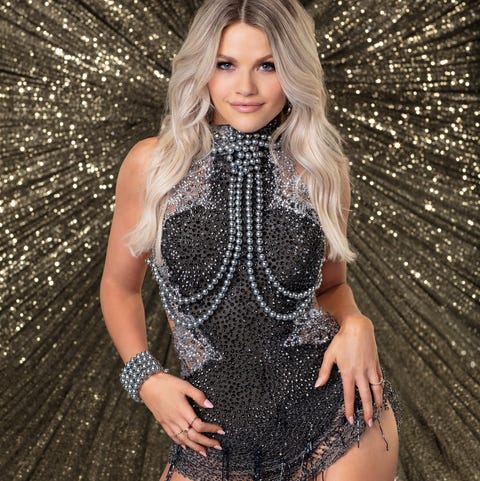 Dancing With The Stars pro Witney Carson has "tried it all" when it comes to finding a healthy diet that works for her.
"I've done keto before, and I felt really gross," Witney tells WomensHealthMag.com. "I did lose weight on it, but my skin broke out. I have eczema and my eczema was super, super bad. I think I have an allergy to dairy and cheese, so I try to stay away as much as I can now."
After a few months on the keto diet, the ballroom dancer—who is paired with Disney star Milo Manheim on the newest season of DWTS—decided to try going vegan. "I felt super-light and good and energized," she says.
View this post on Instagram
yo @milomanheim let's party???
A post shared by Witney Carson McAllister (@witneycarson) on
But veganism ultimately didn't work well for Witney. "I just felt like I lost all my muscle because I wasn't getting the right protein," she says.
It turns out that what ended up working best for her was going back to the basics. "I'm just trying to stick to whole foods and trying to eat clean," she says—which includes eating lean meats and small amounts of carbs.
Here's what Witney's day usually looks like during the DWTS season:
Breakfast: Hearty and filling
View this post on Instagram
A post shared by Witney Carson McAllister (@witneycarson) on
Before eating anything, Witney wakes up and works out around 8:30 a.m. "I am not a morning person at all," she admits, but says that she's trained herself to get up early and exercise. "I feel better when I do that, like my day goes a lot better."
Right now, the avid ClassPass user is really into Pilates, Orangetheory, and boxing. "My workout has to be a class, otherwise I won't get a good workout in," she says. "I'll just kind of be lazy about it."
After her workout, Witney goes for a super-filling meal, like steel-cut oats with berries and almond butter, to hold her over until lunch. She also loves to blend together a protein shake with whey or plant-based protein, half of a banana, almond milk, and ice cubes. "Sometimes I'll put flax seeds or chia seeds in it to keep me full," she adds.
And to satisfy her sweet tooth, Witney will whip up a Vital Proteins matcha green latte at home. "It has collagen in it and it's super-good. It's like my dessert," she says. "It's amazing."
Lunch: Grab and go
If she's at rehearsal, Witney will usually order something like a chicken salad sandwich, or a salad from local eatery California Chicken Cafe—anything with both greens and protein, "so I'm full but also energized."
"It's harder to eat lunch at the dance studio because you're so active," Witney says. "You're hungry, but after you eat you want to sleep. So I don't like to have a huge lunch meal at dance rehearsal, but I definitely eat, that's for sure."
View this post on Instagram
back to the basics w/Slickkkk @susetteandrick
A post shared by Witney Carson McAllister (@witneycarson) on
Some days, Witney won't head to rehearsal until around 2:30 p.m. to accommodate her partner Milo's schooling (he's still in high school). That's when she'll whip up something easy at home. "I'll grill tilapia and I'll just do a pre-made salad from Whole Foods," she says. "The tilapia is easy to do—you can keep it in the freezer for forever, thaw it, and then you can just grill it easy."
Snacks: Quick protein hit
"I'm such a snack person!" Witney says. On long rehearsal days, you can typically find her fueling up with nuts or a protein bar at the studio—whatever the show has on hand.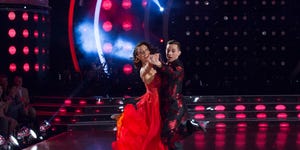 If she's at home, she'll reach for a combo like almond butter and a peach, or even snack on plain turkey meat. "Just straight protein," she says.
Dinner: No carbs
View this post on Instagram
A post shared by Witney Carson McAllister (@witneycarson) on
Witney tries to plan dinners a few days ahead so she has easy, healthy options to make at home, like stuffed peppers.
She's also a big fan of the Trader Joe's freezer section. "I love the frozen cauliflower from Trader Joe's that's mashed. Those are amazing. Anything frozen is so easy for me," she says. "And then for the meat I'll either do chicken or a brisket."
Occasionally she has a side of quinoa or brown rice, but she typically tries not to eat carbs with dinner. "That's the only kind of 'restriction' I have," she says.
But that doesn't mean she's not enjoying some dessert once in awhile. "If I do have a sweet tooth at night, then I'll have dark chocolate and raspberries," she says. She also sips on chamomile or decaffeinated green tea to wind down.
View this post on Instagram
A post shared by Witney Carson McAllister (@witneycarson) on
When it comes to her all-time favorite sweet—ice cream—she saves it for the occasional indulgence, instead of going for a low-cal option on the reg. "I've tried a few of those, I'm just not into them," she says. "If I'm going to eat the calories, it better be freaking good, and it better be exactly what I want." Hear hear.
Source: Read Full Article