7 Celebrities Who Swear by the Keto Diet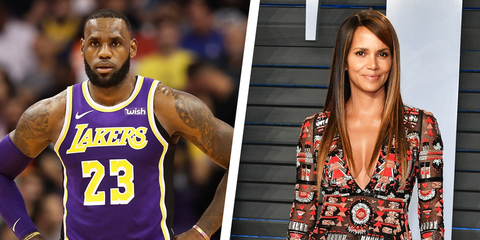 The ketogenic diet is all the rage right now. The idea is to eat plenty of fat and very few carbs, so that your body enters a fat-burning mode known as ketosis.
While there's nothing new about the high-fat, low-carb eating plan, it's getting a lot more mainstream attention, including from movie and TV stars. Jersey Shore's Vinny Guadagnino has gone full "keto guido," Halle Berry has ditched bread to stay slim and look more stunning than ever, and even LeBron James dabbled. Keto enthusiasts tend to believe that they feel full with fewer calories when indulging in rich meats.
Here are the biggest celebrities who have committed to going keto.
View this post on Instagram
A post shared by Vinny (@ketoguido) on
The Jersey Shore cast members have savvily built their own individual brands beyond the hit MTV show (which is now back). Vinny found his niche when he dropped 50 pounds and got cut through exercise as well as adherence to keto. He now shares advice and motivation on his @ketoguido Instagram account. And he even sticks to the diet on Jersey Shore (or tries to, anyway), once pulling cheese off a delivery pizza for the Shore crew and shoveling it in his mouth, sans crust. He also loves a salmon-and-cream cheese roll.
It's hard not to wonder what Berry does to continue looking flawless at age 52. While there may be no hope of achieving her clear, luminous skin for most mortals, she has endorsed the power of the keto lifestyle for her figure and managing her diabetes. She explained on Live with Kelly and Ryan that "a ketogenic diet is no sugar, no carbs. Nothing white." The actress sticks to fatty foods like avocados, coconut oil, and butter. "You can eat a big-ass porterhouse steak if you want. You just can't have the baked potato," she said in another interview. As she's shown on Instagram, she ditches lunchtime sandwiches for prosciutto rolls that look mighty tasty.
View this post on Instagram
A post shared by LeBron James (@kingjames) on
Okay, technically LeBron isn't a regular keto eater. But he shared how trying the diet affected him when he practiced a modified version for 67 days as a "mental challenge" in 2014. He lost a ton of weight by cutting out carbs and dairy and centering his dishes on meat, fish, fruits, and vegetables. He's bulked back up since, but the viral "Skinny LeBron" photo speaks for itself.
View this post on Instagram
A post shared by Tim Tebow (@timtebow) on
LeBron isn't the only pro athlete to flaunt the effects of a keto diet. Former NFL quarterback Tim Tebow told GQ, "I'm on something called a ketogenic diet, which is high fat, moderate protein, low carb, low sugar." He's a champion of all things avocado (a photo of him eating guacamole straight out of the container with a spoon made a splash on Twitter). He even throws avocados in his smoothies.
View this post on Instagram
A post shared by Kourtney Kardashian (@kourtneykardash) on
It's not surprise that the famous family that dominates social media has jumped on a trendy diet. Kourtney Kardashian, arguably the sanest person on the otherworldly Keeping Up with the Kardashians, revealed that trying keto "was a really positive experience for me," and she plans to dive back into the diet. Kim also reportedly dropped 60 pounds after giving birth to her son Saint by following the Atkins 40 diet, which is essentially a variation of keto.
View this post on Instagram
A post shared by Vanessa Hudgens (@vanessahudgens) on
Hudgens outed herself as a keto fanatic to Rachel Ray, saying that she prepared for her Women's Health cover by relying on the diet. She lost 10 pounds in a month by eating bacon, which sounds like an exceptionally pleasant way to drop a little weight. "When I ate carbs, I would get that dip in the afternoon, where I felt really sluggish," the Spring Breakers star told Women's Health of the other benefits of her lifestyle. "When I'm off them, my energy stays consistent throughout the day."
View this post on Instagram
A post shared by Adriana Lima (@adrianalima) on
No one ever said being a Victoria's Secret Angel was easy. Brazilian model Adriana Lima revealed that she barely touches carbs and works out two hours a day prior to a Victoria's Secret Fashion Show. She also skips carbs in her daily life since they leave her feeling "swollen." "Definitely zero carbs for sure," she told The Cut, adding that her meal plan makes her feel "much healthier." The same article noted that she chowed down on chicken, with skin and bone, and green vegetables. "I only can eat green vegetables," she said. No carrots for her.
Source: Read Full Article